Lost Letters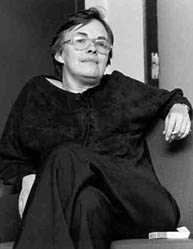 Courtesy McGill Archives
Back when Janet Jackson was a 10-year-old with her shirt safely tucked into her jeans, Marian Engel, MA'57, was stirring up controversy. Her book Bear rubbed some the wrong way by recounting a reclusive librarian's sexual relations with the hirsute title character. Still, it became a best-seller and earned the Governor General's Award for English literature in 1976.
Engel was well-liked and highly regarded by her peers. Her friends included some of the biggest names in Canadian literary history and Engel regularly exchanged letters with the likes of Margaret Atwood, Robertson Davies, Alice Munro, Timothy Findley and Margaret Laurence. And she kept in touch with her former McGill professor, Hugh MacLennan. Hundreds of these letters ended up in the hands of Sara Sutcliffe, who purchased Engel's house from her estate shortly after the writer's death in 1985.
When she went in to tidy up the property, Sutcliffe found a bit of a mess. "In the upstairs bedroom there were papers strewn around the floor, some of them partly stuffed into white plastic bags, some were in garbage bags," Sutcliffe told the Toronto Star. "Whoever cleaned out the clothing and furnishings had left these as garbage." Sutcliffe, an art teacher, wasn't sure what to do with the letters, so she packed them up and stored them with her drawings under her bed.
When she dug them out and began reading them a decade later, Sutcliffe realized their importance. What to do? She was concerned that if she tried to donate or sell the letters, she might be accused of having stolen them. A friend suggested she contact the archives at McMaster University, where Engel had earned her undergraduate degree. As it turns out, Christl Verduyn, author of several works about Engel, and McMaster archivist Kathleen Garay were already cataloguing Engel's letters for a new book. "This was the icing on the cake," Verduyn says of gaining access to the correspondence discovered by Sutcliffe.
The letters deal with all sorts of things. Atwood describes a brief falling out between her and Laurence, Munro writes of a love affair and Findley chronicles a drunken misadventure that landed him in the hospital.
"MacLennan's letters to her are interesting," says Verduyn. "He is very reflective about the whole publishing scene, bemoaning the advent of paperbacks." MacLennan was Engel's thesis advisor at McGill. Engel had mixed feelings about McGill, adds Verduyn. She enjoyed a warm and lengthy friendship with MacLennan, but also recalled how staff at her McGill residence had counseled her to stay away from the young Jewish men she socialized with. "She didn't take to that at all.
"There is one letter she writes to the Toronto Public Library, where she explains why it was so hard for her to return her books on time," Verduyn says. Engel was a single mother with two youngsters at the time. "The letter is so literate, so feisty, so humorous. I think it captures a lot about her."
Verduyn and Garay's book, Marian Engel: Life in Letters, will be published in June by University of Toronto Press.
Book-Loving Benefactor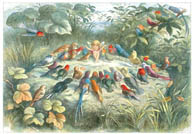 McGill Division of Rare Books and Special Collections
Calling it "one of the most significant gifts offered to McGill in recent decades," the Division of Rare Books and Special Collections has received a donation of children's books from Sheila Bourke, BA'49, the product of a life-long passion. The works span five centuries - from a 1571 copy of Aesop's Fables to first editions of Winnie the Pooh. Bourke's love of books began when she was a child enduring an illness that kept her in bed for three years. "Books and their illustrations meant a tremendous amount to me," she says.
McGill means a lot to her, too. Like her books, she says, "McGill opened so many intellectual doors for me. It has added a great deal of pleasure to my life." Bourke's 3,000-volume gift reinforces one of the strengths of the Division and will offer tremendous new research opportunities for students and scholars.
Shown above is a frontispiece from In Fairyland: A Series of Pictures from the Elf-World, by Richard Doyle (1875).