Surf and Turf Robotics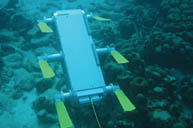 Courtesy McGill Robotics Lab
If you're lucky enough to be vacationing on the west coast of Barbados, keep your eye out for a strange, metallic sea creature. The coolest thing since the GI Joe scuba pack, the shiny, yellow-finned beast is in fact AQUA the robot, a joint research project of McGill, Dalhousie University in Halifax and York University in Toronto. This January, the AQUA researchers tested the underwater robot in its first sea trials on the coral reefs of McGill's Bellairs Research Institute in St. James, Barbados, and by all accounts things went swimmingly.
As nice as it is to go for a dip in the Caribbean in January, AQUA actually spends most of its underwater time in pools back home as researchers who include McGill professors and graduate students work on its manoeuvring and diving skills. In addition to swimming, AQUA can walk on the ocean floor, and with its vision system can capture images of the underwater world, recognize familiar places, and remember the shape of objects it encounters. McGill professor Gregory Dudek of the School of Computer Science and the Centre for Intelligent Machines (CIM) says, "The vision skills exhibited by this robot are at the cutting edge of what robots can do today, notwithstanding the fact that most actual robots are kind of dumb."
The robot is operated from shore as it swims using six flippers for propulsion, and could be used to monitor endangered coral reefs and other underwater life, detect and remove floating mines, or observe changes and repairs to ships or oil platforms. Or scare your sister at the beach.
Another project out of CIM's Ambulatory Robotics Lab involves the world's first galloping robot, called Scout II, a metal quadruped that looks a little like a miniature version of something from Star Wars. While Scout II won't be winning the Kentucky Derby anytime soon, the galloping robot is quite a breakthrough in ambulatory robotics, where mimicking the gallop and half-bound of animals in nature has proved a tough job. Scout's galloping debut in Kyoto, Japan, at a robotics conference last year trampled Stanford University's claim that they would be first to produce a galloping robot. Made up of modified home computer parts and battery packs, Scout II has autonomously moving legs that can lead and trail to produce the galloping motion we're familiar with from animals.
"It was fun," James Smith told the McGill Reporter of the Kyoto conference. The PhD candidate in Mechanical Engineering said, "We could demonstrate the differences between what we're doing, which is relatively simple with one motor per leg, and the traditional Japanese approach of having lots of complicated motors - like the Sony robot dog, which has 20 motors in its entire body. And the dramatic part is that Scout just went a whole lot faster than those other robots."
See video footage of the McGill robots in action at www.cim.mcgill.ca/~arlweb.
Queen of Colleens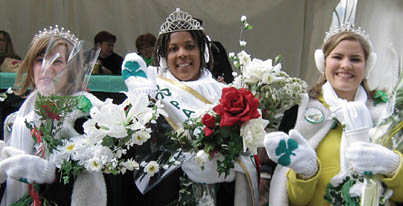 Tara Hecksher (centre) at the St . Patrick's Day parade.
© Linda Dawn Hammond / IndyFoto
McGill student and St. Patrick's Day Parade Queen Tara Hecksher waved and smiled to an enthusiastic throng of loyal subjects lining Montreal's St. Catherine Street on March 14. Tara, the first ever black Parade Queen to be selected by the United Irish Societies of Montreal, didn't seem to notice the chilly wind, but not even a roaring blizzard would have stopped this event. Montreal claims the longest continuous St. Patrick's Day parade in North America, a crowd-pleaser for the past 180 years, whatever the weather.
Tara brings brains and sports talent, as well as poise and beauty to her new role. A keen lacrosse player, she's in her final year of McGill's BA program in International Development Studies. Born of a Nigerian mother and an Irish father, she attended boarding school in London, England, from the age of nine, and made frequent holiday visits to relatives in Dublin. "The people there are so funny, and warm," enthuses Tara, "and they have a great sense of community, which I love."
Tara and her princesses charmed and curtseyed their way through numerous public appearances, including the annual St. Patrick's Day ball, an interview on CBC radio's Daybreak, and visits to two Montreal hospitals. Tara will be able to enjoy a well-earned break from both her studies and her royal duties when she claims her Parade Queen's prize of a trip to Ireland this summer.