Ships of Wood and Men of Iron, Canadian Plains Research Center, 2004, $14.95, by Gerard Kenney, BEng'54.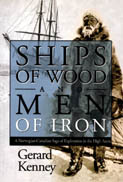 Gerard Kenney's book about exploration of the vast Arctic regions ceded to Canada by the British in 1880 is a compelling tale of the hardy men who covered hundreds of thousands of square miles - thanks to equally tough sled dogs - to chart this "clean white spot on the map" largely unknown to modern man. What people might be surprised to learn is that much of the research and discovery was carried out by Norwegians, in particular teams led by Captain Otto Sverdrup who claimed the territories he visited for Norway.
These indeed were men of iron, who endured the physical hardships of extreme cold, months of darkness, lashing storms and dangerous ice - either too thin to hold their weight, too thick to release the ship's hull, or which bore down on them as potentially crushing icebergs. They also had to be mentally strong to bear the disappointment of a missed rendezvous with a ship carrying mail from home, the shock of the expedition doctor's suicide and the early arrival of pack ice which delayed their return journey to Norway by a year.
Sverdrup was a given a hero's welcome on his return to Oslo in 1902 after four years in the Arctic. According to Kenney, news of his discoveries and Norway's challenges to Canada's sovereignty "hit Ottawa like a bomb shell. The Canadian government was aghast, caught completely by surprise." Prime Minister Wilfrid Laurier promptly dispatched several contingents to the region, to establish Royal North West Mounted Police (later the RCMP) detachments, to collect fees from American whaling fleets and to re-establish a Canadian presence.
Kenney's fascinating and well-written history ends with a cautionary note that Canada might again be accused of complacency in safeguarding its northern territories. If, for example, global warming creates a natural, easily accessible Northwest Passage, how can we control the resulting traffic? Kenney encourages the idea of research projects in the north to establish occupation but also to build a base of knowledge upon which to shape future policy. Ironically, since 1960 McGill has had a small research station on Axel Heiberg Island, first discovered and named by Otto Sverdrup.
Diana Grier Ayton
Fueling the Future, House of Anansi Press, 2003, $37.95, editors Andrew Heintzman, BA'89, MA'92, and Evan Solomon, BA'90, MA'92.
This book, and the larger Ingenuity Project of which it is a part, has ambitious aims. As the introduction states, this multimedia project is an "annual effort to bring together bright minds from around the world in order to provide practical and ingenious solutions to the complex problems facing the world." In this first book of the series, editors Andrew Heintzman and Evan Solomon attempt to tackle some of the historical, environmental, technological and moral scaffolding of energy in all its forms, from wind and sun to coal and on to hydrogen fuel cells.
The facts gathered by the various writers are compelling and disturbing: currently, 12% of our electricity is derived from burning "dirty, traditional" coal; 65% of the world's population has never made a telephone call; air pollution is responsible for 700,000 deaths annually, according to the World Health Organization; energy is subject to market distortion of all types and it is estimated that worldwide subsidies to the energy sector, primarily to fossil fuels, top $240 billion each year.
The writers gathered here include Thomas Homer-Dixon, the main influence behind the Ingenuity Project, who calls for a "broader context of institutions, incentives and values" in our discussions about power; Geoffrey Ballard, the visionary behind much of the current research on hydrogen fuel cells; and McGill professor Avi Friedman, MArch'83, who discusses energy efficiency in the home.
By far the most exciting discussions relate to what writer Jeremy Rifkin calls "the dawn of the hydrogen economy." In this brave new world, car owners could plug their parked cars into "the home, the office, or the main interactive electricity network" and be able to sell the electricity they produce back to the grid. In effect, the vehicles become "mini-power plants." As Rifkin says, every family, business, neighbourhood, and community in the world will be "potentially both a producer and a consumer of its own hydrogen and electricity."
One way or another, hydrogen, "the very stuff of the stars and our own sun," will play a more important role in the world's economy in the coming years, as billions of dollars are spent by the big car companies to make hydrogen-based vehicles more plentiful on our roads.
Reading this book will convince you, if you're not already there, that energy - its enabling qualities, as well as its potential to create world-wide disruptions - is at the centre of much of our economy, politics and culture. That's not always a warm thought, but it is certainly one we remain ignorant of at our peril.
Peter O'Brien, MA'85
Dr. Art Hister's Guide to Living a Long and Healthy Life, Greystone, 2003, $22.95, by Art Hister, BSc'68, MDCM'70.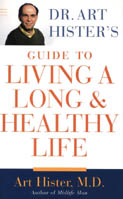 The title says it all: Hister has written a book that is just that, a guide to good health and long life. Thankfully, it's not a collection of stern warnings, but a comprehensive look at how we may improve our health and thus better our quality (and quantity) of life. The author of Midlife Man: A Not-So-Threatening Guide to Health and Sex for Man at His Peak and host of the Vancouver radio show "House Calls with Dr. Art Hister" delivers a readable book of advice for avoiding disease and living well now and into the golden years. In humorous, down-to-earth style, Hister offers exercise tips, menu-planning and clears up the controversy that surrounds such pressing questions as: How much exercise is enough? Do I really have to drink three litres of water a day? And what exactly does "moderate" drinking mean?
The book is presented in a step-by-step format which eases the reader in gently, from his introduction (a testimonial of his transformation: "Hey, guys, if this old fart can do it, anyone can!") to the chapter about eating for weight control where he examines some popular diets. Possibly the closest Hister comes to stern in the entire book is his assertion that "doing more exercise is the single most important lifestyle adjustment you can make to increase your chances of living longer and to improve the quality of whatever time you have left." Peppered with anecdotes from Hister's own struggle to shape up, scientific studies and pop culture, the book is chock-full of practical information for anyone of any age who cares about his or her health. It includes a handy index and an entire chapter devoted to issues to discuss with your doctor.
Sarah Pringle, BA'05
Drive I-95: Exit by Exit Info, Maps, History and Trivia, Travelsmart, 2003, $29.95, by Stan Posner, BSc'68, and Sandra
Phillips-Posner.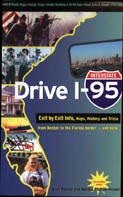 This husband and wife duo have produced the ideal companion for travelers on the I-95 interstate highway. You may not get where you're going in a hurry but you'll have a wonderful time doing it. It's a throwback to the days before the no-nonsense modern highway changed the nature of car travel. The journey itself was once the vacation, and roadside attractions and services vied for motorists' attention. Nowadays, there's no way to tell from the generic gas, food and motel hieroglyphs that you might be sailing right past a 58-foot-long purple termite (Rhode Island), the birthplace of the hamburger (Connecticut), or a lab that will fit you with a complete set of dentures in 24 hours (South Carolina).
The Posners have produced a neat little book which tells you what's at every exit from Boston to the Florida border, what's on the radio in each state, includes a list of golf courses and provides phone numbers for campgrounds and motel chains. Pages of pictorial maps - with separate sections for the journeys south and north - mean you won't miss a trick. Anyone who travels this stretch of road should tuck Drive I-95 into the glove compartment before leaving home.
DGA
Who Said That? The Empire Club Foundation, 2003, $25, texts selected by Russ Merifield, BA'38, BCL'41, edited by Mary Byers.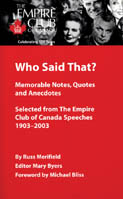 The Empire Club was established in 1903 as a forum for discussion of issues of the day. The Canadian Club already existed, but according to Russ Merifield's introduction, it was a little too freewheeling for some, accepting as members both those who wished Canada to be more independent from Britain and those who promoted annexation to the U.S. Accordingly, "[a] prominent group of local leaders felt there was need for a new popular organization that supported Empire union." In honour of the Toronto-based Empire Club's 100th anniversary last year, Merifield combed through 3,500 speeches and has extracted "memorable notes, quotes and anecdotes" from speakers as varied as Richard Nixon, the Dalai Lama and Alexander Graham Bell. Editor Mary Byers provides an essay at the beginning of each section reminding readers of the events and concerns at the time.
In an address to the club in 1910, McGill professor Andrew MacPhail touched on the misguided efforts of suffragettes to secure the vote: "When women place themselves in situations for which they are not qualified by their nature to fill with obvious advantage, they become a ridiculous caricature of themselves." Commenting in 1917 on his invention of the telephone more than 40 years earlier, Graham Bell said "It seems almost like a dream that I was connected with it at all," and went on to confess, "I do not have a telephone in my own house within reach of my ears." Decades later, McGill Dean of Law Maxwell Cohen remarked, "Recently I was reflecting on the differences between academic life and public life, and I came to the innocent conclusion that in public life the knives come at you from the front."
Since its founding, the Empire Club has published annual collections of the speeches presented to its members and these have now been digitized and are available in synopsis or full text format. They offer browsers intriguing glimpses of the social, economic and political history of the 20th century. See www.empireclubfoundation.com.
DGA
From Reindeer Lake to Eskimo Point, Natural Heritage Books, 2003, $22.95, by Peter Kazaks, BSc'62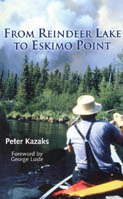 Eight weeks in the Canadian north country, canoeing and portaging over 800 miles, plagued by mosquitoes and blackflies may not seem like everyone's idea of a good summer vacation. Even author Peter Kazaks admits to wondering, "What the hell am I doing up here, wandering around like a mountain goat, with a heavy load on my back?" This, however, is one of the few complaints he makes in the course of his 148-page account of a canoe trip with three other men across vast and empty terrain. The expedition, led by legendary canoeist George Luste, retraces P. G. Downes's voyage as described in his classic Sleeping Island, then ventures further into the barren lands, following the Thlewiaza River, the Kognak River, South Henik Lake and the Maguse River north and east to the shore of Hudson Bay. Kazaks's recounting of his trip conveys with love and awe the experience of being in the wilderness, vividly illustrating the pull that the north country exerts on many. Avid canoeists, lovers of the north, fans of Farley Mowat or those who enjoy reading about the wild rather than visiting in person will enjoy this book.
SP