Rural roots
I thoroughly enjoyed the article by Helen Dyer in your last issue on Robert Mellin's work to preserve Newfoundland's rich rural architecture. Bravo to Professor Mellin.

I have been involved for a number of years in preserving our French colonial house and its 18th- and 19th-century rural sheds. The 18th-century coach shed mutates to a modern art gallery during the summer months and is open to visitors. The buildings are good examples of our rural architectural heritage and it has been personally very rewarding to be a part of the preservation process.
Worried by the disappearance of many rural farm buildings in this otherwise rich heritage site (Ile d'Orléans, the formal and rural architecture of which was the subject of studies by McGill architecture professor Ramsey Traquair in the 1920s and '30s), I have worked with a few others to found a new society, known as the "Vernacular Architecture Conservation Group" (in French, "Groupe pour la conservation de l'Architecture vernaculaire").
We hope to create a foundation and to engage in various projects to promote the restoration and conservation of significant rural architecture, beginning in Quebec but not geographically restricted. We have several aims, from cataloguing the remaining buildings of architectural and historical note, to the research of the original master builders and humbler craftspersons and their European and colonial influences, to the promotion of conservation projects and the teaching of the traditional building techniques inherited from the Middle Ages.
Thank you for any help in identifying interested McGill faculty. We have requests out to other learning institutions and government and private bodies who might share our aims.
Arthur Plumpton, BEng'62
Sainte-Famille-de-l'Ile-d'OrlE9ans, Que.
Ed. note: Anyone interested in contacting Arthur Plumpton can reach him at plumpton@lakefield.com.
Frost fans

Owen Egan
McGill News continues to be a publication with a good balance of news, views and reviews. It is an excellent resource. The article "When Rocks Hit the Roof" (Epilogue, Winter 2003/04) by Dr. Stanley Frost is priceless. The vivid description of historic Dawson Hall reminds me of the manner in which Dr. Frost taught. He was one of the best McGill lecturers. I recently found myself quoting him in a sermon. It was one of his one-liners which was genuine S. B. Frost - humorous, warm and true to life.
The Rev. Richard Worden, BD'66
via email
It is always a delight to read the wry and witty glimpses of McGill's past by our seemingly forever young emeritus historian, Stanley Frost. In his recent "When Rocks Hit the Roof," he noted that the influx of returning veterans after the Second World War obliged the Law Faculty to leave Dawson Hall for Chancellor Day Hall. It has always been my understanding that, although the Law Faculty moved into Chancellor Day Hall in 1949, it had been moved much earlier to share Purvis Hall with the School of Commerce. Moreover, the putative reason was to remove law students from the unwholesome influence of the radical members of the Faculty of Arts and Science to a more conservative, if less convivial, atmosphere. Of course, since Frank Scott and John Humphrey were law professors then, this sanitizing attempt was probably doomed to failure.
I hope you will prevail on Dr. Frost to keep these columns coming.
John Hobbins, BA'66, MLS'68
Law Librarian, McGill University
Ed. note: The Faculty of Law moved out of Dawson Hall and into Purvis Hall in 1942-43, at least in part. A Noble Roster, the history of the Faculty of Law compiled by Ian Pilarczyk, BA'92, LLM'97, DCL'03, to mark Law's 150-year anniversary, includes recollections by alumni. Marie-Claire Kirkland Strover, BA'47, BCL'50, LLD'97, remembers that in 1947, "the Law Faculty seemed to have no established home of its own, for until Chancellor Day Hall premises on Peel Street were acquired, its offices and library were in a building shared with the School of Commerce, while we had most of our lectures in the Medical building and some even in the Redpath Museum."
What's in a name? I really enjoyed Stanley Frost's colourful history of how Dawson Hall got its name. I run a name creation company called BrandAbility, which specializes in coming up with names for new companies and products and hence have heard many stories and anecdotes about naming, but I must say that Dr. Frost's article was one of the most entertaining naming stories I've read.
One question I had, however, was regarding former Principal John Bethune - was one of his descendants Dr. Norman Bethune?
Eric M. Singer, LLB'79, BCL'79
Toronto, Ont.
Ed. note: John Bethune's tenure as principal was marred by litigation, disputes with trustees and financial restrictions. Bethune, a clergyman, was 44 and the rector of the Anglican Parish of Montreal at the time of his McGill appointment. Although he had no university degree, he did live in Montreal and was willing to take on the job, which had been turned down by a number of other prospects. His brother Alexander was bishop of Toronto, while a third brother, Angus, rose to prominence in the Hudson's Bay Company. Dr. Norman Bethune, a thoracic surgeon at McGill's Royal Victoria Hospital who later went to China, where he became a heroic figure in the Chinese Communists' struggle against the Japanese, was a great-grandson of Angus.
Circumplanetary walkers
On a recent walk with my 81-year-old mother in McGill's Morgan Arboretum, I calculated that, in the 42 years she and my father, aged 88, have been walking through those lovely woods, they have easily covered 40,000 kilometres. As an astrophysicist, I immediately recognized this distance as the circumference of the Earth. It seems to me that this feat deserves mention - it is much further, for instance, than the distance covered by the rightfully famous Canadian explorer Alex MacKenzie or by the overly acclaimed Lewis and Clark, who were all much younger.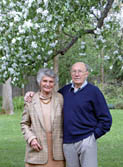 McGill's Morgan woods have been a great resource year round for thousands of walkers, skiers and bikers in Montreal's West Island communities. The signifi-cance of this open land increases as development encroaches throughout the metropolitan area. An article on the Arboretum's many functions, including research, might be very interesting to your readers.
Peter Foukal, BSc'66
Nahant, Mass.
Ed. note: The News did a feature on McGill's trees, although not specifically on the Morgan Arboretum, in the Summer 2001 issue, and it may be a little too soon to tackle the same topic. For anyone interested in the article, it's in our archives and the Arboretum has a website at www.morganarboretum.org.
Fired by the best
Everyone would like to think that he has some connection, however inconse-quential, to the great events of his time and, since this is the 50th anniversary of Watson and Crick's discovery of the structure of DNA, I submit the following. In 1927, I was a shy freshman at McGill. Like many of my classmates, I signed on as a reporter at the McGill Daily. However, I was seduced by the many attractions of the McGill Union and neglected many of my assignments. One day, on checking the assignment book, I found, in bold, incisive handwriting, the following note: "You are no longer on the staff of the McGill Daily," signed C. McLeod.
Colin McLeod, the editor who fired me, was a medical student at McGill. Upon graduation, he went on to do research at the Rockefeller Institute. Later, he was one of the three co-authors of Oswald Avery's classic paper which established, for the first time, that DNA, and not protein as was generally thought, was the molecule that was responsible for human heredity.
Oswald Avery, like McLeod (and Margolick!), was a Canadian. He deserved and almost certainly would have been awarded the Nobel Prize had he not died prematurely. McLeod, I believe, later became Health Commissioner of New York City.
There it is: all down on the record, for my grandchildren to read.
Moses Margolick, BA'31, MDCM'35
Putnam, Conn.
Opportunities anyone?
The McGill Engineering Career Centre (MECC) has been assisting McGill University Engineering and Computer Science students for the past six years to find summer, full-time and internship positions. Due to the recent poor economic conditions and massive layoffs in the high technology and telecommunication industries, we are finding it increasingly difficult to place our students and graduates in career-related positions.
We, therefore, urgently ask McGill alumni presently working in companies that may require engineers for permanent, summer or internship positions, to call the MECC at (514) 398-8100. We will be pleased to provide you with the best possible people to suit your particular requirements. When calling, please mention this letter.
Gabriel (Gerry) Nobleman, BEng'49
(514) 489-3084

Joe Broz
(514) 484-8390
Montreal, Que.
Plane scary
I thank you very much for including my Alumnote on page 46 of the Winter issue, but I am not certain if I appreciate your alluding to my sexy senior citizen status in the last two lines. Nonetheless, I do appreciate your reference to my writing hobbies, and I am hoping that my latest efforts will be of some assistance to McGill University's financial needs. My latest book, Bless You Brother Irvin, currently working its way through the publication process, is dedicated to the University. All income, less expenses, will be donated to McGill, particularly the Science Faculty where I received my training.
Bless You Brother Irvin is a collection of stories about aviators whose lives were saved by parachutes when they were forced to abandon doomed airplanes. These aviators are called Caterpillars because of their membership in the Caterpillar Club, and the writer is one of them.

The stories are a good source for a little known part of the history of aviation. It also contains a few miracles; some aviators jumped without parachutes and survived. God was never very far away, even in wartime.
John A. Neal, BSc'50
Calgary, Alta.
Ed. note: In the early days of aviation, it was thought that pilots who bailed out of disabled planes would lose consciousness and be unable to open parachutes. The first chutes were therefore tethered to the planes and jumping out was supposed to activate them. Not surprisingly, many aviators died before Leslie Irvin in 1920 developed and tested a silk parachute that could be easily deployed in the air by pilots. Named for the silken threads of the chutes, the Caterpillar Club has a worldwide membership numbering in the hundreds of thousands and includes such notable names as Charles Lindbergh.
Did you know George Rodney?
I would like to try to locate anyone who knew George Rodney, son of Lord Rodney, when he attended McGill from 1937-39. While at McGill, he was a member of the Alpha Delta Phi fraternity. He left the University to join the Royal Air Force and was subsequently killed in '42. The family and I would greatly appreciate contact with anyone who knew George as we are working on a book. I can be contacted at 232 Glen Road, Toronto, Ontario M4W 2X3, or by email at emccutcheon@sympatico.ca.
Elizabeth McCutcheon, BSc'40
via email