Ripped from the Headlines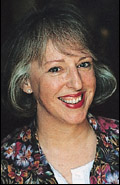 This issue's cover story is a departure for us. We're not usually in the gritty, hard news game, but then, happily, it's not every McGill student's misfortune to be caught in the middle of an event which galvanizes world attention in such a horrifying way.
Vesselin Nedkov, now pursuing an MBA, was in the audience in October 2002 when heavily armed Chechen rebels - some wired up as human bombs - took over a Moscow theatre and threatened to kill all 800 hostages unless Russia withdrew its forces from Chechnya.
We weren't sure Nedkov would want to be interviewed by the News, but he was surprisingly gracious and cooperative. In fact, recognizing that reliving the ordeal would help him to resume normal life, he began writing a book within a few months of his return to Canada. The result, 57 Hours, put together with journalist Paul Wilson, is absolutely riveting. As part of the process of laying the ghosts, Nedkov even returned to the refurbished theatre in March 2003 to see Nord-Ost, the Russian musical so tragically interrupted six months earlier.
Nedkov's story is so compelling because he is - or was - like most of us. As he says at the end of his book, "There must be millions of people like me, minding their own business, watching all kinds of earth-shattering events from a distance on television, happily removed from ground zeros around the globe, untouched by atrocities and horror, unaware of the danger lurking just beneath the surface of everyday life - of our own complacency."
Few of us face danger, much less the prospect of violent death, and so always wonder how we might react. Do we really need to know whether we'd show courage or cowardice when under threat? Perhaps it's enough to learn from Vesselin Nedkov that "every act of violence, brutality and cruelty, every injustice and every atrocity diminishes and threatens us all, wherever we may be."
We are happy to be able to report a small follow-up to last issue's cover story on the work of Professor Robert Mellin in the fishing village of Tilting. It was announced this week that Newfoundland and Labrador has named Mellin the winner of the 2004 Winterset Award, the province's richest literary prize, for his book on the architecture and people of this Fogo Island community. In a CBC news report, Mellin pronounced himself "astounded" by the honour. "It's remarkable to me that the book even got published," he says modestly. "It's hard to imagine that so many people would be interested in the topic, but I tried to make the book a bit lively with some stories and a few tall tales."
This is the first time a non-fiction work has won the competition, and Mellin says he will use the $5,000 prize to work on another book on the cultural landscape of rural Newfoundland and Labrador. The expert interviewed for our "In the News" feature this time is History professor Gil Troy, who has studied and written extensively about U.S. presidential elections dating back to the first campaigns a couple of centuries ago. It may have been an earlier age, but as you will learn, it certainly wasn't more innocent. Although our discussion with Troy took place only a few weeks ago, with world events as volatile as they are, things may look vastly different for the frontrunners by the time the News reaches readers.
We asked him about the media's coverage of presidential campaigns, which so often seems limited to news-as-entertainment, and Troy calls Americans "schizophrenic" on the issue. He says the media give the people what they want, despite what they say. "According to polls, they want to hear more about the issues, they want lengthy speeches, they want to learn more about the candidates. And yet, the reason candidates do negative campaigning and reporters play the sound bites game is that the American people show, again and again, that that's what they care about, that's what they follow. They consistently vote with their feet despite what they say with their mouths, and both reporters and politicians follow that. So the problem is with the people, not with the reporters and politicians."
And lest we have illusions about Canadian election coverage, Troy says it's "slightly more substantive. But emphasize slightly."