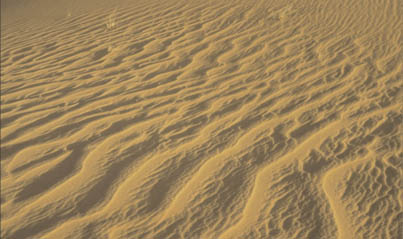 Hélène Mathieu breaks new ground for women in the Middle East
By Craig Thompson
On the edge of the desert, in the booming Gulf city-state of Dubai, a McGill Law graduate has created a verdant oasis for a new breed of lawyers in the conservative Middle East. Women.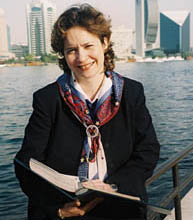 It's a part of the world still debating age-old religious traditions and cultural attitudes that define gender roles, but Hélène Mathieu, BCL'93, LLB'93, has injected a breath of Canadian fresh air into the practice of law. Ten years after being called to the Bar in Quebec, Mathieu now heads up Hélène Mathieu Legal Consultants, a firm that boasts a total of four women on its roster of six lawyers.
There were hurdles to overcome, senior officials to convince, but Mathieu's confidence and reputation combined with her friendly, disarming approach won over the right people. In 1997, she was granted the right to open her own legal practice - the first Western woman to be given that right in the United Arab Emirates.
"It took more than a year of perseverance before they finally gave in to me," Mathieu recalls, referring to the Dubai Ministry of Justice, which grants legal licences. "They kept telling me I was missing this and missing that and there was a lot of back and forth, but I didn't take no for an answer. I think one of the biggest obstacles I had to overcome was my young age. I had to convince the Ruler's office that despite the fact that I was less than 30 years old, I had all the seriousness and enough legal background to be able to open my own practice."
It was more than 100 years ago - 1897 to be exact - that Clara Brett Martin was called to the bar in Ontario. In doing so, she became the first woman in the British Empire to be admitted to the practice of law, clearing the path for other women to follow in her footsteps.
A century later in Dubai - in 1997 - it was Hélène Mathieu who was making legal history. As a result, she says more women have joined the legal force in the UAE, proving that it is possible for women to have a legal career in the Middle East.
With trade and investment flowing in from all corners of the world, Dubai needed legal experts with experience in all facets of law - trade and commercial law, immigration and even family law. After three years of working in the region, Mathieu had the requisite skills to offer and a roster of potential clients to create the foundation of her business.
Like most Westerners practising law here, she is classified as a "legal consultant" and must work with a government-approved Arabic-speaking lawyer trained in Islamic law - the Sharia - for matters involving court appearances.
A Sense of Adventure
Mathieu never planned to be a pioneer. She was not a crusading advocate seeking gender equality in the legal profession - just a young student graduating from McGill law and seeking adventure. "I've always had an adventurous spirit," she says in her office overlooking the bustling streets of Dubai, one of seven emirates (or sheikdoms) that make up the United Arab Emirates on the eastern flank of the Arabian Peninsula.
"When I was in Canada articling in a major law firm, I couldn't picture myself taking the same elevators to work every day and getting in the game to become an associate, then a partner. With all due respect to my friends in the profession back in Canada, it wasn't the path for me."
In 1993, Mathieu completed her articling in Montreal and was called to the Quebec Bar the following year. She had intended to pursue further studies in France when she received a telephone call from a friend offering her the opportunity to join a firm of Canadian immigration lawyers opening a new office in Dubai.
"At the time, emigration to Canada from this part of the world was growing very quickly," she recalls. "Universities were and still are recruiting students from here, and back then there was a big demand for IT professionals to work in the technology sector in Canada."
The firm hired Mathieu because of her interest and training in immigration law. But once the job offer came through, she needed a quick geography refresher. Like most Canadians, she didn't have Dubai located on her mental map. "I knew where Saudi Arabia was, but Dubai... no. So I went to the law firm atlas to find out where I had agreed to move to."
With an area of 3,900 square kilometres along the Persian Gulf, Dubai is the second largest of the United Arab Emirates, although it is dwarfed by neighbouring Abu Dhabi, which comprises around 85% of UAE territory. Dubai is nonetheless a thriving commercial hub, with a large commercial harbour. Although it does have oil reserves, they are expected to be depleted in 10-15 years, and Dubai has traditionally relied on trade to ensure its prosperity.
Mathieu ventured to Dubai alone, not knowing a soul. She jokes that even her parents weren't sure where she was going.
"For the first three years I was here, my family told everyone I was working in Saudi Arabia. No one knew about the United Arab Emirates or Dubai. Now they think Dubai is fantastic and coming here helped clarify their apprehensions about the Middle East. When you come to this part of the world and see things for yourself, how friendly the people are, the quality of life, it really opens your eyes."
Today, Mathieu is no longer alone in Dubai. Three days after she landed, she met Marwan Ksibati, also a lawyer and now her husband and business partner. Their daughter Jana turned two years old in February and will speak English, French and Arabic when she grows up.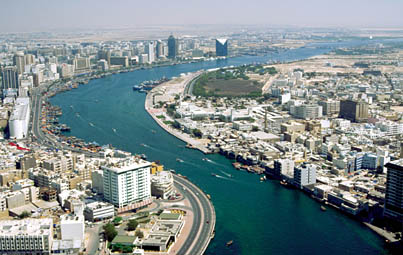 Downtown Dubai is split by a waterway known as The Creek.
Photo: © ATTAR MAHER / CORBIS SYGMA / MAGMA