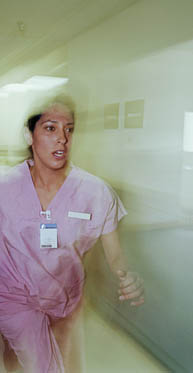 Getty Images
Nursing is in crisis across the continent as huge shortages loom, but the profession is also transforming and expanding at McGill
By Ed Kromer
Melanie Dyke, BSc(N)'01, begins her shift with a lap around the Royal Victoria Hospital's Intensive Care Unit, checking in with the nurses who staff this annular, insular ward crowded with intimidating medical machinery and patients in varying states of mortal frailty. She is less than three years removed from her undergraduate studies at the McGill School of Nursing, still one of the youngest nurses on the floor. But already she has ascended to assistant head nurse in one of the hospital's most demanding arenas.
Coincidence? Not at all. A 2001 article in the Globe and Mail iconized Dyke as "the new face of nursing in Canada" before she had even graduated, calling her "bright, articulate, bilingual...and equally at home at a researcher's bench or making patient rounds in a hospital ward."
"It was a little embarrassing," she admits.
But the article made a relevant - if perhaps overly hopeful - point. Dyke is indeed bright, articulate, bilingual. And also caring, ambitious and McGill-trained, which ensures equal facility with the hard science of medicine and the softer side of patient care. But what might distinguish the current "It" generation of would-be nurses is choice. Dyke was far from preordained to the vocation.
"I come from a generation that has a lot more choices than our parents had," she says. "Forty years ago, a woman would either be a nurse, a teacher, a secretary or stay at home. I could have been an engineer, a doctor, a lawyer - anything. I chose this profession because I believe I can make a difference in people's lives."
The trouble is, there are too few Melanie Dykes choosing to enter the nursing profession to replace too many experienced nurses who are departing. Budget-slashing health care reform scared off a generation of potential nurses in the 1990s. That same decade, the Quebec government drove thousands of experienced nurses to early retirement to trim an erroneously perceived personnel glut in the profession. Now nearly half of Canadian nurses, who generally burn out before they reach 65, are expected to retire in the next ten years. Add to the equation the demographic inevitability of an aging baby boom generation requiring unprecedented health care services and it adds up to a crisis of epic proportions.
The Canadian Nurses Association predicts a nationwide shortage of 78,000 nurses by 2011 and 113,000 by 2016. The Quebec Order of Nurses projects shortfalls in the province of 5,000 in five years, 13,000 in ten years and 21,000 in 15 years.
And, lest there be any doubt as to the veracity of these predictions, the Romanow Commission's Report on the Future of Health Care in Canada acknowledges the ominous dearth of nurses as a serious threat and calls for massive new funding. The symptoms of a nursing shortage are already appearing and are widely reported in the nation's newspapers almost daily: hospital bed closures, interminable emergency room waits, operating room backlogs and a long-term-care system in terminal decline.
"This shortage is real, serious and already here," says Dr. Susan French, associate dean and director of the School of Nursing. "And it's going to become much worse if we don't do anything about it."
Growing Pains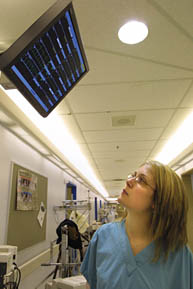 Owen Egan
McGill is doing something about it. On a mandate from the province, the School of Nursing is working to expand its student body and its program offerings. The Bachelor of Science (Nursing) program, traditionally the school's bread-and-butter, has grown from 30 to 60 students per class in the past two years. The Bachelor of Nursing program, once a scarcely traveled route to a university degree for students who hold a diploma in nursing from a Quebec CEGEP (community college), has been reinvented as a fully integrated, streamlined program - three years at CEGEP and two at McGill - that expects to welcome 70 students in the fall of 2004.
French hopes to see the Master of Science (Applied) program draw more than its current influx of 10 to 15 academic-minded nurses. And she expects enrolment in the school's Master of Science Direct Entry to continue growing, from 10 last year and 22 this year to 50 in future classes. This 30-year-old program, unique in Canada, allows students with a non-nursing bachelor's degree to earn their Master of Science in nursing in three intensive years. The school is also now offering a certificate micro-program in emergency room nursing and is developing a nurse practitioner program, now that NPs have been licensed to practice in Quebec.
Nursing students soon will have access to a 15,000-square-foot, state-of-the-art clinical skills lab being built in the basement of McGill's new residence by the Faculty of Medicine, of which the School of Nursing is a part. Once it is completed in the fall of 2005, nursing novices will be able to insert catheters, intravenous drips and nasogastric tubes into anatomically correct mannequins, practice triage on unwell thespians, and run through cardiac arrest drills without placing a life in the balance. Most of all, the lab will provide a welcome escape from the cramped quarters of Wilson Hall, the School of Nursing's lovely old headquarters whose stained glass, elegant wood finishes and grand, curvilinear staircase are perhaps more suited to a boutique program of a bygone age.
If recruiting efforts are successful, space will increasingly be an issue. As will professors, clinical mentors and the cash to pay for it all. French and her colleagues at Quebec universities are lobbying the provincial government for increased funding to educate more nurses. "We'll just have to see how enrolment progresses," says French, a pragmatist by director's necessity. "It's easier to get the system to respond after you add the people."