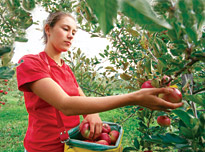 The Macdonald orchard
features 2,500 trees and does things the way that's all the rage nowadays (though it's really quite traditional): organically. Instead of pesticides, a non-chemical particle spray, kaolin, is used to manage pests. And not only are the apples trendily organic, they're also delicious.
An ongoing experiment in the Plant Science greenhouses, which feature a fully equipped lab and sophisticated environmental controls.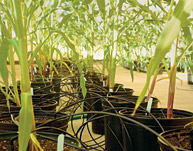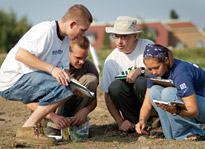 A group of students in a soil studies class. Soil studies fall under bioresource engineering, and the students learn how to manage soil for long-term productivity, sustainability and the maintenance of ecosystem health.
The Institute of Parasitology is one of the oldest recognized centres of interdisciplinary research in Canada and features a range of advanced technology platforms for research in molecular immunology, cell biology, gene expression, proteomics and bioinformatics.
The institute also hosts the new Centre for Host-Parasite Interactions, bringing together researchers from within McGill and from other universities, as well as government research groups.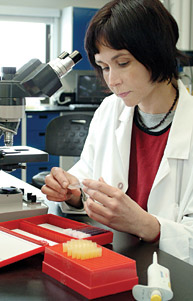 The School of Dietetics and Human Nutrition originated as the School of Household Science and has come a long way. Research interests at the School are diverse and include nutritional biochemistry, clinical nutrition, nutrition and epidemiology, nutrition in developing countries and nutritional toxicology, among many other areas. In 1993, the Centre for Indigenous Peoples' Nutrition and Environment was established as part of the School, and it works with aboriginal communities in examining their traditional food systems and whether they are compromised by pollutants.

The Ecomuseum is a private educational wildlife park, operated by the St. Lawrence Valley Natural History Society with McGill's active involvement. The University has provided land for the Ecomuseum site, lets a staff member work in the wildlife area, and encourages students to set up research studies there. The Macdonald Farm and the Ecomuseum exchange machinery and many departments at Mac provide grain for food from experimental plots. Here we see a few of the Ecomuseum's residents: a bald eagle and a pair of raccoons.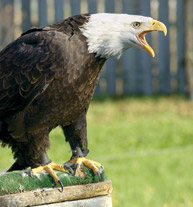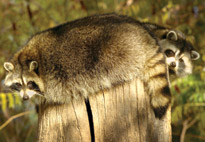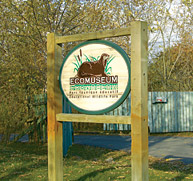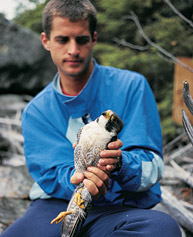 A wildlife biology student examines a peregrine falcon. Mac is home to the Avian Science and Conservation Centre, where students and researchers study the biology, conservation, and management of birds, as well as captive breeding and management of endangered species.
The Swine Centre
at Macdonald offers a pleasant contradiction to the stereotype of the pig farm. These pens, specifically designed for grower hogs, allow the animals to socialize in a family atmosphere. The pigs also enjoy greater popularity since the installation of the new manure dome at Mac, which takes care of the pungent odour from the manure tank.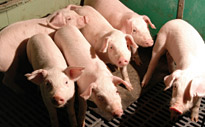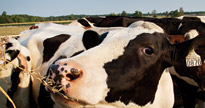 The Mac dairy cattle herd
is made up mostly of Holsteins, and only females are kept on the farm - males are sent to market for beef. The dairy unit has a small full-time staff, and students are hired throughout the year for milking duties, with the first of three milkings occurring at 5 am every day.