It's hard to walk very far on McGill grounds without running into some part of the Sir William Macdonald legacy, but his superlative gift to the University is Macdonald Campus.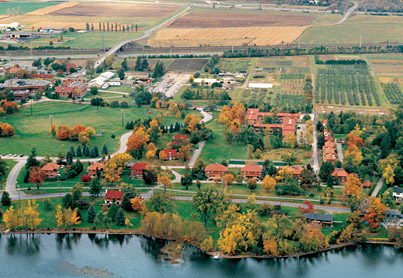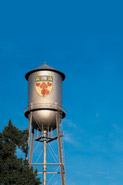 Located 30 kilometres west of Montreal on 650 hectares of beautiful waterfront property, Macdonald is home to the Faculty of Agricultural and Environmental Sciences, the School of Dietetics and Human Nutrition and numerous research institutes. "Mac" is also a key part of McGill's hugely successful School of Environment, which has been attracting new students to the West Island campus each year. With an amazing array of campus resources and living laboratories, 1,200 undergrad and grad students make Mac their academic home, studying everything from animal science, botany and human nutrition to developing subjects like bioinformatics and ecological economics.
When Macdonald College opened in 1907, the offerings fell under three schools: Agriculture, Household Science and the School for Teachers, which eventually evolved into the Faculty of Education and moved to the downtown campus. Today, in addition to its regular programs, Macdonald boasts a number of prestigious research centres and networks, including the Brace Centre for Water Resources Management, the Centre for Host-Parasite Interactions, the Centre for Indigenous Peoples' Nutrition and Environment, the Plant Productivity Research Network and the Institute of Parasitology.
Mac is also home to the popular Morgan Arboretum, as well as the Molson Nature Reserve, the Lyman Entomological Museum (with some 2.8 million specimens), the Ecomuseum, the McGill University Herbarium and, of course, Macdonald Campus Farm, with its commercial-scale dairy, swine and poultry operations and specialized facilities for animal research.
All of this combines into a vibrant and thriving community that is gearing up for centenary celebrations in 2007. McGill News decided to visit the campus and shares this glimpse with readers.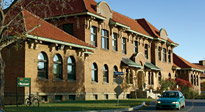 The Raymond Building
was built in 1979 and named after Professor Carl Raymond, Chair of the Agronomy Department and a member of the second Macdonald graduating class of 1912.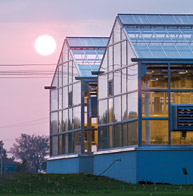 The building houses the Departments of Agricultural Economics and Plant Science and features connected greenhouses. The greenhouses are modern and computerized for research, equipped with temperature control, misting systems, drip-irrigation with fertilizer injection, automatic shading, HP sodium lighting, biological pest control and an integrated database system. Despite these high-tech inner marvels, the greenhouses retain an outer sense of tradition (and look lovely in the evening).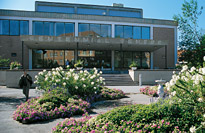 The Centennial Centre is a familiar gathering spot at Mac and is home to the Students' Society, Student Services, and hosts many social activities, including Macdonald Homecoming. The garden shown here features a sundial (at right) that was a gift of the Class of 1912.
Macdonald Campus Farm is one of only a few on-campus working farms in Canada. Its role is likened to that of teaching hospitals in teaching and research for the Faculty of Medicine. With 200 hectares of crops, 88 dairy cattle, 6,000 chickens, 600 pigs and even some red deer, that makes for quite a classroom. The farm is also a popular site for educational tours and a summertime petting zoo - a favourite destination for school and day camp visits.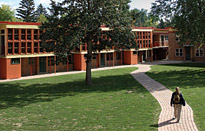 The EcoResidence is McGill's most innovative residence. Originally the Robertson Terrace student housing complex, the EcoResidence salvaged the worn-out residence rather than tear it down, making it a perfect example of the three Rs: reduce, reuse and recycle. It features state-of-the art heating and ventilation systems to maximize energy conservation and was awarded a Prix d'excellence from the Ordre des architectes du Québec in 2000.