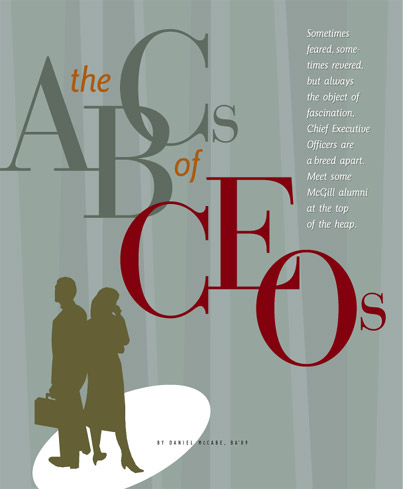 By Daniel McCabe, BA'89
It seems we can't quite make up our minds how we feel about CEOs. One moment, they're portrayed as villains, epitomized by J.R. Ewing and his shark-like grin. The next, they're no-nonsense, can-do stalwarts, typified by General Electric's fabled Jack Welch.
These days? Well, with newspapers currently filled with the scandalous doings of senior executives at Enron, Parmalat, WorldCom and their ilk, let's just say that most CEOs are anxiously awaiting the day when they start receiving favourable press coverage again.
"There are a lot of success stories out there that never get into the papers," grumbles Nancy Hughes Anthony, BA'70. The president and CEO of the Canadian Chamber of Commerce, Hughes Anthony says, "The press likes to focus on the bad guys."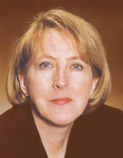 CEOs, especially those who lead large corporations, don't exactly have undemanding jobs. "You have to balance the expectations of so many different groups - shareholders, customers, employees. It's like trying to fly a helicopter. You're going up, down, sideways," relates John Cleghorn, BCom'62, the much-respected former CEO of the Royal Bank of Canada and the current chair of the board for SNC-Lavalin Group.
And the nature of corporate leadership has evolved over the years, explains Dean of Management Gerald Ross, BCom'66. "It wasn't that long ago that one person could know, if not everything about the business she was running, then a lot about it."
Life has since become far more complex. "We're in the post-9/11 era, the post-SARS era, the post-Enron era. It's getting harder to predict what's coming up next. Adaptability is the key," says Ross. "We're moving into a world where the integration of knowledge has become more critical than ever. The people below the CEO can be the specialists. The CEO has to be able to pull that expertise together. He is the quarterback, the orchestra conductor."
"Charisma is less important to leadership than we used to think it was," asserts management professor Karl Moore. "What's more important is a strong emotional intelligence. It's a leader's job to get people to buy into your vision. You need to know what motivates people, what drives them, what gets them excited."
Cleghorn insists that one of a CEO's chief duties is to prepare for the day when he is no longer there. "Don't think you're it forever," he says. CEOs often stumble "when they're made to feel as if they're the one and only."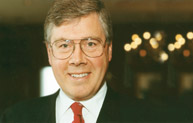 In Cleghorn's case, he played a key role in assembling a talented team of senior managers that would be in place the day he departed the company. "CEOs should be measured by how well the company does once they're gone, not just on how well the company is doing now."
Moore agrees, but cautions that CEOs can be torn between today's needs and tomorrow's. "If I was [running] Bell Canada, I would be thinking very seriously about how long distance services over the Internet are going to affect my revenues. But that isn't going to happen for another five to ten years."
In the meantime, he says, "CEOs are under enormous pressure to solve current problems." Shareholders judge you on the here and now. That can result in short-sighted decisions that cripple the company in the long term. After all, that will be the next CEO's problem.
Moore is the associate director of McGill's new Advanced Leadership Program, an offshoot of McGill management professor Henry Mintzberg's highly successful International Master's in Practicing Management.
The IMPM targets up-and-coming executives - corporate talents being groomed for senior positions. The ALP shares much of the IMPM's approach - a chance to step back and reassess your job and organization, an emphasis on shaking things up, the opportunity to learn in a variety of countries and institutions. But it presents a much more compressed program and is geared toward more senior leaders.
"I think a lot of [senior executives] impressed by the IMPM were asking Henry, 'Why don't you have anything for me?'" says Moore.
Cleghorn has his own advice for aspiring corporate leaders. "Get as much of a liberal arts education as you can. Life isn't all about accounting or marketing. There will be broader issues facing you all the time."
While Cleghorn was the very model of mild-mannered leadership as a CEO, he says corporate leaders have to thrive on competition. "I enjoyed seeing my company succeed. I wanted to win. You're always in competition, competing for customers, competing for the best talent." He thinks future leaders are usually easy to identify. "They tend to be leaders from early on, on sports teams or campus clubs."
But sometimes leadership can come from a surprising source. A military history buff, Cleghorn points to the example of Ulysses S. Grant, who led the Union forces to victory in the American Civil War, saving his country in the process.
"For much of his life, Ulysses S. Grant was a failure," notes Cleghorn. A mediocre student, a disaster as a businessman, a farmer plagued by poor results, Grant somehow tapped into greatness as a military leader.
So there remains an element of mystery to leadership. "If it was easy, we would all be leaders," says Ross.