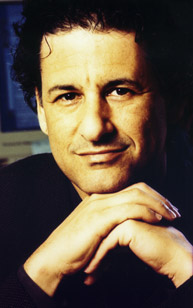 Arsenio Coroa
By James Martin
If you think you can't carry a tune in a basket, then you'll be interested to know that psychology professor Dr. Dan Levitin probably disagrees with you. His research shows that most of us can reproduce a favourite ditty with surprising accuracy, whether we're fans of Frank Sinatra or 50 Cent.
Levitin has been involved in music all his life, composing, playing, recording, conducting and writing about it. Now he's investigating which part of the brain is used to learn and remember music.
Levitin came to McGill in 2000 and is an associate professor in the Department of Psychology. With impressive academic credentials and a couple of cross-appointments in the Faculty of Music and the McGill School of Environment, he's been fast-tracked to tenure. But back in 1977, he was a college dropout. His academic career literally flamed out when he cranked up the volume on the Beatles' Abbey Road in his MIT dorm room, causing his speakers to ignite. He decided he'd rather be spending time in recording studios than in classrooms.
Over the next 13 years, he earned a living as a session musician, commercial recording engineer and record producer - working with artists as diverse as Chris Isaak, k.d. lang and Blue Öyster Cult - and served as Director of Artists and Repertoire for the legendary 415/Columbia Records. He earned a sizable reputation as a music journalist on the side: his front-page Billboard magazine article outed the MCA label as having erroneously released a slew of Steely Dan CDs mastered from drastically inferior tapes. The article resulted in a massive, multi-million-dollar recall of the discs and Levitin says he's still persona non grata at MCA.
Levitin also dabbled in stand-up comedy, performing on the San Francisco club circuit and contributing the occasional 50-bucks-a-pop joke to the TV monologue mill. His claim to almost-fame came when he sold a joke about then President Ronald Reagan to Tonight Show host Jay Leno.
In 1990, wary of creeping conglomerization and accounting scandals in the music industry, Levitin decided he wanted out. Too many eyes on the bottom line, not enough ears listening to the music. "When I entered the music business," he recalls, sitting in his sixth-floor office in the Stewart Biology Building, "there were something like 25 major labels. When I left, it was down to 15. Now there are three or four.
"I don't have anything against making money, but I'd gone into the music business, rather than selling shoes, because music meant something to me."
He seriously considered becoming a llama farmer - but his vegetarian conscience worried the animals were being bought for meat. He considered becoming a novelist - but fortune threw some curveballs. The editor who'd been helping Levitin edit his novel dropped off the radar, only to resurface with a new literary ward: some "Rowling" person with a book about kid wizards. He considered doing stand-up comedy full-time, "but I'd spent too many years clawing my way up to the bottom of the music business that I didn't want to start over in another industry. Besides, other comedians were stealing my material faster than I could come up with it."
Academia wasn't on his career short list either, but after teaching a few courses on record production at Stanford, the autodidact was politely informed that it would look good if he had at least a bachelor's degree under his belt.
Academic friends, including James L. Adams (the Stanford mechanical engineering professor who popularized the term "thinking outside the box" in his book Conceptual Blockbusting) also nudged him toward the ivory tower. But what to study? Levitin admits to having had "no idea." Math? Linguistics? Anthropology? Almost anything except music; he didn't think his classical chops were quite up to snuff. Psychology won out because "it seemed the most flexible," with enough breadth to touch on many of his wide-ranging interests. So, at the age of 34, Levitin enrolled as a junior at Stanford.
"It wasn't intimidating," he recalls, "because I knew why I was in school that time around. It was entirely different from when I was 19 and I was in school to get away from home and smoke pot and drink beer. This time, I was in school to learn. When I first started teaching the record production courses, I realized how much I like being on a university campus. I could spend time in the library and talk to a bunch of really smart people - it was thrilling."
Nonetheless, for such a "mature" student there were social challenges. Fortunately, psychology professor Anne Fernald took Levitin under her wing, introducing him to the graduate set. "So although I was taking undergraduate classes, I was hanging out with grad students, learning what it was like to be a grad student, to do research full-time, and getting a better idea of whether I wanted to keep doing it. I owe Anne a lot for that."
Two years for his bachelor's. One year for his master's. Three for his PhD, and another three for his post-doc. The music-biz guy had successfully reinvented himself.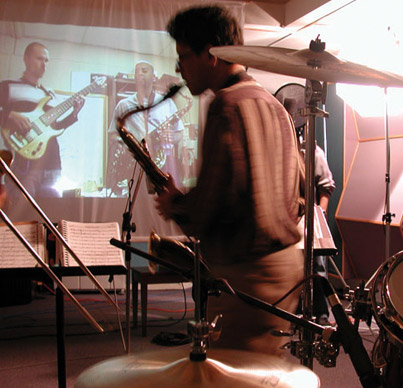 Dan Levitin and other McGill musicians join players in California via Internet video-conferencing technology for a concert performed in real time at both McGill and Stanford University.