Honours & Awards
Recipients 2004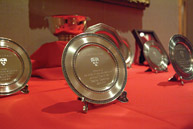 They came from far and wide for an evening of good food, good fun, good company and bad jokes. On May 20, it was time again for the McGill Alumni Association's Honours and Awards Banquet, paying tribute to some of the best volunteers of the year among McGill graduates, friends, faculty, students and staff. Everyone had a tremendous time, and the News is pleased to offer warm congratulations to all award winners and thank all of McGill's volunteers.

Award Winners
Award of Merit James G. Wright, BA'65
Distinguished Service Awards Marcel Couture, Dip(Agr)'65, BSc(Agr)'72, Richard Hart, PhD'70, MBA'73
David Johnston Award Frances Groen
E.P. Taylor Award Marie-Anne Colucci, BA'77, Ian Pilarczyk, BA'92, LLM'97, DCL'03
Honorary Life Memberships Anthony Masi, Susan Button
Special Honorary Life Membership Award Heather Munroe-Blum
D. Lorne Gales Award Macdonald Class of 1968
Charles Peters Branch of the Year Award McGill Alumni Association of Southern California
President of the Year Tim Houlihan, MUP'76, McGill Alumni Association of Victoria
Gretta Chambers Student Leadership Awards Louis Dorval, BEng'04, Matthew Howett, BA'05, Stacey O'Neill, BCom'04
Event of the Year Award "Post-Impressionists After Hours" with the McGill Young Alumni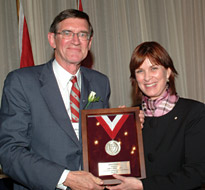 Jim Wright receives the Alumni Association's highest honour, the Award of Merit, from Principal Heather Munroe-Blum, who was herself presented with a special Honorary Life Membership.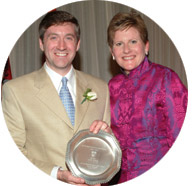 Regional Director of the Alumni Association in Boston Ian Pilarczyk, BA'92, LLM'97, DCL'03, receives his E.P. Taylor Award for outstanding voluntary service from Nancy Wells, Vice-Principal of Development and Alumni Relations.
Members of the Macdonald Class of 1968 received the D. Lorne Gales Award for maintaining close ties to the University through class correspondence, reunions and special fundraising projects. (Pictured below)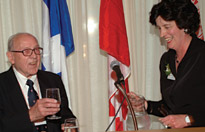 Incoming Alumni Association president Morna Flood Consedine, MEd'77, DEd'85, invites Professor Stanley Frost, LLD'90, to deliver a toast to the University.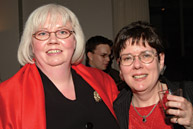 Susan Button, who received an Honorary Life Membership, is shown at the cocktail reception with Joan Hagerman.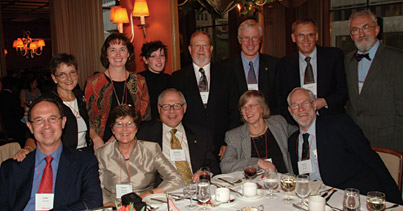 The Student Organization for Alumni Relations table included (front row from left) Shawna Starnes, Student Leadership Award winner Stacey O'Neill, BCom'04, Lauren Wilson, BCom'05, Asim Khan, (back row from left) Marco Tesolin, BCom'05, Kathy Neville, Annual Fund Officer Jason Finucan, Kate Rhodes and Communications Associate Dan Goldberg.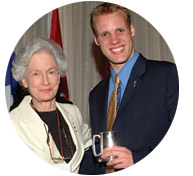 President of the Year Tim Houlihan, MUP'76, centre, with Harry Zarins, BEd'74, MEd'79, and Arlene Ewert.
Matthew Howett, BA'05, received a Gretta Chambers Student Leadership Award from Chancellor Emerita Chambers herself.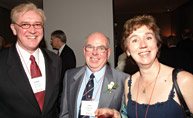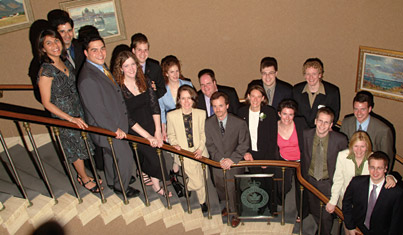 Members of the McGill Young Alumni pose on the staircase of the St. James's Club before accepting the award for Event of the Year.
Director of Libraries Fran Groen was presented with the David Johnston Award and chats here with Professor Phyllis Shapiro, DipEd'56, and Principal Emeritus Bernard Shapiro, BA'56, LLD'88.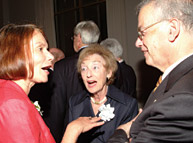 Alumni in the Shark Tank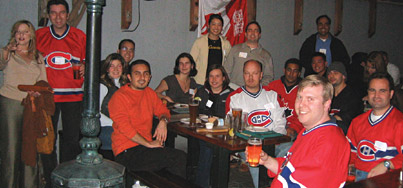 The Northern California branch had over 40 alumni meet up at the Tied House in San Jose for a pre-game gathering before heading off to the Shark Tank to watch the Montreal Canadiens play against the San Jose Sharks. The branch even got their name up on the arena screen.
Management Off the Rails Breakfast
Management alumni and guests were treated to twice the fun: a hot breakfast at the Penn Club of New York and Henry Mintzberg as the guest speaker. The McGill Management professor and best-selling author discussed his new book, Managers not MBAs.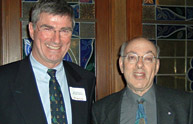 From left: John Ellsworth, BEng'80, MBA'81, and Henry Mintzberg, BEng'61, Cleghorn Professor of Management Studies.
Out and About in Newfoundland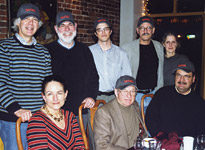 McGill Architecture professor Robert Mellin, MArch'84, (back row, 2nd from right) and Communications Associate Helen Dyer (not pictured) coaxed St. John's grads out for an evening at the Taj Mahal restaurant with the promise of free McGill caps.
A Fine Vintage
Toronto alumni enjoyed an April evening of wine-tasting, courtesy of South Africa's Hartenberg Estate and coordinated by Bill Hobbs, BSc(Agr)'56, and Anna Hobbs, BSc(HEc)'58, of Hobbs & Co. Wine Merchants.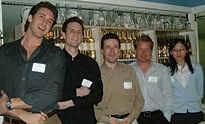 From left: Aaron Klein, BCom'03, Pierre Dufour, BCom'02, Pierre Montagnier, PhD'02, Frederic Perron, BCom'97, and Xuechun Lu, MSc'03.
Leacock in Toronto
At the Toronto Leacock Luncheon in May, guest lecturer Will Ferguson met Elizabeth Kimball, Stephen Leacock's niece, who came with members of the Stephen Leacock Society.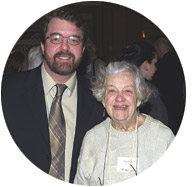 Jamaica Gathering
The Macdonald Class of 1951 has a long history of getting together around the world and held a very successful reunion in Jamaica in April. The class are a tight-knit group and keen supporters of McGill who are currently raising money to support the Macdonald Library renovations.