Top Ethics Watchdog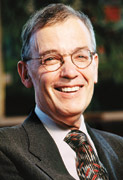 Nicolas Morin
One could hardly blame Bernard Shapiro, BA'56, LLD'88, if he empathized with reluctant Mafia don Michael Corleone, who declared in The Godfather, "Just when I thought I was out, they pull me back in!"
Every time McGill's principal emeritus seems on the verge of winding down his career, a startling job offer emerges out of the blue. Last time, Shapiro was asked to lead McGill. This time, he's been named Canada's new ethics commissioner. But unlike the fictional godfather, Shapiro is not at all reluctant. "This is a whole new adventure for me," he says. "I expect to have a great time."
According to the Globe and Mail, Shapiro "is the man Prime Minister Paul Martin hopes will make it clear that Mr. Martin is serious about parliamentary reform." Indeed, one reason Shapiro took on the position is that he's troubled by "the cynicism and lack of faith" many Canadians feel for their political representatives, something that was underlined in the congratulatory emails he received from friends and acquaintances. Many of them included barbed jabs at the politicians Shapiro will be working with.
While he recognizes that some degree of skepticism is understandable, this distrust is becoming "very unhealthy," he says. "The amount that any one person can do is limited, but I hope to make some small contribution to the amount of faith we have in our politicians."
Shapiro is hardly a newcomer to government. Between 1986 and 1992, he held senior posts with the Ontario civil service, including deputy minister of education and deputy minister of skills development. "My belief is that most people want to do the right thing," insists Shapiro, who views his position as "an educational-type job." He wants to put programs into place that will help Members of Parliament, many of them new in their roles, "look at life from someone else's point of view and think through the consequences [of their decisions]."
Shapiro's appointment is for five years. He'll report to the House of Commons, not to the prime minister alone, as did Howard Wilson, the beleaguered former ethics counselor much criticized for his perceived inability to find fault with the Liberal government's conduct. Shapiro will oversee an existing conflict-of-interest code for cabinet ministers as well as a forthcoming code of ethics for Members of Parliament.
He promises to be "ferocious" in his new role. Like Auditor General Sheila Fraser, BCom'72, whose revelations earlier this year of questionable financial practices put the government on the hot seat, Shapiro will issue an annual report covering ethical matters and will look into complaints about the conduct of parliamentarians. Like Fraser's, his findings will be made public. That gives his office considerable clout, says Shapiro. "Exposure is a very powerful tool. What people know makes a difference."
Next Stop, The Grand Prix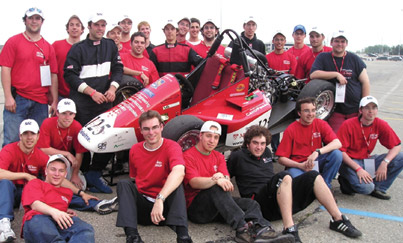 Members of the McGill Racing Team with their formula car.
When you think sports at McGill, Formula 1 racing isn't the first thing that springs to mind. But McGill engineering students have been doing just that, crossing the finish line with impressive results at a recent Society of Automotive Engineers (SAE) competition in Pontiac, Michigan. The McGill Racing Team's prototype car bested all Canadian universities in the contest and placed 15th worldwide out of 140 entrants.
"Our team is made up of about 30 mechanical engineering students, ten from electrical and software engineering and a few more from other departments," says technical director Jonathan Laliberté. "At the beginning of the year, the formula car is designed and analyzed by computer, then manufactured by team members, then tested and raced in May."
For the SAE competition, engineering students from around the world design, build and race small-scale formula-style cars. "Restrictions are placed on the car frame and engine so the students' knowledge, creativity and imagination are tested," say SAE officials. The vehicles are judged on engineering design, solo performance trials and high-performance track endurance.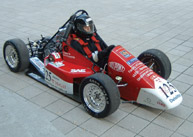 Placing near the top of the heap "is an impressive accomplishment" for the McGill team, says Laliberté, "given that the level of competition is extremely high and that the event is very well known in the automotive engineering field."
To learn more about the McGill Racing Team, see their website at www.fsae.mcgill.ca.