Speeding Medical Discovery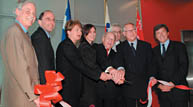 Nicolas Morin
There's a new research powerhouse on campus and with it McGill's TechSquare is definitely starting to take shape. Principal Heather Munroe-Blum, representatives from the federal and provincial governments, the mayor of Montreal and some of the top scientists in the country were on hand in September for the official opening of 740 Dr. Penfield, a new medical research hub that will focus on genomics, proteomics, bone research and biotechnology. The inauguration of the medical science facility gives McGill and Montreal one of the top DNA research centres in the world.
"We're giving scientists a remarkable place to propel knowledge and reach their full potential," said Munroe-Blum at the official opening ceremony, "and we are again highlighting McGill, Montreal, Quebec and Canada as hotbeds of life sciences innovation."
The new building - located near the Strathcona Anatomy and Dentistry Building - houses four scientific groups: the McGill University and Genome Quebec Innovation Centre, the Montreal Proteomics Network, the Jamson T.N. Wong Laboratories for Bone and Periodontal Research, and several "biobusiness incubators" - independent, secure lab spaces for biotech startup companies. Medical researchers, engineers, biologists and mathematicians will work side by side to examine the interactions between genes and proteins and determine their roles in a wide range of diseases, including cancer, diabetes and multiple sclerosis.
"Cross-disciplinary research is essential for future discoveries," says Dr. David Goltzman, BSc'66, MDCM'68, McGill University Health Centre (MUHC) chief of Medicine and Director of the Centre for Bone and Periodontal Research. "740 Dr. Penfield will facilitate collaboration and as a result, will hasten the pace of discoveries."
Fourteen funding partners contributed to the construction of the six-storey structure, which forms part of the MUHC and was constructed and partially outfitted at a cost of $31.6 million.
"These partners are an integral part of advancing quality research," says Dr. Thomas Hudson, the catalyst behind 740 Dr. Penfield and Director of the McGill University and Genome Quebec Innovation Centre. "Without these partners our visions would never have been realized." Over the next five years, they will provide nearly $50 million in additional funds for operations and equipment.
Hudson says that the genome centre recently scaled up to producing 300,000 genotypes (or DNA tests) per day, and they'll eventually have the capacity to go up to 1,000,000 genotypes per day, making it one of the largest gene-typing throughput systems in the world.
Macdonald's Spider-Man
Whenever Dr. Octopus or another evildoer tries to sneak up behind Spider-Man, the comic book hero's patented spider-sense kicks in, warning him that danger is approaching. Natural Resource Sciences professor Christopher Buddle is also employing spider senses as a method for detecting potential calamities, but his concerns relate to climate change rather than the Green Goblin's latest crime spree.
Buddle is developing a long-term biodiversity monitoring system, using such McGill field stations as Mont St. Hilaire, the Morgan Arboretum and the Molson Reserve. Buddle, an expert on spiders and other arthropods, says that these creeping critters "tell us a lot about the impact of global warming. Spiders are really sensitive to changes in temperature and precipitation."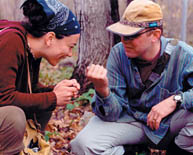 Courtesy Christoper Buddle
There are several reasons why spiders are useful in gauging environmental shifts. For one thing, spiders turn up in just about every place imaginable. For another, there are all sorts of spiders (2,200 species in Canada alone), which might react differently to climate change. Just as important is the fact that scientists have a pretty good handle on all that arachnoid diversity - more so than for insects. There is also plenty of scientific documentation about spiders' sensitivity to environmental change, notes Buddle.
The plan is to visit each monitoring station once a year and gather samples of spiders, as well as ants, beetles and other creatures, to see if any species is in decline or exhibiting other noteworthy changes. We want spiders to persevere, says Buddle, because global warming plays to the advantage of the pest populations spiders prey on.

Probably the only professor at McGill with a pet tarantula in his lab - a gift from a former student - Buddle acknowledges that spider bites aren't pleasant, but not for the reasons we think. "The pain isn't the result of spider venom, most of which isn't toxic to humans. But spiders are dirty creatures and there are all kinds of bacteria growing on their fangs."