McGill's on a Roll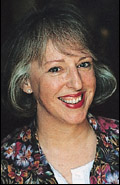 Research. If that word conjures the ivory tower, lonely scientist in a lab image for anyone, you'd better think again. As you'll learn in this issue, some researchers travel thousands of miles to carry out their work and have to be prepared to defend themselves against everything from armed bandits to polar bears and biting spiders.
Of course, there are some kinds of science that can only be done in a lab, but even those conditions can be extreme. For example, the scientists who work in the area of nanotechnology are dealing with material so small that a speck of dust can crush the structures they build. Mind boggling, isn't it?
We didn't start out with a plan to do an all-research McGill News, but fascinating feature ideas just seemed to keep popping up. When the announcement came in early November that McGill had been named Canada's Research University of the Year, we decided to go ahead and put these great stories together.
Of course, earning a designation like Research University of the Year is a little like winning an Oscar for best picture. It takes a lot of people working behind the scenes to make it happen - for example, to help match a particular research idea with the most appropriate source of funding. Putting grant applications together is a long and gruelling business but if the fit isn't right, even the best ideas will be turned down. McGill's Vice-Principal (Research) Louise Proulx gives credit to her strong team and adds that another of their jobs as research administrators is to remind funding agencies "to strive for a balance between science and technology on one hand and social sciences and humanities on the other."
The holidays are over and the year ahead looks like a promising one for McGill. Any way you look at it, we're on what can only be characterized as a roll. Rhodes scholarships have been awarded to three McGill students for 2004, two of three Canadians awarded $60,000 Amelia Earhart fellowships for aerospace research are McGill graduate students, and new professors are beating a path to McGill from around the globe. The latest in genomics research is happening in a new facility on campus and by this time next year, music will be studied in an entirely new way - by mathematicians, doctors and engineers, among others - and in a long-awaited new building.
McGill is second in the Maclean's magazine rankings and still leading the country in drawing the best students and graduating the highest proportion of those who enter. A 600-bed hotel was purchased and converted to residence space over the summer and the libraries have added more high-end workstations which will soon be available around the clock.
With all that, you could understand if there was a little resting on laurels, but that's not happening. In fact, what's going on is just the opposite. All over campus, faculties, schools and departments are thinking about what they can do better. It's part of an exercise instituted by Principal Heather Munroe-Blum and her senior team.
Deans and directors have been putting wish lists together and working on plans, known as "compacts," which will serve as the agreement on the goals and objectives to work towards between the University and an individual unit. Determining these objectives will be the result of several rounds of discussion between the deans and members of the senior administration.
The process is intended to provide the framework to support the University's broad priorities, which include building on research success, continuing to recruit top students and faculty, improving libraries and student services, and enhancing internal operating procedures.
If you are among those who receive the magazine once a year as part of our annual "worldwide" mailing, then we welcome you to our readership again. Those who receive all four issues are either donors or recent grads, and to you we say thanks and congratulations. We are increasing the ways for all of you to stay in touch with McGill. You can sign up to receive an electronic newsletter four times a year or to become a member of our online community. By keeping your address information current, you will also be sent news from your faculty. Find out all you need to know at www.mcgill.ca/alumni/.