Three Scholars Off to Oxford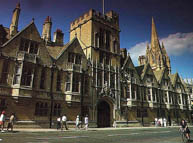 It isn't easy becoming a Rhodes Scholar. According to the 1902 bequest of Cecil John Rhodes, the scholarships were to be awarded to students who displayed strong "literary and scholastic achievements...fondness for and success in outdoor sports...truth and courage...[and] moral force of character and instincts."
Maybe it means organizing weekly general education courses for low-income urban residents or serving as founder and president of the McGill Engineers Without Borders Canada chapter. Perhaps it involves working in rehabilitation and maternity centres in the shantytowns of Lima, Peru. And that's not including the hard work that goes into keeping grades high while excelling in varsity rowing, swimming or hockey.
Sound tough? If you're Alexandra "Alex" Conliffe, BEng'04, Aleksandra Leligdowicz, MDCM'06, or Simon Rabinovitch, BA'03 - McGill's 2004 Rhodes Scholars - it's just what keeps things interesting. For their academic and athletic achievements and for their commitment to community service, these three student dynamos have each been awarded one of the most prestigious scholarships in the world and the opportunity to study for two years at Oxford University.
Conliffe entered McGill with a McConnell Scholarship and a passion for studying mechanical engineering with the intent of using it to help manage the environment in developing nations. She founded the McGill chapter of Engineers Without Borders, created and managed a water filtration project in Uzbekistan, and won a 2003 Gretta Chambers Student Leadership Award from the McGill Alumni Association.
Leligdowicz is a science graduate from the University of Manitoba where she studied microbiology and won a Leader of Tomorrow scholarship. She has conducted research in immunology at the Manitoba Institute for Cell Biology and the McGill Cancer Centre. Meanwhile, her volunteer record includes work at St. Paul's College Chaplaincy at the University of Manitoba, for Canadian Blood Services, at community clinics in Peru and an HIV clinic in Uganda.
Rabinovitch, former McGill Daily News Editor and Board of Directors member, is also no stranger to volunteer service. He has worked with Frontier College, teaching English literacy to Mexican migrant labourers, and organized the Downtown Course for the Humanities, an educational outreach program in Montreal. He has won numerous scholarships and prizes while studying at McGill, but, like the other Rhodes winners, he takes nothing for granted.
As Leligdowicz says, "We tend to forget how fortunate we are here in Canada, with so many services available to us, right there at our fingertips. However, there are people who live around us who lack health care, lack opportunities for education or lack food. We have a responsibility to help."
These latest awards bring the official total of McGill Rhodes Scholarship winners to 122, a number unmatched in Canada.
Online at the Info Commons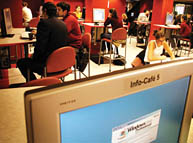 Claudio Calligaris
For some time now libraries have been about more than books. The wired generation of student library users recently got a high-tech boost in the form of the McGill Libraries Information Commons, a custom designed research and study facility, which opened up in the Redpath Library building this fall. With 43 workstations offering access to the library's web tools and e-resources - which includes McGill subscriptions to thousands of electronic journals - plus software, DVD players and CD reader-writers, students will be so well equipped some may not want to leave the first-floor facilities. That's in fact part of the plan, since the Info Commons will eventually be part of a 24-hour, 7-day-a-week study centre.
In addition, one floor down, 22 more computers are set up in the Info-Café, adjacent to a small cafeteria, so students who've been told for years never to bring coffee or food into the library will be able to check email and surf the web using spill-resistant keyboards. (The rest of the library remains off limits to food and drink - some traditions are forever.)
The facility also features seven new group study rooms equipped with jacks for laptop computers, and the space is a designated wireless zone for those whose personal laptop computers are setup for wireless networks - known as WiFi in geekspeak.
"This generation of students never knew a world without computers. They were pre-adolescent when the world wide web came about," Director of Libraries Frances Groen told the McGill Reporter.
The construction of the Info Commons was funded by a bequest from Maurice Massé, a gift from Dr. Marianne Shey in honour of David C. Lam, and by contributions from the Library Improvement Fund of the Students' Society of McGill University, which has raised $500,000 a year for McGill Libraries since the fund was founded in 1996. The computers were paid for by the offices of McGill's head technology wizard, Deputy Provost and Chief Information Officer Anthony Masi.