NBC uncouples new sitcom
Your Fall 2003 issue reported that Colin Ferguson, BA'94, is in a new TV series, Coupling, on NBC. The first episode features jokes about oral sex and shaved pubic hair. Good clean fun, eh?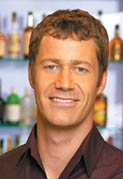 Paul Drinkwater / NBC
Mr. Ferguson explains that adult-themed HBO shows such as Sex and the City, The Sopranos and Six Feet Under are making HBO a lot of money and winning them a lot of awards. His show was cancelled after four episodes. That type of "humour" doesn't always sell, thank goodness.
William Smyth, BEng'48
Indio, Calif.
Ed. note: Friends and fans of Colin Ferguson needn't worry. The actor signed a contract to appear in an ABC series a mere three days after the cancellation of Coupling was announced. The show, called Line of Fire, appeared in the NYPD Blue timeslot during the month of December. A visit to the NBC website as we went to press seemed to reveal ambivalence on the part of the network about the future of the late and generally unlamented Coupling. The following rather cryptic message appeared: "An upcoming episode has not yet been scheduled. Please check back later."
Louis Dudek slighted
Oh dear. I referred in my contribution to Fall alumnotes to Louis Dudek's "capacious" not "capricious" mind. He might have shrugged and chortled; but I cannot bear to leave such a slight on the record. Still on the topic of the late lamented L.D., would you be so good as to mention Eternal Conversations, just published by his old D.C. press. It is a tribute to that McGill titan who was all his life so unashamedly and intelligently and contagiously crazy about poetry.
Marianne Bluger, BA'67
Ottawa, Ont.
p.s. Thank you so much for bothering to do that review of Early Evening Pieces. We poets go mostly unnoticed and it did my heart such good to have a nod from my old Almama. Louis would have been pleased as well, I am sure.
Ed. note: Our capricious input elves have been scolded. Interested readers can find out more about Eternal Conversations in this issue's Reviews section.
Waterloo's whiskey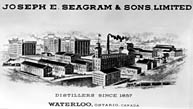 CWHRU
In the Fall 2003 edition of McGill News, an item in the Newsbites section titled "Home Sweet Home" referred to "the whiskey distilled by Seagram, which was founded by the Bronfman family." This was news to those of us living in Waterloo, Ontario, who thought that the distillery was founded here in 1857. Joseph E. Seagram became a partner in 1869 and assumed full ownership in 1883. Seagram Distillery was sold to Samuel Bronfman in 1928.
I thoroughly enjoy reading McGill News as it brings back fond memories of my years on campus.
David Ash, BSc'66, PhD'73
Waterloo, Ont.
Ed. note: We apologize for placing credit where it wasn't quite due. Samuel Bronfman founded the Distillers Corporation in Montreal, which he later merged with Joseph E. Seagram & Sons. The new enterprise eventually became the Seagram Company. Bronfman was ready for the end of Prohibition in the U.S. with a huge supply of aged and blended whiskey ready to sell to thirsty Americans. Under Bronfman, Seagram reached sales of $1 billion worldwide by the mid-'60s. The company's enormous success even influenced agricultural practices in Canada with the introduction by Seagram of a policy to buy Canadian corn, once grown only in the temperate regions of southern Ontario. Seagram research scientists helped develop a strain hardy enough to be grown anywhere in Canada and now Newfoundland and Labrador is the only province where corn isn't produced. Declining sales of spirits throughout the 1980s and '90s led to the closure of the Waterloo distillery just over a decade ago. To learn more, see the city's very interesting website about the history of the Seagram plant at www.city.waterloo.on.ca/SeagramCollection/.
Sesquicentennial oversight
Your Spring 2003 issue was most interesting. The article by Patrick McDonagh on stamps with a McGill connection brought back memories of my years at McGill and my involvement with the McGill Stamp Club. McGill celebrated its 150th anniversary in 1971. Canada Post had been approached to issue a stamp for the event. Unfortunately, the effort was unsuccessful.
However, we arranged an extensive stamp exhibition that was held during Homecoming week. Canada Post arranged for a special "McGill 150, 1821-1971" cancellation that was used only for that weekend. The covers used three current stamps with McGill connections. The covers were sold to collectors as individual pieces or with all three stamps. I am enclosing a copy of a cover that featured all three - Stephen Leacock, Sir William Osler, and Sir Ernest Rutherford.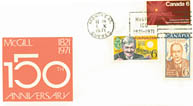 It was a pity that McGill University was not given that individual honour in 1971. I hope that in 2021 we will be around to see this oversight corrected.
David Stein, BEng'74
Montreal, Que.