To celebrate being named Research University of the Year in Canada, the News brings you a special series of articles on research at McGill.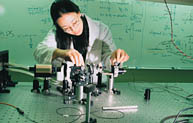 Nicolas Morin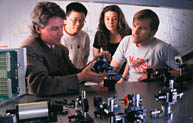 Some make international headlines with medical or scientific breakthroughs. Some quietly influence academic colleagues and public opinion through their books and journal publications. And some travel the world putting their expertise to work in developing countries or digging into humanity's past and analyzing its present. They are McGill researchers and together they represent an enormous success story for the University.
So successful that McGill was recently named Research University of the Year by Research Infosource, a Canadian consulting firm that provides research information for business and higher education and produces the ranking of "Canada's Top 50 Research Universities."
"The designation Research University of the Year is an important recognition, especially as this is the first year it is being made," said Principal Heather Munroe-Blum. "But even more, it's concrete testimony to the productivity and excellence of our researchers in all disciplines, of whom we are obviously proud."
Research was measured by four methods: total sponsored research income, research income per full-time faculty member, research income per full-time graduate student, and publications per full-time faculty member. Universities were grouped into three categories: undergraduate, comprehensive, and medical/doctoral institutions, the latter being the category in which McGill came out on top.
The $100 Million Club
Trailing close behind McGill were McMaster University in Hamilton, Ont., the University of Alberta, and the University of Toronto. Fourteen universities were members of what was dubbed the $100 Million Club by attracting $100 million or more in research funding. McGill drew in $316.6 million in research income and led in the survey's research intensity indicators with $233,000 in research income per full-time faculty member in 2002.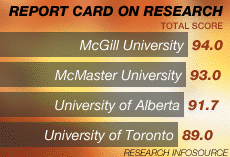 "It doesn't surprise me that McGill comes out on top," says Vice-Principal (Research) Louise Proulx. "We have ambitious and accomplished researchers and a culture which encourages the publication of the results of research, for the good of society."
Proulx and her staff are helping all McGill researchers on the road to success by coordinating and promoting research, acting as liaison between researchers and granting agencies, assisting in the quest for contracts, and taking results to industry through licensing and spinoff companies.
"The major granting councils are developing programs that are more specialized and sophisticated," says Proulx, "and our research offices are finding it necessary to become the experts in interpreting these programs so that they can provide the necessary guidance to our researchers."
Research is Paying Off
Over the past few years, federal and provincial governments have been reinvesting in education through programs like the Canada Foundation for Innovation, which provides funding for universities to carry out world-class research and technology development.
Private support is playing a large role as well. The new Lorne M. Trottier Building for information technology on campus will provide new research prospects for faculty and students in engineering, science and medicine. The Tools for Nanoscience facility (see our feature article to learn more about this emerging technology) will create "cross-cultural" opportunities for researchers in disciplines ranging from physics to electrical engineering to medicine and dentistry. And the recently completed facility at 740 Dr. Penfield provides space for genomics, bone research and biotechnology labs in an innovative medical research hub that has been called "the epitome of modern science."
Research, however, is not just about equipment and laboratories. At a research-intensive university like McGill, it works in tandem with teaching to train students at all levels, from undergrads to postdocs.
"Great researchers usually cannot resist putting the 'new stuff' in their courses," says Dean of Science Alan Shaver. "They also love to have our bright undergrads in their labs, either for research project courses or for summer research internships. There is a big payoff for the students, for they not only are exposed to the results of research but also the process of research itself. It gets them used to dealing with questions they have never encountered before, for which the answers are not yet known and which therefore have to be researched. This is how one mentally trains oneself for life-long learning."
From A to Z
University research directly benefits society as well in areas ranging from health to education to culture and commerce. McGill researchers cover an astounding range of topics: pain relief, the teenage brain, transportation in the modern urban environment, water resource management, the internet's role in education, peacebuilding, war and conflict, and AIDS therapies. The faculty hiring boom has brought to McGill experts whose research deals in air and space law, new approaches to Shakespeare, gene patenting, environmental ethics and much more.
Our researchers are affiliated with nearly 75 research centres such as the Montreal Neurological Institute's Brain Tumour Research Centre, the Centre for Intelligent Machines, and the McGill Institute for the Study of Canada. The range of research is expanded through McGill's collaborations in international research networks and development projects around the world, including work on the impact of HIV-1 drug resistance in Germany, community-oriented primary health care in Argentina, water resources management in Central Asia, and educational leadership training in Trinidad and Tobago.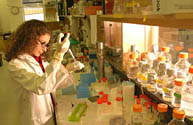 Nicolas Morin
The following pages offer a small sampling of research stories at the University. First we profile a professor whose work has taken him to a tiny Newfoundland fishing village where he works to preserve its unique architecture and culture. Next we examine the hot new field of nanotechnology, in which McGill researchers are playing a leading role in Canada. What is "nano" and what does it mean for you? You'll also meet professors and students from the Faculty of Management who turn the stereotype of corporate greed on its head as they work for the public good, ethics in business and social innovation. And finally, we'll introduce you to a young adventurer and paleontologist who's been ambushed by rebels in the African wilderness and stalked by polar bears in the Canadian Arctic, all in the search for fossils that will teach us about our past and illuminate our present.