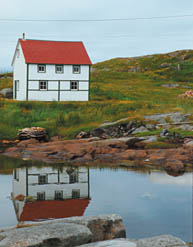 By Helen Dyer
PHOTOS: ROBERT MELLIN
As an architectural mecca, Tilting, Newfoundland, is literally and figuratively almost off the map. This tiny community seems at first glance to be little more than a collection of sturdy but insignificant buildings teetering on the northeastern edge of Fogo, the largest of Newfoundland's offshore islands, located in a part of the north Atlantic known as "iceberg alley."
Named, it is believed, for the "tilts" or small temporary sheds that sheltered the seasonal fishermen in the days before permanent settlement, Tilting has fewer than 300 residents. But neither its small population, its remoteness (Fogo Island is a three-day car and ferry ride from Montreal), nor its inhospitable climate has been a hindrance to the pride and the force with which Tilting residents have undertaken a renaissance of their community.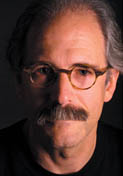 It's here that McGill Architecture professor Robert Mellin comes to be inspired, to work, to do research and to renew his enthusiasm for rural Newfoundland's vernacular architecture. One of the few Fogo Island residents "from away," Mellin seems as unlikely a candidate for seduction by this chilly, homely place as it's possible to imagine. He first discovered Canada's most easterly province when, in 1973, as a young, American, city-dwelling graduate student, he went to St. John's on a research visit.
"I liked what I saw," he says. "I especially liked the old city of St. John's. After that first visit I was determined to go back, and I actually had a job offer and went through the immigration process at that time. I've been there or had a connection ever since, although I've lived elsewhere at other times."
Newfoundland - officially known as Newfoundland and Labrador since 2001 - is a place with a long history. The Vikings paid a visit to the province in 998, and it is believed that a group of medieval Irish monks crossed the Atlantic by curragh - a small, wood-framed boat - in the sixth century, presumably looking for potential converts to Christianity. Today, Newfoundland's population of approximately 500,000 is concentrated in the greater metropolitan areas of St. John's in the east and Corner Brook on the west coast. Until the demise of the cod fishery over the past decade, small, vibrant communities thrived in the "outports," relying upon the ocean for their livelihood, and some of these remain, while the residents of others have been forced to seek a living elsewhere.
In addition to teaching at McGill, Mellin maintains an architectural office in St. John's and is the owner of the Dwyer house, a registered heritage structure built in 1888, in Tilting. In Newfoundland he has the opportunity to explore and solidify the connections between architec-tural practice, research and teaching.
"In the summer a large part of what I do when I get a chance to be in Tilting is volunteer conservation work," he says, "helping out with heritage preservation technology, or doing a restoration study for buildings or the siting of buildings that are being restored. In my practice in St. John's, I try to take on projects that explore some of the design and cultural issues that we discuss with our students at McGill."
Tilting is one of few remaining Irish Catholic communities in Newfoundland. When the first Irish settlers arrived here in the 18th century, they beat the odds against survival, understanding just enough about the land's potential to be able to eke out a living. They farmed and fished, and today the descendants of the Dwyers, Foleys, Greenes, Burkes and Keefes still fish, work the land, and tend sheep. Tilting's buildings, its location and its robust and congenial residents make it a unique place to live and to visit, and in June 2003, it was declared a Registered Heritage District - the first in the province, and a distinction that has as much to do with its architecture as with its Irish Catholic roots.