Team China Takes the Ice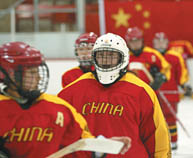 Andrew Dobrowolskyj
The Chinese women's hockey team stopped at McGill in November to take on the Martlets during a 21-game, 30-day tour of Canada. And, to coin a phrase, they came to play. Team China, ranked seventh in the world, defeated the Martlets by a score of 6-0. The Chinese team featured 13 veterans of the 2002 Salt Lake Winter Olympics and was here to get in shape for the world championships in Halifax next spring. The Martlets were missing their own Salt Lake star, goalie Kim St. Pierre, who helped earn the Canadian women's team earn an Olympic gold medal.
St. Pierre is still at McGill and still plays hockey, but she is now a member of the Redmen. On November 15, the 24-year-old kinesiology student became the first woman in Canadian university sports history to earn a win in a men's regular season game. It was quite a debut: St. Pierre stopped 27 of 29 shots, quickly regaining her composure after allowing a goal in the opening minutes, and was named the game's first star. Playing with the boys is nothing new for St. Pierre, but she told a Canadian Press reporter that she did have some concerns. "Before McGill, I always played with guys I knew from my hometown. I knew some of the guys from being around McGill so long, but I didn't know if I'd fit in. You don't know what to expect in practices, on the road or in the dressing room. But the guys made it easy for me."
Her new teammates include the nephew of former Boston Bruins great Bobby Orr, and St. Pierre says the men are "so much bigger, stronger and faster," than the opponents she was used to as a Martlet. Has the experience lifted her game? Team China will find out next April when St. Pierre rejoins the Canadian women's team at the Halifax world championships.
Not Just Another Pretty Face
Want to be a model? You certainly wouldn't be alone. Each year, more than 6,000 Canadians enrol in modelling schools with an eye towards becoming the next Naomi Campbell or Christy Turlington. McGill grad Heather Young, BA'02, has what these people are chasing - a successful modelling career.
For the past five years, Young's fresh-faced mug has appeared in ads across Canada and in other countries as the face of Bioré - the skincare company's official spokesmodel. She has also turned up in the pages of dozens of magazines and has acted in such TV shows as Largo Winch and The Hunger.
Young says she spends almost as much time fielding questions about her line of work from wannabe models as she does actually modelling. Even her parents get grilled when they let people know what their daughter does for a living. So Young decided to write down everything she knew about modelling, the result being her new book, More Than a Pretty Face: The Essential Handbook for Canadian Models. Young's book offers advice from a Canadian perspective on how to get started in the business, practical tips about the industry and interviews with other models about their experiences. What might be surprising to non-models is the amount of rejection Young and her peers contend with.
"People think models spend all their time being told how beautiful they are. It's quite the opposite!" says Young. "You're always hearing about what's wrong about you. You have to learn not to take it personally. It's not about you, it's about the look that a client wants for a particular ad campaign."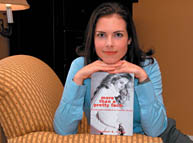 Courtesy Heather Young
Young offers plenty of counsel in the book on everything from steering clear of shady agencies (reputable firms don't use classified ads or guarantee their models work) to emergency pimple repair (a little toothpaste can dry up your blemish in a pinch) to the ins and outs of international modelling (bring plenty of shoes with you to gigs in Japan).
Young is unequivocal about the best part of being a model. "It's the traveling. I can't get over all the places I've had the opportunity to visit. Those experiences are irreplaceable." (See www.featherbooks.ca.)