Eternal Conversations: Remembering Louis Dudek, DC Books, 2003, $23.95, edited by Aileen Collins, Michael Gnarowski, BA'56, and Sonja A. Skarstedt, BA'82.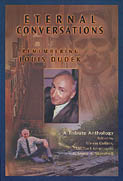 Louis Dudek, BA'39, is likely one of McGill's most fondly remembered professors, whose influence extended far beyond the University as a poet, critic, publisher and inspiration to generations of young writers. Following his death in 2001, friends, writers, former students and poets across the country clamoured for some kind of tribute, and this volume of essays, poems, remembrances, letters and anecdotes is the result.
Dudek's championing of Canadian literature began in the 1940s, when he and fellow poet Irving Layton, BSc(Agr)'39, MA'46, along with founding editor John Sutherland produced the "little magazine," First Statement, out of Montreal. Dudek spent some time on his doctoral studies at Columbia, returning to McGill to teach in 1951. He published his long poems Europe and En Mexico in this decade and began his lifelong mentorship of young poets, who would bring their work to be appraised by the master.
In 1955, one student who approached him was Leonard Cohen, BA'55, DLitt'92, and Dudek responded by launching the McGill Poetry Series with Cohen's first book, Let Us Compare Mythologies. Dudek's small-press publishing houses, Contact Press, Delta Canada, and DC Books, would be responsible for encouraging the early careers of Margaret Atwood, Al Purdy, Gwendolyn MacEwen, Milton Acorn and many others. For four decades he taught at McGill and the devotion of his students never dwindled: in 1996, the English Students' Association named their award for teaching excellence the Louis Dudek Award.
A number of former students appear in these pages. Michael Gnarowski, BA'56, opens the collection with a moving memoir that begins with his days as a student in Dudek's classroom and leads us through decades of friendship and collaboration. There are interviews with Dudek, literary analyses, facsimiles and excerpts of his work, rare photos of figures from the pantheon of CanLit, and contributions from members of Dudek's family.
Others, like Raymond Souster, Marianne Bluger, BA'67, and Pierre DesRuisseaux, share poems in honour of the man, and many of the essays are situated at McGill or offer lucid glimpses of Montreal from the last century. To conclude the book, we have Dudek himself in an autobiographical essay and his last poem as dictated to his wife Aileen Collins from his hospital bed.
Despite his many accomplishments, Dudek was in later years, it seems, questioning himself. It is somewhat distressing, for instance, to read Collett Tracey write about her interview with him in 1997 and having the man who had done so much for Canadian poetry wonder whether "all his effort had been worthwhile." It was likely a fleeting moment of nihilism; in the same piece we have the retired Dudek meeting the author in a university cafeteria because he misses the presence and bustle of students.
Eternal Conversations paints a loving and multifaceted portrait of Dudek the man and treats a literary icon with appropriate reverence, humour, and intelligence. While Dudek's son Gregory, a professor at McGill in Computer Science, notes in his eulogy that his father did not believe one's art should become "entangled with one's private affairs," one suspects this fine tribute - combining personal, critical, and artistic discourse - would qualify as an exception to the rule.
Andrew Mullins
Mordecai and Me: An Appreciation of a Kind,
Red Deer Press, 2003, $34.95, by Joel Yanofsky, BA'77, MA'81.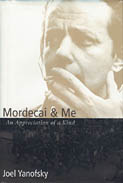 Credit Joel Yanofsky with gumption. His new book, after all, is called Mordecai and Me, and as indicated in that title, the book has two main subjects. One is the late Mordecai Richler, the mercurial, mischievous, enormously gifted Canadian novelist and essayist who attracted a devoted readership as well as a long list of enemies.
The other is Yanofsky himself, a writer (Jacob's Ladder, Homo Erectus) who would be quick to admit that he hasn't achieved anything approaching Richlerian notoriety just yet. "More Mordecai, less you," an uncharitable reader might proclaim, but Yanofsky comes across as a likeable protagonist. He is witty, if a little neurotic, clever, but perhaps a tad too self-involved - not as whiny as Woody Allen, but a fellow with a not dissimilar sense of humour.
Mordecai and Me analyzes Richler's body of work, tries to figure out what made him tick, examines Yanofsky's unrealized yearning to have been more than just an incidental acquaintance of the famous novelist, and mulls over some of the day-to-day challenges of being a writer, whether a big shot like Richler or a more modestly successful scribe like Yanofsky.
A veteran literary journalist, Yanofsky is thoughtful and sometimes biting in his behind-the-scenes offerings about the nature of book reviews, interviews with renowned writers (the grim and guarded Richler was among Yanofsky's least favourite interviewees), and the ways writers relate to one another.
Yanofsky notes that as a young man, Richler rather self-importantly set out to be a sombre champion of the downtrodden, but discovered with his career- making The Apprenticeship of Duddy Kravitz that his real gift was his ability to make readers chortle at his discerning mockery of just about everybody - the downtrodden included. One of Richler's great strengths was his fearlessness in taking on anybody and highlighting their foibles. Yanofsky admits he can't ever hope to match Richler in that regard. "I always had been and still was desperate for someone's approval. Richler never was." But he suggests that Richler too rarely leavened his caustic putdowns with any corresponding sense of compassion or generosity towards his characters - Richler's wonderful last novel, Barney's Version, proving to be one of the exceptions to this trend.
Mordecai & Me is far from a fawning tribute, but it leaves you saddened that Richler will never produce another book. Thankfully, Yanofsky almost certainly has many more to offer.
Daniel McCabe
Songs for Car Commercials,
Boiling Pt., 2002, by Priya Thomas, BA'97.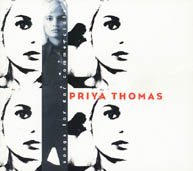 Long an indie-music darling, Religious Studies grad Priya Thomas might be on the verge of bigger things with the recent nationwide re-release of her latest CD. Her career is now being guided by Toronto's The Management Trust, the same folks who look after the Tragically Hip. Her latest album, the cleverly titled Songs for Car Commercials (it sometimes seems that more musicians - even alt-music types like Moby and Filter - promote their tunes in Chevy ads than on MTV), is being distributed by Maple Music, the organization which helped Sarah Harmer and Sam Roberts score mainstream hits.
Blessed with powerful pipes that can produce Sinead O'Connor-type howls or a sweet murmur a la Julianna Hatfield, Thomas writes her own songs, produces her own CDs and plays several instruments. She is frequently compared to P.J. Harvey, which does Thomas no favours - nobody can mine the razor-sharp depths of desperate longing quite like Ms. Harvey. Thomas comes close, though, in "Undertow." Her voice quakes and shudders as she confesses her attraction to someone she finds repellent in many ways.
Songs easily invites repeated listening - rarely have such downbeat lyrics been married to such infectious rhythms. The first song, "Digging for Gold," skilfully weaves a violin sample from an East Indian classical track into a propulsive keyboard riff. If there is a flaw to the CD, it's that Thomas's lyrics sometimes wander across the fine line between poetry and complete obscurity, ending up on the wrong side a little too frequently. That being said, there is no mistaking that the talented Thomas is a force to be reckoned with.
By the way, if Thomas is putting on a concert in your area, you might be well advised to see her live. She apparently uses her background as a trained dancer to good - if unusual - effect. Described by one reviewer as "a windup toy from hell," Thomas's quirky movements give her music an extra dimension on stage.
Daniel McCabe
The Leaky Condo Boondoggle,
Dextrax Publishing, 2002, by Kenneth G. Dextras, BEng'76.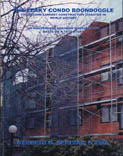 A cautionary tale of bureaucratic runarounds, The Leaky Condo Boondoggle is an independent investigation by Kenneth Dextras of the problems encountered by condo-owners on Canada's West Coast. A "boondoggle" is defined as an unnecessary or wasteful project or activity, and the term certainly applies to the case Dextras puts forth in his self-published monograph. Clearly and concisely, he walks us through what he dubs "the second largest construction disaster in world history" (the first being Chernobyl). On the basis of cost alone, his statement is more than mere hyperbole. It was estimated that as many as 100,000 low-rise, wood frame condo units in greater Vancouver suffered water damage requiring repairs at an average cost of $25,000 per unit.
In fact, the condos were not so much leaky - as Dextras points out, all buildings leak to some extent - as they were too tightly sealed, so that trapped moisture could not escape. As well, design elements like roof overhangs, which allow rain to run off, were not incorporated into construction. News of the resulting mould, wood rot and other damage filled the media in 1990, and again in the spring of 2000, this time with builders and developers defending themselves. It was during this rash of stories that Dextras says he became interested: '"If these people are so great,' I thought, 'and they're doing such a good job, how come we've got a $2.5 billion problem on our hands with no end in sight?'"
He discovered that a series of factors, beginning with the energy crisis in the 1970s, prompted governments to enforce building codes that emphasized heat conservation at the expense of ventilation, thus ensuring that certain types of modern construction would self-destruct.
Lest anyone think the problem is limited to a wet, coastal climate, a housing complex in Vail, Colorado, has just been evacuated for identical reasons, and high-rise buildings may eventually fall prey to the same decay. Dextras calls the situation a "ticking time-bomb," one which should make home buyers question builders more critically and home owners look more benignly on that draft under the door.
For more information, contact the author at kendex@dextras.com.
Diana Grier Ayton
A House by the Sea,
Véhicule Press, 2003, $19.95, by Sikeena Karmali, BA'96.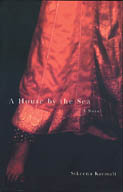 In Sikeena Karmali's debut novel, we are introduced to a young woman named Zahra Kahn who embarks on a voyage to find a place to call home. Set amidst a rich tapestry of food, colour and traditions spanning four continents, Zahra unravels family secrets and dramas to discover her roots and a sense of self-identity. The author paints a vivid picture of a family whose multiple moves across nations leave Zahra without a clear idea of who she is supposed to be. From India to Arabia, East Africa to England, and finally to Canada, the story of Zahra's quest is told with wit and charm. The structure of the narrative is based on Khatak, a classical Indian dance that usually unveils a moral or spiritual understanding, and the story is peppered with words and phrases in Gujarati, a salute to Karmali's own roots.
When Zahra muses, "Do I have the stamina? The strength of spirit to endure my own history?" readers must ask themselves the same question. Throughout this book Sikeena Karmali has confronted her own experiences as one who underwent similar, abrupt changes in home and surroundings. A House by the Sea is an absorbing and beautifully-written novel about the universality of the immigrant experience, and for anyone who has ever searched for belonging, or felt the pangs of being a stranger in a strange land.
Sarah Pringle