Sounding Great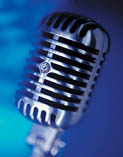 John Welzenbach / CORBIS / MagmaPhoto.com
The Faculty of Music's graduate program in Sound Recording is getting set to enter a new era with the construction of the new music building, being built over the next year and incorporating some of the most sophisticated recording facilities in the world. Students of the program won't have to wait, however, to be taught by one of the top producers in the world since Martha de Francisco has joined the Music faculty. A veteran recording engineer, De Francisco was one of the pioneers of digital recording in Europe during the 1980s and has helped classical stars like Jessye Norman, Sir Neville Mariner, Alfred Brendel and the members of the Beaux Arts Trio sound great for years. Before coming to McGill, she was working as an independent producer for labels that include Deutsche Grammophon, Decca, EMI and Philips Classics, and is regarded as one of the leading classical music producers of her generation.
And while one might think of record production and sound engineering as a field dominated by long-haired men and rock-and-rollers manqué, many of the audio engineers coming out McGill's program are women, and they are racking up impressive awards and appointments.
Theresa Leonard, MMus'92, for example, was recently named president of the prestigious New York-based Audio Engineering Society (AES), the only international, professional society devoted exclusively to audio technology, and is the Director of Audio for Music and Sound at the Banff Centre in Alberta. Marie Desmarteau, a second-year graduate student in the Sound Recording program, was also elected Chair of the Student Delegate Assembly of AES.
More sound success came from April Cech, also a second-year graduate student, who won the AES Student Recording Competition in the surround sound "Pop" category. Cech also won a OTEC scholarship from Mix, the top trade magazine for sound professionals. The award was announced in October at the TEC Awards ceremony in New York, along with prizes for sound production in television, film, and live and recorded music that went to success stories like Peter Gabriel, Sheryl Crow, PBS's Austin City Limits, and the second Lord of the Rings instalment, The Two Towers.
A Talent for Translation

Tim Brierley
Jane Brierley, MA'82, recently cemented her reputation as one of Canada's finest literary translators by nabbing her second Governor General's Literary Award for English translation for Memoirs of a Less Traveled Road: A Historian's Life, the translation of historian Marcel Trudel's Mémoire d'un autre siècle.
Brierley moved to France in the early '60s for a three-year stay with her husband, John, a McGill law professor then completing his doctorate at the University of Paris. Armed with her "Westmount High School French," Brierley soon discovered that Parisians weren't at all hesitant about tutoring her.
"They all corrected my French over there. Here, people are almost too polite, but in France they don't let you get away with making a mistake." Brierley found work at a Paris ad agency and immersed herself in the country's culture and literature. It was then that she first mused about becoming a literary translator. "I was reading a great deal of French literature and the thought struck me, 'Wouldn't it be great if people could read this in English.' This is the impulse that drives [translators]. We come across something exciting and we want to perform it for English readers the way a musician is drawn to certain compositions and wants to perform them for an audience."
Returning to Canada, she decided to hone her skills by doing a master's degree at McGill that focused on translating 19th-century Quebec novelist Philippe-Joseph Aubert de Gaspé's memoirs into English.
Brierley, who has won the prestigious Governor General's Award before - in 1990 for her translation of Aubert de Gaspé's Yellow-Wolf & Other Tales of the Saint Lawrence - isn't the only McGill graduate to win in recent years. Patricia Claxton, BA'51, a finalist this year for Gil Courtemanche's A Sunday at the Pool in Kigali, has won the prize twice, and Nigel Spencer, BA'66, earned the award last year for his translation of Marie-Claire Blais's novel, Thunder and Light.