McGill and Montreal an Appealing Combination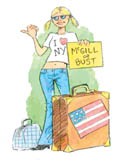 According to Canadian government statistics, students heading south to study at U.S. universities now total about 23,000. While that figure has remained fairly steady, the number of American students coming north has increased by a substantial 85% over the last five years. What was once a trickle has grown to a steady stream of around 4,500. The school of choice for fully 1,500 of those students is McGill.
Recent articles in the Los Angeles Times and New Jersey's Bergen Record point out that the reasons are more than strictly financial - although there's no doubt that tuition is a bargain here, especially when comparing the two countries' top-rated schools, or "ivies."
Universities like McGill have been much more aggressive in marketing themselves, sending recruiters further afield than ever before. Another factor is what the Times dubs the "refreshingly simple" admission procedure in this country, based mainly on grades and test scores. Essays, interviews and resumés are seldom required. The paper quoted McGill freshman Dan Seeman, who said he watched his California high school classmates "hire private admissions consultants or join clubs they weren't interested in, simply to add to their resumés."
In addition to the high-quality education McGill offers, prospective students and their families appreciate the University's setting in the heart of downtown Montreal. "The clincher was what a nice place it was," said Dan's mother, Kris Seeman. "Once we had been to two or three unbelievably good restaurants, Dan and [friend] Oliver said, 'We think we'll go here. There's no downside.'"
African Adventure
At first glance, course titles like Peoples and Cultures of East Africa, Old World Paleolithic Archaeology, and Environmental Management for Developing Areas read like typical fare for a degree in International Development or Human Geography. It's only when you notice that the classroom location is the Great Rift Valley that things start looking different. And you may need that non-credit course in Swahili to converse with local tribespeople as you travel on safari across Kenya and Uganda over the course of ten weeks.
It's all part of the Canadian Field Studies in Africa (CFSIA), designed 12 years ago as a multidisciplinary "campus under canvas," a nomadic field classroom where 60 undergraduates from seven universities across the country have the chance to see what they learn being put into practice. Conservation biology, development studies, and environmental studies - all are tested against real conditions.
This will be the first year McGill has taken on the program's administration. The coordinator is geography professor Thom Meredith, who says the chance for students to come into contact with real issues affecting contemporary Africa - the damage caused by ivory poachers to the elephant population, the social pressures of international tourism and trade, the juxtaposition of incredible wealth and crushing poverty in the region's urban centres - is invaluable. At $13,800 for transportation, room and board, plus tuition for the term, CFSIA is not cheap, but there is no shortage of applicants ready to go into debt for such an opportunity. As CFSIA alumnus Adam Shamoon puts it, "The experience you have is not something you can put a price tag on at all."
"It's such a transformative experience," Meredith says. "You go to a place where perhaps one-third of people have AIDS, where schools are so undersupported that in some cases a wall is missing because it fell down and there's no money to rebuild." While they can't repair buildings, program participants do support African educational institutions by providing classroom supplies and soccer balls to the village schools they pass, and by donating used books and teaching materials to some colleges and universities.
Confronted daily with the complex web of conditions governing the African continent's major crises, students find new meaning in their studies. Following a day of fieldwork in a water-starved village, one student described how it brought her textbook to life: "I have studied this in so many courses, and thought I understood. Now I think maybe I am beginning to."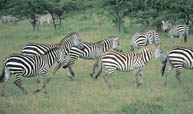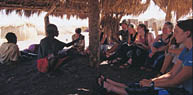 PHOTOS: JOHN BROUWER