Illustration by Tzigane
Call them the S&M crowd of the gastropods. Certain types of snails fire a sharp projectile at their prospective mates before love-making. This so-called "love dart" pierces the skin of the unlucky lover, allowing the dart-throwing snail to increase its paternity rate. The pointed question that malocologists, or snail scholars, have been asking for a couple of hundred years is how this unusual bit of foreplay guaranteed success for a dart-thrower's sperm. ("Success" is a relative term here, bearing in mind that an estimated .01% of sperm reach their ultimate destination.)
Thanks to McGill biology professor Ronald Chase, we now know more about the strange world of snail sex. Chase has spent 27 years studying molluscs and their randy ways, and his latest set of experiments has led to a new discovery about the love dart. The experiments consisted of injecting a group of snails with the dart mucus while they were mating. A week later, the same group of snails was injected with a simple saline solution while mating with a different sperm donor. The sperm donors that coupled with a partner receiving the mucus injection sired twice as many offspring as the sperm donors that coupled with those that had received the saline injection. Before the experiment, the love darts of all the snails had been surgically removed.
In earlier work, Chase had found that the mucus seemed to cause contractions in ducts of snails. He believes that these contractions may serve to suppress sperm-digesting enzymes that consume most of the 5.5 million sperm transferred during a mating session. Thus, it is not the mechanical action of the missile itself that results in a higher paternity rate but the special mucus coating the dart. So, if all the sex and violence were not bad enough, we can now add chemical mucus to the mix. Yuck.
Professor Chase's latest findings were published by the Royal Society this spring, and reported on by the magazine New Scientist.
Toope is Top at UBC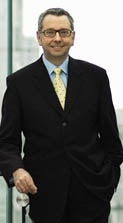 Courtesy UBC
The announcement of a new president at the University of British Columbia brought nods of approval all around McGill. The choice was Stephen Toope, BCL'83, LLB'83, a popular former professor and dean of the Faculty of Law.
Toope is the second McGill grad in a row to be named to UBC's top job, replacing Martha Piper, PhD'87. The appointments underscore a long relationship between the two schools which started in the early 20th century when McGill helped to open Vancouver's first university. Until 1915, students at the McGill University College of British Columbia would come to Montreal to complete their degrees.
Best known for his work on human rights and for his scholarly contributions to international law, Toope was the unanimous choice of the search committee. On March 22, he was introduced to the UBC community as "an academic of daunting accomplishment, a researcher of wide renown and an exceptional educator." At McGill, he is remembered for his popularity and for his energy in leading the campaign during his deanship to build the Nahum Gelber law library, which opened in 1998. He left the faculty in 2002 to take a position as the first president of the Pierre Elliott Trudeau Foundation.
Toope's appointment takes effect in July and his immediate plans are to continue Piper's work to position UBC as a high-ranking international institution and to enhance the student experience. Will he stay in touch with McGill? "I sure hope so… Both UBC and McGill have an extremely outward focus in everything they do and, for that reason, there are lots of opportunities to work together."
Buying a Better World
Socially responsible purchasing is a nice idea. Really it is. But the sad reality is that ethical shopping often proves futile or impossible. Almost every product, it seems, turns out to be owned by a large and sinister holding company awash in pollution, child labour or weapons sales. And who has the time to research every shoe, snack and sofa maker to find out who is being ethical and who is not?

istockphoto.com
Enter Brenda Plant, BA'92, BSW'95, a businesswoman who mixes a passion for social justice with hard-headed capitalism. Plant is the co-founder of Ethiquette.ca, a for-profit web-based company that takes all the work out of responsible purchasing. Just punch in a product or service, and the site will churn out a list of companies that have been vetted for clean corporate behaviour.
"From baby diapers to funeral homes, we give people responsible choices," says Plant. "People don't have a lot of time but they want options and that's what we give them - options."
So where does the cash come from? Ethiquette makes its money from socially conscious companies who pay to place ads on the site. With this mix of cash and conscience, Plant is realizing her long-time goal of showing others that world-saving can be a viable business venture.