Remembering Reg
I enjoyed William Tetley's memoir in the McGill News about Reggie Plimsoll. I encountered Reg frequently in the course of my errands on St. James Street as a student in the '40s. He was a well-known personage on "the Street." I recall that he was an habitué of the Bodega in the Transportation Building. He could be found at the bar there most mornings around 11, regaling a few cronies with his "war stories."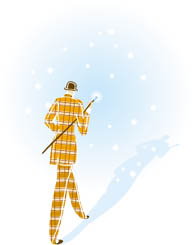 Illustration by Tzigane
If memory serves, Reg was the beneficiary of Quebec Premier Maurice Duplessis's patronage appointments. I think he was the City Fire Commissioner for some considerable period of time.
An old friend, the late Betty O'Toole, worked for Reg for a brief period as a secretary in the early '50s. She said that the terms of her employment included an agreement that every mistake she made would subject her to a fine of 25 cents and that Reg would be subject to the same penalty, a settlement to be made at the end of each week. Invariably, Betty came out well ahead!
John H. Watson, BA'43, BCL'49
via email
Ed. Note: Thanks to John Watson for the great story. Included in Professor Tetley's original, longer memoir was the fact that Duplessis, an admirer of Plimsoll, named him Assistant Fire Commissioner for a number of years "and then promoted him to Rentals Commissioner, with a higher emolument. Mr Plimsoll noted philosophically that the order-in-council naming him Rentals Commissioner was written in Duplessis's singular style. It began 'Whereas Reginald Plimsoll, QC, has resigned as Assistant Fire Commissioner… '" This was the first indication Plimsoll had that he had been given a new job. Tetley adds, "Duplessis believed in rewarding his faithful, but they could not have more than one sinecure at a time." Plimsoll, a staunch conservative, repaid Duplessis by being a straw candidate for his Union Nationale party in ridings "where Duplessis did not wish to defeat a sympathetic incumbent." On his death in 1963, the Montreal Star referred to Plimsoll as "Mr. Montreal."
O Sister, Where Art Thou?
This year Gamma Phi Beta Sorority is celebrating 75 years at McGill. There is a big celebration in the works to commemorate the founding of the McGill Chapter with a variety of activities during Homecoming weekend. The highlight of the reunion is the 75th Anniversary Banquet to be held at the Omni Hotel on Saturday, October 21, 2006.
A search is now on for the more than 700 Gamma Phi Beta members who initiated at McGill so that an invitation with complete details can be mailed to them this summer. We'd like to ask that alumnae update their addresses and email by sending their contact information to gammaphibeta@hotmail.com or c/o GPB Reunion, 562 Grosvenor Street, Montreal, Quebec, H3Y 2S7.
Dominique Groulx, BA'95
Ottawa, Ont.
What's in a (Re)Name?
I recently saw the McGill News alumni quarterly Winter 2006 edition. I note the front cover line "Two McGill faculties get rechristened and recharged." Rechristened?
Arnie Aberman, BSc'65, MDCM'67
via email
Ed. Note: Dr. Aberman may be questioning a possible religious connotation to the use of the word, but its primary meaning is "rename." One meaning given in the Canadian Oxford for the word "christen" refers to the ceremony of baptism, but another cites as an example "the discovery of a new element which they christened 'radium.'"
Missing Plaque Mystery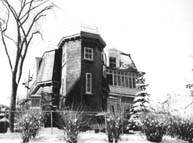 In the Winter 2006 McGill News, your ever-interesting Factfile series told about the role of the McGill Observatory in setting Canada's clocks. You might have also mentioned the brass marker carefully set in the floor of the Leacock Building - just outside the entrance to the Noel Fieldhouse Auditorium - marking the site of the Observatory. The diagonal in the brass rectangle shows the line of longitude established using the transatlantic cable and signals from Greenwich Observatory in England. From this line, McGill's position was precisely fixed for the first time (and by extension, the rest of Canada's).
The diagonal line in that rectangle points directly towards the North Pole and is almost parallel to Sherbrooke Street. The contrast between Montreal North (which is almost due west!) and true north is always enlightening.
The plaque that told this story has been missing from the nearby wall for many years. Do you think you could use your influence to have it replaced?
Kendall Wallis, BA'69, MLS '71
Liaison Librarian, Humanities and Social Sciences Library
Ed. Note: We do hope the plaque elves are reading the News. McGill Archives provides this photo (left) of the McGill Observatory, originally built in 1862 for physician and meteorologist Dr. Charles Smallwood. Following his death in 1873, another storey was added to the house (as shown here) when it became a "chief station," connected directly to the telegraph so that observations could be reported every three hours. An early Engineering graduate, C.H. McLeod, who worked with Smallwood as a student and eventually became Vice-Dean of Applied Science, supervised the facility's operations for the next 40 years.
Step Up…and Up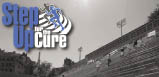 I'd like to challenge fit and motivated alumni and students in the Montreal area to take part in an event called Step Up for the Cure, a 24-hour stair-climbing marathon which will take place at McGill's Molson Stadium on September 9 and 10 to raise money and awareness for people living with cancer. The event gets under way at noon.
Every four minutes a person is diagnosed with cancer in Canada.
Therefore, the challenge for each participant in Step Up for the Cure is to run one set every four minutes. Our goal this year is to raise $60,000 for the Cancer Research Society. People may participate as individuals or in teams of three to five. Come out to run or cheer on your friends and enjoy the music, movies, food and games.
For more information, including a video trailer, or to register, visit www.stepupforthecure.com, or contact me at 514-285-1112. Hope to see you there!
Dan Fischer, BSc'02
Montreal, Que.