Task Force Reports Progress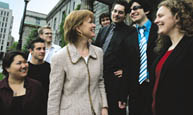 Normand Blouin
The life of a student is never easy. New environments, professors, colleagues and courses can be overwhelming, and wading through the red tape and regulations is a daunting endeavour. Does anyone care? Well, yes, in fact. The Principal's Task Force on Student Life and Learning, which issued a progress report in April, has been studying the problems faced by McGill students and has plans to fix them. The report follows a year of discussion and debate, fuelled by over 160 submissions from the McGill community since a call for input in May 2005.
Preliminary recommendations - expanding advising and mentoring programs, improving financial assistance, and establishing a senior administrative position responsible for student life and learning - illustrate some of the potential improvements that will benefit students, who are well represented on the task force. Principal Heather Munroe-Blum chairs the committee, made up of 12 students and 12 administrators or professors.
The task force is divided into working groups which explore specific areas, such as defining the place of students in the McGill community; assessing administrative support and financial assistance, including special support for students in crisis; fostering sensitivity to cultural differences; ensuring that students from outside the province enjoy an enriched and integrated Quebec experience; and enhancing electronic communication.
The final report, including a timeline for implementing recommendations, is scheduled for the end of 2006. The goal is to enhance student life and improve the experience of every member of the McGill community. As Principal Munroe-Blum says, "We want McGill to be known not as a great university to attend in spite of its bureaucracy but as a great university to attend, period."
Inventive Mind

Courtesy National Academy of Engineering
Willard Boyle, BSC'47, MSC'48, PHD'50, is the co-inventor of the charge-coupled device, and while you probably haven't heard of Boyle's innocuous-sounding brainchild, you're certainly familiar with the things that the CCD has made possible.
Like digital cameras, for instance. Also fax machines, photocopiers, scanners, bar code readers and the Hubble Space Telescope. When Boyle and his Bell Laboratories colleague George Smith dreamed up the CCD in 1969 - sketching out its essentials on a chalkboard in about an hour - the duo were trying to come up with novel methods for storing data on semiconductors. It quickly became apparent that their light-sensitive CCD was compact, energy-efficient and ideally suited to capturing and transmitting images.
The two inventors were honoured for their work on the CCD by the U.S. National Academy of Engineering, which awarded them the $500,000 Charles Stark Draper Prize. The Halifax-based Boyle recently travelled to Washington to receive the prize, where he was besieged with interview requests from journalists from around North America. "That was a long, hard day," he says. "I don't know how politicians do that all the time!" More recently, Boyle and Smith were inducted into the National Inventors Hall of Fame in Akron, Ohio.
Boyle, who grew up in a remote logging town in Quebec, was home-schooled by his mother. "She deserves all the credit in the world for getting me started," he says.
Boyle had a pretty momentous year in 1969 - apart from his CCD work, he was also on the scientific team that helped NASA select the site for the first Apollo landing on the moon.
When asked which CCD-related innovation excites him the most, he briefly considers the outer space applications of his invention before settling on his reply. "I'm very interested in the way [CCD technology] is used in medicine, in the tiny cameras they use for laparoscopic surgeries and other procedures. That's pretty impressive."
Star Recruit is Medicine's New Dean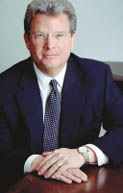 It's an awfully good sign when the fellow heading up the country's most important funding agency for health research gets excited about your pick for a new dean of medicine.
"The recruitment of Dr. Levin is a coup, not just for McGill, but for Canada," says Dr. Alan Bernstein, president of the Canadian Institutes of Health Research.
Richard I. Levin, (pictured) currently the vice-dean for education, faculty and academic affairs at New York University School of Medicine, takes over the helm of McGill's oldest and most fabled faculty on September 1.
"McGill is one of the world's great public research universities," says Levin, a cardiologist who holds four patents, including one for a molecule that heals wounds. Another invention, a medical device for the detection and analysis of ambulatory myocardial ischemia, led to the creation of a publicly traded company, QMED.
An American and a longtime New Yorker, Levin told the Globe and Mail that one of the reasons why the McGill job appealed to him was because it presented "the opportunity to observe your invention of the public health care system from the inside."
Levin is a fan of the Canadian approach. "I'm a strong believer that quality health care should be available to all." Levin spent 25 years at New York's Bellevue Hospital Center, the oldest and largest public hospital in the United States.
Principal Heather Munroe-Blum describes Levin, who will also become McGill's first vice-principal for health affairs, as "a modern Renaissance man," noting his accomplishments as a scientist, a clinician, an inventor, an administrator and a teacher.
In an interview with the McGill Reporter, Levin pointed to one of the challenges facing all medical educators. Medical school training still typically takes about four years, just as it did in the mid-1800s, but the sheer mass of scientific knowledge has increased a staggering amount over those years. "How do we present that knowledge to students in so short a time?"
Part of the answer lies in using information technology in innovative ways to bolster teaching programs, and Levin played a key role in setting up just such an approach at NYU.