Agricultural & Environmental Sciences / Macdonald Campus
DENIS MARCHAND, BSc(Agr)'84, was named director of the Bureau de recherche institutionnelle at the Université de Montréal. Denis was formerly the Associate Director of Planning and Institutional Analysis at McGill for 18 years.
SHENG ZHANG, PhD'93, a World Bank executive, was named Chairman of the Public Sector at Citigroup Inc., as well as Vice Chairman of Global Banking.
Architecture
BLANCHE LEMCO VAN GINKEL, BArch'45, recently delivered the opening address at the city planning symposium "Metropoles: Colloque Franco-Canadien Blanche Lemco van Ginkel." Blanche also received an honorary degree from the University of Aix-Marseille in France.
MARC DAEMEN, BScArch'77, BArch'78, and PIERRE GENDREAU, BScArch'79, BArch'80, were promoted to full associateships at the architectural firm of Gaudreau, Inc., in Baltimore, Maryland.
KAREN L. ELDRIDGE, BScArch'88, has moved from Arlington, Va., to San Antonio, Texas, to be the Director of Business Development for Lake/Flato Architects, which was the 2004 AIA National Firm of the Year.
Arts
DOUGLAS G. LOCHHEAD, BA'43, BLS'51, won the 4th annual Betocchi Prize for his landmark collection of poetry, High Marsh Road. The prize is offered by the Carlo Betocchi Centre in Florence, Italy, and carries a cash award of 5,000 Euros. Douglas is the first non-Italian to receive this award.
LEONARD R. N. ASHLEY, BA'49, MA'50, has published The Complete Book of Numerology, the 11th book in his series on the occult. He is co-editor of recent publications of inter-national conferences of the American Society of Geolinguistics, of which he is president. Forthcoming are the proceedings of an international conference on the Geolinguistics of Foreign Language Teaching. Leonard is professor emeritus of Brooklyn College of the City University of New York.
MARTIN PUHVEL, BA'53, MA'54, has published his second book on Beowulf, titled Cause and Effect in Beowulf, which traces the mental processes governing the characters' actions, words and attitudes in the epic poem. Martin is an emeritus professor in the Department of English at McGill.
ANTONIO R. GUALTIERI, BA'60, BD'61, STM'63, PhD'69, is emeritus professor of Religion at Carleton University. In 2004, McGill-Queen's University Press published his book The Ahmadis: Community, Gender and Politics in a Muslim Society.
MICHAEL SCHLEIFER, BA'64, PhD'71, is a professor in the Department of Education at the Université du Québec à Montréal. Michael has published Talking About Feelings and Values with Children, a resource for anyone with the desire to help children develop good judgment and an empathetic nature.
JUDITH A. WEISS, BA'67, is professor of Hispanic Studies and Drama at Mount Allison University. Her latest book, Colombian Theatre in the Vortex: Seven Plays (Bucknell University Press, 2004), is an anthology that Judith selected, translated and edited.
MICHEL VAÏS, MA'69, a publié ses mémoires L'Accompagnateur : Parcours d'un critique de théâtre (Éditions Varia, 2005). Michel est secrétaire général de l'Association internationale des critiques de théâtre depuis 1998.
TREVOR FARRELL, BA'70, was appointed Deputy Chairman of Scotiabank Trinidad and Tobago, having served as a director since 1991. Trevor is also a business consultant and part-time lecturer at the University of the West Indies.
SHERRILL E. GRACE, MA'70, PhD'74, was elected president of Academy I of the Royal Society of Canada, a term that will last for two years. Her most recent book is Inventing Tom Thomson (McGill-Queen's University Press, 2004), and she is writing a biography of playwright Sharon Pollock. She is a professor of English and Distinguished Scholar at the University of British Columbia.
NORMAN RUFF, PhD'73, is the 2005 recipient of the Pierre De Celles Award for excellence in the teaching of public administration from the Institute for Public Administration of Canada.
ABINA DANN, BA'74, was appointed Canada's Ambassador to Ukraine in November 2005.
ESTHER BIENSTOCK, BA'81, has written, directed and co-produced Sex Slaves, her latest documentary, which investigates the trafficking of women in the global sex slave trade. Esther worked undercover in Eastern Europe interviewing and following a wide range of people, including members of the Ukrainian secret service as well as the traffickers themselves.
PETER C. ZOLPER, BA'81, was appointed a Federal Judge to the Army Court of Criminal Appeals in Arlington, Virginia. Peter resides in Fairfax Station, Va., with his wife, Johanna, and their three daughters.
RACHEL MARTINEZ, BA'82, won the prestigious Governor General's Award in French translation for Glenn Gould, une vie by Kevin Bazzana (Éditions du Boréal, 2004).
---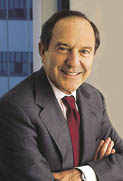 MORTIMER B. ZUCKERMAN, BA'57, BCL'61, has donated $100 million toward a new cancer research facility at the Memorial Sloan-Kettering Cancer Center in New York City. When completed in 2009, the 693,000- square-foot complex will nearly double the size of Memorial Sloan-Kettering's research enterprise. Energy efficiency and environmental sustainability are integral to the design, which will also feature permanent art installations. Mortimer is chairman and editor-in-chief of U.S. News and World Report, publisher of the New York Daily News and founder of Boston Properties, Inc. He has been a lecturer at Yale University, an associate professor of city and regional planning at Harvard, and president of the Board of Trustees of the Dana Farber Cancer Institute in Boston. He is the recipient of a number of honours and awards, including Commandeur de l'Ordre des Arts et des Lettres from the government of France.
---
FLORENCE BORDAGE, MA'86, was named Assistant General Director of the Institut national de l'image et du son in Montreal. Florence will be responsible for overseeing the institute's training programs in the television, movie and interactive media industry. She also announces that she has become the joyful mother of Anne-Mei.
JEAN-FRANÇOIS PRUNET, PhD'87, is chair of the Department of General Linguistics at the United Arab Emirates University in Al Ain, UAE. Previously, Jean-François was a professor of linguistics at the Université du Québec à Montréal.
LOUISE J. BOUCHARD, PhD'88, a présenté une exposition originale des photos et collages à la Galerie du centre culturel Azur, Magog. En novembre 2003, Louise a reçu le Prix d'excellence offert par la Golden Key International Honour Society.
BENOIT LÉGER, BA'88, MA'91, PhD'00, était un finaliste pour le prix du Gouverneur général (traduction). Il a reçu le prix John-Glassco, décerné chaque année par l'Associa-tion des traducteurs et traductrices littéraires du Canada pour Miracles en série, traduction de Various Miracles de Carol Shields.
PETER STROM, BA'88, was named the 2005 CEO of the Year by the Ottawa Business Journal. Peter was nominated for the award based on his company's corporate performance, competitiveness and community involvement, as well as his personal leadership and vision.
LARA JOHNSON, BA'89, has joined the Don Corson Law Firm in Eugene, Oregon. Her focus is on personal injury with an emphasis on civil litigation, including nursing home cases.
RICHARD B. LEVY, BA'89, has joined the board of directors for the U.S. Fund for UNICEF at its Southern California Chapter. Richard will serve on the board for a two-year term ending in 2007.
ROBIN BERTING, BA'90, has been appointed Director of Admissions at Korea International School in Bundang, Korea. He has been teaching English, French, Spanish and International Studies at both the secondary and university levels in B.C. and in Korea since 1995. Robin is married to Eun-ju Youn and they have a five-year-old daughter, Tina. Robin would love to hear from former McGill colleagues at hanyangberting@yahoo.com.
INDRA FREIBERGS, BA'90, CertProfSpan'98, moved to Latvia to work at the Latvian Investment and Development Agency (LIDA) in 1999, the same year that her mother,
VAIRA VIKE FREIBERGA, PhD'65, DSc'02, became President of Latvia. Indra received her Master's in Diplomacy and International Relations in 2002 from the Université de Paris-Sud. Indra lives in London and is head of the LIDA representative office in the UK. As a diplomat, Indra develops trade relations between the UK and Latvia.
SARAH M. A. GUALTIERI, BA'90, accepted a joint appointment to the Department of History and the program in American Studies and Ethnicity at the University of Southern California in June 2005.
KATE KEATES, BA'90, received a Team Achievement Award from the Directors Guild of Canada for a 2004 episode of DaVinci's Inquest. Kate has been working in film and television production in Vancouver since 1993.
SUSANNE ANNAND, BA'92, MLIS'03, lives in Redmond, Washington, with her husband, Don McGowan, BA'92, BCL'97, LLB'97, and dog, Max. Susanne has joined Microsoft as a senior records management analyst, where her duties include helping Microsoft improve its company-wide records retention policies. Don is an attorney for Microsoft in the games studio and Xbox marketing division.
DEMIAN JEVREMOVIC, BA'92, DipAcc'98, is the owner of the pub Le Saint-Ciboire on St. Denis Street in the heart of Montreal's Latin Quarter. He is also a classical drawer and painter, working with pastel and oil media. Visit Demian and his pub at www.pubsaint-ciboire.com.
ELIZABETH ORTON, BA'93, married MICHAEL COX, BA'93, in 1998. Elizabeth received her MA from Carleton University in 1999 and works as Director of Member Programs and Services for Community Foundations of Canada. Michael is a customs administrator for Telesat Canada. They have two daughters, ages 4 and 2, and live in Ottawa.
JOSEPH TORRES, BA'93, DipEd'94, is the regular writer for DC Comics' Teen Titans Go! and the Oni Press series Love as a Foreign Language.
KEVIN CHIN, BA'94, was named a 2005 Canada-U.S. Fulbright Fellow. Kevin will be researching his PhD on Canadian and American teachers' perspectives regarding human rights education at the Human Rights Center at the University of Minnesota.
GOLDA FRIED, BA'94, was nominated for the 2005 Governor General's Literary Award in fiction for her novel Nellcott Is My Darling.
VERA MORGADO, BA'94, works as an e-business expert for Siemens and lives in Germany with her husband and her son, Gabriel Afonso Vinzenz, who was born in November 2005.
LORIANN (LORCH) HERCHUK, BA'95, is pleased to announce the birth of her third son, Joshua Hans, in October 2004, a brother for Paul and Luke. Loriann currently home schools in Surrey, B.C.
HEATHER SANSOM, BA'96, MA'99, moved to Ottawa to take the position of Director of Sales and Marketing for itdepartment.com, an Ottawa-based IT outsourcing company. Heather also spends much of her time in competitive equestrian sport. Heather invites friends to contact her at hrsansom@hotmail.com.
JAMES BUCZYNSKI, BA'97, MLIS'00, and Palmina Ioannone, BA'92, are proud to announce the birth of their first-born, Joshua Thomas, in Toronto in September 2005. Palmina is a PhD candidate at the University of Toronto and James is an electronic resources librarian at Seneca College of Applied Arts and Technology.
RACHEL PULFER, BA'97, has joined Canadian Business magazine as the Features Editor. Rachel has written and edited for publications including Investment Executive, Azure, Toronto Life and the Ottawa Citizen.
---

DEBORAH WEINSTEIN, BA'70, and her sister, JUDY (WEINSTEIN) LEWIS, BA'77, were named PR Professionals of the Year at the Canadian Public Relations Society ACE Awards in April. The two are co-founders of Toronto-based Strategic Objectives, a full-service PR company, which also walked away with ACE Awards for Best of Show, Best Creative Campaign and Gold in Special Events. This is the first time a company has won both Best of Show and Best Creative Campaign for the same program in the same year.
---
LAURA ACCURSO, BA'98, has joined the law firm Riker Danzig Scherer Hyland & Perretti as an associate at its New York office. While working toward her JD at Syracuse University College of Law, Laura served as a member of the National Moot Court Competition Team, and participated as the Lead Articles Editor and Assistant Managing Editor of the Syracuse Journal of International Law and Commerce. Her current practice focuses on commercial, product liability and insurance litigation.
SUSAN BIRNIE, BA'98, graduated with a Master of Divinity from Queen's University in May 2005. She also gave birth to her first child, Thomas, in September 2005.
ALVIN CHUNG, MA'99, and his fiancé, PAOLA CARROZZA, MA'99, have relocated to Hong Kong. Alvin is a corporate communications senior account executive at Ketchum Newscan and Paola is temporarily in Taiwan conducting research for her doctorate.
CHARLES RHÉAUME, PhD'99, a historian with the Department of National Defence in Ottawa, was awarded the 2005 Jean Finot Biennial Medal for best humanitarian-oriented book by France's Académie des Sciences morales et politiques for Sakharov: science, morale et politique (Laval University Press, 2004). The book analyzes the struggle of Andrei Sakharov, inventor of the Soviet H-bomb, for human rights to be enforced in his country, as well as the support for the cause among Western scientists. Charles received his medal at a ceremony in Paris last November.
CHLOÉ JACOB, BA'00, is in her first semester at HEC Montréal working toward her Master's in International Management.
MIRA ORECK, BA'00, has taken a position at the Pacific region of the Canadian Jewish Congress (CJC) as Acting Regional Director. Mira will be responsible for the administration of the CJC office, as well as operations, policy issues and outreach to both the Jewish and non-Jewish communities.
DEBORAH RADCLIFFE-BRANCH, MA'00, defended her PhD thesis in McGill's Educational and Counselling Psychology department. Her research involved educational interventions for patients at the Cedars Breast Cancer Clinic at the Royal Victoria Hospital. Deborah also won a post-doctoral fellowship at the Geriatric Institute of the Université de Montréal.
SHAUNNA BURKE, BA'01, became the second Canadian woman to successfully climb to the summit of Mt. Everest, in May 2005. Shaunna's accomplishment came exactly a year after her first attempt at climbing Everest, which ended a mere 450 metres from the summit due to strong snow and winds.
---

ERIN STOCK, BA'99, moved in June 2005 from Montreal to Sydney, Australia, where she married her long-time love, Benjamin Austin, in November. The couple met eight years ago at a Golden Key International Honour Society convention in Los Angeles and say they are happy to finally be together enjoying the daily pleasures, adventures and surprises life has to offer. Erin works as a senior associate in communications for Mercer Consulting, the largest human resources consulting firm in the world.
---
DEVON A. DECELLES, BA'03, has just completed her master's degree in Architectural Conservation from the University of Edinburgh's College of Art. MIKE MAHONEY, BA'05, has moved to Tajima, Japan, to teach English as a second language.
LAURA MORRIS, BA'05, and boyfriend MIKE WAGMAN, BA'05, won a grant from the organization Roadtrip Nation, which lent them an RV for six weeks last summer to crisscross the USA and conduct 35 interviews with newsmakers to learn the secrets of their success. Among the interviewees were Pulitzer-Prize winning columnist CHARLES KRAUTHAMMER, BA'70, DLitt'93, Seattle Supersonics head coach Bob Weiss and hip-hop mogul Damon Dash. Their interviews will air this summer on PBS.
Dentistry
ANDREW TOEMAN, DDS'66, was inducted into the Academy of Dentistry International, which is devoted to the advancement of dentistry throughout the world and the elevation of dental standards through continuing education.
Education
VICTORIA JONAS, BEd'86, completed the 60K "Weekend to End Breast Cancer" walk last summer and raised over $17,500. Victoria is Vice President of Sales for Connor, Clark and Lunn Capital Markets in Montreal and is currently pursuing her master's degree in Integrated Studies at Athabasca University. Victoria's husband, ALAN KAPELANSKI, DipPubAcc'93, is busy running his private practice.
MYRNA LASHLEY, MEd'86, PhD'95, was appointed Honorary Consul for Barbados in Montreal by Billie Antoinette Miller, the Minister of Foreign Affairs and Foreign Trade for Barbados, in July 2005.
LORI WEBER, DipEd'94, has published two young adult novels, Klepto (James Lorimer and Co., 2004) and Split (James Lorimer and Co., 2005), and a third, Tattoo Heaven, is due out shortly.
PAUL CLARK, MEd'95, PhD'01, has spent the last year sailing the Philippine islands in a 32-foot sloop doing research for a historical documentary entitled Magellan and Lapu Lapu, due out this year. Paul is the director of the Copernican Foundation, which focuses on international education development.
---

ERIK SLUTSKY, MEd'92, says he was "born an artist" and he has been expressing himself through music, photography and painting since the age of 12. He has also taught painting for many years. The landscape shown here was part of an exhibit and sale he held in Montreal in June. To see more, visit http://pages.videotron.com/slutsky.
---
SYLVAIN LAROCQUE, BEd'03, correspondant parlementaire de La Presse Canadienne à Ottawa, vient de publier Mariage gai : les coulisses d'une révolution sociale, préfacé par Martin Cauchon, ancien ministre de la Justice (Flammarion Québec). Le livre raconte toute l'histoire du mariage des conjoints de même sexe au Canada, des premières tentatives des années 1970 aux débats virulents des derniers mois. On peut joindre Sylvain à slarocque@cp.org.
Engineering
ARUN S. MUJUMDAR, MEng'68, PhD'71, is professor of Mechanical Engineering at the National University of Singapore. In 2004, Arun attended an international conference where he was honoured by the University of Mumbai, India, with a Lifetime Achievement Award, as well as for his contributions to chemical engineering in general heat and mass transfer. Since 1988 Arun has been editor-in-chief of Drying Technology. He can be reached at mpeasm@nus.edu.sg.
BERNARD FRIED, BEng'80, was selected as the new CEO of Siterra Corporation. Siterra is a leading provider of project, document and property management solutions for companies that manage large numbers of high-value real estate properties.
KEVIN WESTON, BEng'83, is the new president of Jourdan Resources, a metal mining company based in Val d'Or, Quebec.
JEAN-MICHEL ARÈS, BEng'86, MEng'88, MBA'92, was elected Senior Vice President of the Coca-Cola Company in December 2005 by the Board of Directors.
LINA BOULOS, BEng'94, works at Carollo Engineers in Pasadena, Calif., in the field of water treatment. She worked at Montgomery Watson Harza prior to that. Lina married Joe Marcinko in July 2002 and they are eagerly awaiting the arrival of their first child.
CHARLES DUPIN DE SAINT CYR, BEng'97, left his position at Palm Inc. in Silicon Valley to become the Director of Marketing at Jigsaw.com.
LOUIS DORVAL, BEng'05, was promoted to Director of Engineers Without Borders (EWB) for West Africa. Louis has been involved in projects for EWB in the Philippines and in Ghana, where he worked on a treadle pump project that helps farmers irrigate their land during the dry season.
Health Sciences
EDWARD BURGER, BSc'54, MDCM'58, is the President of the Institute for Health Policy Analysis in Washington, D.C. Edward is also Director of the Eurasian Medical Education Program in Washington, which received a $2.1-million grant from the Bill and Melinda Gates Foundation in 1999. The grant money has been used to assist postgraduate medical research and education in Russia.
SUSAN FRENCH, BN'65, received an Award for Excellence in Academic Nursing Administration from the Association canadienne des écoles de sciences infirmières in November 2005.
ROBERT BERKE, BSc'66, MDCM'70, was awarded the Rural Health Practitioner of the Year Award by the New York State Association for Rural Health. This award recognizes outstanding dedication and service to New York's rural population in the field of health care. Robert was previously recognized as the New York State Public Health Official of the Year for 1997-1998.
Law
MANUEL SHACTER, BA'44, BCL'47, was awarded the Past President's Medal of the Lord Reading Law Society on June 7, 2006. A founding partner and formerly managing partner of Mendelsohn Rosentzveig Shacter, now McMillan Binch Mendelsohn, Manuel was appointed Queen's Counsel in 1964. Over the course of his career, he has been a member of the Quebec Bar Association's Executive Committee and served a term as Bâtonnier of the Montreal Bar Association.
C.J. MICHAEL FLAVELL, BCL'64, is the founding and managing partner of Flavell Kubrick LLP, and is pleased to announce that his firm has merged with the renowned law firm Lang Michener LLP. His firm will continue to specialize in international trade law, competition law and aboriginal law.
DAVID C. GAVSIE, BCL'67, retired in October as a senior partner of the Ogilvy Renault law firm and was appointed Chair of the Alcohol and Gambling Commission of Ontario by the Minister of Government Services in November 2005.
ANN SODEN, BCL'81, LLB'82, is Chair of the Quebec National Elder Law Section, which she founded. Ann also heads the National Institute of Law, Policy and Aging, based in Montreal, and was recently appointed the first international member of the American Bar Association's Commission on Law and Aging, in Washington, D.C. Ann was the General Editor of Advising the Older Client (Lexis Nexis Butterworths, 2005), the first comparative law text to examine law and aging in Canada.
JULIA HANIGSBERG, BA'87, BCL'91, LLB'91, is Secretary to the Board of Governors and General Counsel at Ryerson University. Julia is the university's first General Counsel, a position which will require her to manage the university's legal services, as well as ensure that Ryerson meets new government privacy requirements and accountability obligations.
ANNE-MARIE MIGNEAULT, BCL'92, LLB'92, and JACQUES NEATBY, BCL'92, LLB'92, were married in 2005 and welcomed their first child, Marie-France, this past October. Anne-Marie is Director of Regulatory Affairs for CBC in Montreal, while Jacques is a principal at Secor Consulting, working out of the firm's Montreal and Paris offices.
NAN WANG, BCL'94, LLB'94, was promoted to Vice President & Senior Counsel in the Law Department of Marriott International, Inc. Nan has been practising international commercial law in the Asia Pacific region since 1995.
CHARLENE W. KAVANAGH, BCL'98, LLB'98, married Michael Wylie of Montreal in Corner Brook, Newfoundland, in September 2005. They reside in Ottawa, where Michael is a Foreign Service officer with International Trade Canada and Charlene is a partner at Low, Murchison LLP.
DAVID MA, BCL'98, LLB'98, is the proud father of little Jacob Benjamin Yuwei, born in September 2005. David is currently practising law in Toronto.
---

MAYO MORAN, LLB'90, has been named the new Dean of the Faculty of Law at the University of Toronto. Her primary areas of expertise are in private law, comparative constitutional law and legal theory. She has worked on litigation involving the equality guarantee under the Canadian Charter of Rights and Freedoms and, most recently, on claims to redress the Chinese "head tax," first introduced in the 1800s to limit immigration from China.
---
SARAH J. BAKER, BCL'04, LLB'04, recently moved to Los Angeles to pursue her legal career in environmental and immigration law. After completing a master's degree in Environmental Law at Lewis & Clark University in Portland, Oregon, Sarah was married in Sutton Junction, Quebec, to Andrew Stevenson.
Library and Information Studies
CELIA DONNELLY, MLS'79, was appointed Chief Librarian of the Globe and Mail editorial library. Celia has been working happily at the Globe for 20 years, 15 of them as Deputy Chief Librarian and researcher. Celia also plays rhythm guitar and electric mandolin in the paper's award-winning rock band.
RAVIL VELI, MLIS'93, has accepted the Director of Library Services position at Herkimer County Community College in New York after six years with the Feinberg Library at SUNY Plattsburgh.
Management
DENIS DESAUTELS, BCom'64, was appointed to the International Development Research Centre's Board of Governors in November 2005.
DAVID RATTEE, BCom'64, was appointed to the board of directors at Loring Ward International Ltd. Loring Ward provides wealth, career and life management services to American individuals and families. David is president and CEO of two private investment holding companies, CIGL Holdings Ltd. and MICC Investments Ltd.
BRUCE BISHOP, BCom'65, was appointed managing director of Sebor Manufacturing Ltd., in Mogale City, South Africa. He also serves on the boards of a number of system management entities, including the board of a Swiss private equity fund.
PETER CHINLOY, BCom'70, will take over in September as the new endowed chair of the real estate program at San Diego State University. Peter is currently the chair of the Finance and Real Estate Department at the American University's Kogod School of Business in Washington, D.C.
ELLIS JACOB, BCom'74, received the 2005 Ontario region Ernst & Young Entrepreneur of the Year Award. He was also awarded one of 11 industry category awards for his work in the media and entertainment industry.
DAVID E. LAWSON, BCom'77, was appointed Chief of Shared Services for Fraser Health, one of Canada's largest integrated health delivery organizations, based in Vancouver. David says that his wife, DONNA SESSENWEIN, BN'77, and family have been pillars of support throughout the past two years as he has worked toward and received his MA in Leadership and Training at Royal Roads University in Victoria.
FIROZ RASUL, MBA'77, became president of Aga Khan University in Karachi, Pakistan, in May.
CHRISTINE C. LENGVARI, DPA'78, has been appointed a governor of the Canadian Unity Council, a non-profit organization promoting Canadian federalism. Christine continues to serve the community as a governor of Concordia University, as Vice Chair of St. Mary's Hospital Foundation and as Chair of the Client Committee of the Kenneth Woods Portfolio Management Program at Concordia.
ANDRÉ EWERT, MBA'80, has returned to practice in construction, real estate and condo-related law, as well as some commercial law. André is the father of a nine-year-old girl and splits his time between Morocco, the United Arab Emirates, Montreal and Negril, Jamaica.
BRUCE MACCOUBREY, MBA'80, was appointed to the newly created position of President and Chief Operating Officer of Business Development Operations at Doll Technology Group, a manufacturer of "clean and green" products and technology solutions. Previously, Bruce was Vice President for Strategic Business Services at Air Canada.
PAUL BIBERKRAUT, BCom'82, DPA'83, became the Chief Financial and Adminis-trative Officer for Chartwell International Inc. in January.
PETER SZEMENYEI, BCom'83, MBA'90, was promoted from Senior Director of Corporate Finance to CFO of Pernod Ricard USA, a producer and distributor of spirits and wine in the United States.
ALEX GALLACHER, MBA'89, was elected a board member of the Human Resources Professionals Association of Ontario. In 2004 Alex founded ENGAGE Human Resources Solutions Inc., a human resources, outsourcing and interim professional practice. In 2005 Alex also launched a new first-year course within McGill's MBA program.
MARTIN VIENS, BCom'92, is Director of Organizational Development for Lassonde Industries, and returned to Canada from North Africa, where he worked for a telecom firm, as well as travelling all over Europe as an international HR manager. Martin and his wife, NATHALIE ROBERT, BCom'92, celebrated their tenth wedding anniversary in September. They have three children, aged 7, 4 and 2.
DEMETRIOS (JIM) STAMATOPOULOS, BCom'93, DPA'95, and EVANTHIA KARASSAVIDIS, BCom'96, were married in October 2004 and welcomed their first child, George Demetrios, in October 2005. Demetrios works for PSB Chartered Accountants in Montreal and is currently studying for his CBV title. Evanthia has been working at Invera Inc. for the last ten years.
STÉPHANE AMARA, BCom'95, became a director at Deutsche Bank Asset Management in December 2005 after ten years with Bank of Ireland Asset Management. Stéphane lives with his wife, VALERIE ZRIHEN, BCom'99, and his sons, Michael and Jeremy.
BEVERLY KOO, BCom'99, has been working at her parents' winery, Chateau La Bourguette, in Bordeaux, France, ever since graduation.
BROOKE FISHBACK, MBA'02, is the International Sales/Export Manager for Health Enterprises, which was recently awarded the 2005 U.S. Commercial News/ Think Global Consumer Products Exporter of the Year. Health Enterprises is a leading manufacturer of health care products.
BRETT A. HICKEY, BCom'02, and TODD ROBERTS, LLB'86, closed their second venture capital fund with Aegis NY Venture Fund, based in New York City. Brett and Todd raised over $30 million in private equity and venture capital funds in 2005. Todd has also been appointed to the Chairman's Advisory Committee for New Jobs for New York, headed by Hillary Clinton.
Music
GEOFFREY MOULL, BMus'76, has extended his engagement with the Thunder Bay Symphony Orchestra to June 2008 as music director, a title he has held since June 2000. The Symphony's recently recorded CD Variations on a Memory, featuring contemporary Canadian works, was nominated for a 2005 Juno award.
TARAS KULISH, BMus'95, was named the new Artistic Director of the Vermont Opera Festival. Taras also continued his busy singing career by returning to the Montreal Symphony Orchestra as bass soloist in Nielsen's 3rd Symphony in January, as well as returning to the Calgary Opera as Don Magnifico in La Cenerentola.
DAVID WOHL, DMus'99, is composer and co-creator of the family musical Uncle Jed's Barbershop. The musical was one of only 18 new works selected (out of 400 submissions) for performance at the prestigious New York Musical Theater Festival. David also received his ninth ASCAP Award for sound design and music for the world's first "Bug Carousel," which is on display at the Bronx Zoo in New York.
Science
WILLARD S. BOYLE, BSc'47, MSc'48, PhD'50, was inducted into the Canadian Science and Engineering Hall of Fame, and was a recipient, along with Dr. George Smith, of the National Academy of Engineering's Charles Stark Draper Prize in 2005 for their invention and development of the charge-coupled device (CCD). CCD imaging is used in all digital cameras, video cameras, bar code readers and image scanners such as copy machines. The award was presented in February in Washington, D.C., during National Engineers Week and carries with it a $500,000 prize.
JACK M. MILLER, BSc'61, PhD'64, has been appointed Professor Emeritus of Chemistry at Brock University. Jack's appointment coincides with his formal retirement from the department and his positions as Associate Vice Principal and Dean of Graduate Studies. Jack will work part-time at Brock as Special Advisor on Buildings and Space, as well as on computational chemistry research.
MARK A. WAINBERG, BSc'66, Director of the McGill University AIDS Centre and Professor of Medicine and Microbiology, will co-chair the International AIDS Conference in Toronto in August. Mark has served as President of the International AIDS Society and was instrumental in bringing the Conference to Durban, South Africa, in 2000, which focused world attention on the extent of the epidemic on the African continent. He is an internationally recognized scientist in the development of anti-viral drugs to treat AIDS and of microbicides and vaccines to prevent HIV.
ANITA SHILTON, BSc'68, was appointed Dean of Ryerson University's G. Raymond Chang School of Continuing Education for a five-year term, which began in January.
ANDY ROBERT, BSc'69, and RENÉE (VOGEL) ROBERT, MEd '80, are proud that their daughter, Sarah, has been accepted to McGill. They report that she is in good hands and well on her way to mastering the 3 R's of university life with helpful advice from grandpa LOU VOGEL, BSc'51.
JODY GOMBER, BSc'71, retired in fall 2005 after a fulfilling 30-year career in the public sector. Jody received her PhD in primate behaviour from the University of California in 1975. Throughout her career, Jody held a wide range of positions, including prison psychologist with the Canadian Penitentiary Service, Director General of Drug Strategy and Controlled Substances with Health Canada, Housing Analyst with the Treasury Board and Director General of Human Resources with Transport Canada.
DWIGHT DECKER, BSc'72, is chief executive at Conexant Systems in Newport Beach, California.
SIMON C.H. WONG, BSc'76, was awarded an honorary doctorate from the University of South Australia in July 2005 for his contribution to the development of lifelong education and his commitment to the globalization of higher education in Hong Kong.
TYLER M. DYLAN, BSc'82, was appointed Executive Vice President, Chief Business Officer and General Counsel at Cardium Therapeutics Inc. and its parent company, Aries Ventures Inc. Cardium Therapeutics, headquartered in San Diego, Calif., focuses on interventional cardiology and the development and commercialization of non-surgical cardiovascular gene therapeutics.
DOROTHY TEDDI ANN GALLIGAN, BSc'83, and her husband, David Alan Diggs, announce with great joy the birth of their second daughter, Josephine Lucia Diggs-Galligan, in July 2005 in Washington, D.C. They say her big sister, Sophia Emmanuelle, is enjoying her new status immensely.
TAMSEN VALOIR VAN GENECHTEN, BSc'83, has published Law School Survival Guide (Booklocker, 2005), a fun, illustrated book that not only instructs law students how to study for law school, but how to write Grade A exams as well.
MARC FORTIN, PhD'87, has joined Agriculture and Agri-Food Canada as an Assistant Deputy Minister. Marc is presently Associate Professor in the Department of Plant Sciences at McGill.
PASCALE LEMAIRE, BSc'87, is Vice President of Professional Services and a Partner at PROACT E.A.P. in Montreal. Pascale is a media spokesperson and a member of the Ordre des Psychologues du Québec and is president of the Quebec Employee Assistance Program Association. Pascale spends her free time volunteering as head coach for the McGill men's varsity lacrosse squad.
KAREN COMER, BSc'88, married Robert Skipworth Comer in January 2006 in Victoria, B.C. Karen and her husband live in Carmel, Indiana, and both work for Indiana University.
---

SUZANNE FORTIER, BSc'72, PhD'76, was appointed president of the Natural Sciences and Engineering Research Council of Canada (NSERC). In 2005, Suzanne received a distinguished service award from the Queen's University Council for her exceptional contributions to research and academics. NSERC is a federal agency that supports basic university research through grants and project research through partnerships among post-secondary institutions, the government and the private sector.
---
PAUL-FRANCOIS PARADIS, BSc'88, a reçu, le 31 mars 2005, le premier prix (section générale) pour un article presenté à la 82ième conférence annuelle de la Japan Society of Mechanical Engineers.
MICHAEL MANGA, BSc'90, was honoured with a MacArthur Fellowship in 2005 by the John D. and Catherine T. MacArthur Foundation. Michael is an Associate Professor of Earth and Planetary Science at the University of California, Berkeley, who applies his background in fluid dynamics to a wide variety of fundamental questions in geology. Michael will receive $500,000 over five years as part of the Foundation's mission for rewarding individuals who display originality, creativity and potential in their respective fields. Michael was also featured in People magazine's annual "Sexiest Man Alive" issue.
TAFADZWA S. KASAMBIRA, BSc'97, graduated from the Boston Combined Residency Program in Paediatrics at the Boston Children's Hospital at Harvard University, and at Boston Medical Center, Boston University. Tafadzwa recently began a fellowship in pediatric infectious diseases at Johns Hopkins University.
AMIN LADAK, BSc'97, MSc'00, has been appointed Principal of Seaflower Ventures, a venture capital group based in Waltham, Mass., which focuses on early-stage life sciences investments. Prior to joining Seaflower Ventures, Amin was employed with FoldRx Pharmaceuticals, where he was responsible for overall business management. Amin has also held directorial positions at HealthCare Ventures and Bayer Pharmaceuticals.
KARN MANHAS, BSc'97, has been appointed a part-time member of the Board of Trustees of the Canada Science and Technology Museum, which is responsible for preserving and protecting Canada's scientific and technological heritage. Karn is President of Karyon Projects Corporation.
REES KASSEN, PhD'01, is among four researchers at the University of Ottawa who have been named laureates of the Ontario Early Researcher Award program. The award, worth approximately $100,000, is aimed at supporting research and development initiatives at universities and other research organizations in Ontario.
ADRIENNE LEI, BSc'03, was selected out of 500 applicants by the Toronto Star as one of 12 members to act on the "community editorial board." Adrienne will meet regularly with senior Star editors and reporters to discuss key issues facing the greater Toronto area, while occasionally having the opportunity to write guest columns.
JENNIFER LILLY, MSc'05, was an official meteorologist for the 2005-2006 Volvo Ocean Race, which began in Vigo, Spain, in November 2005 and ended in June in Gothenburg, Sweden. Jennifer provided crucial meteorological information to the competitors as they raced around the world.
Social Work
TERESA DELLAR, BSW'83, MSW'90, was a recipient of the Montreal Council of Women's 19th annual Woman of the Year Award for 2005. The award is given in recognition of a woman who has made significant contributions to the improvement of the community.