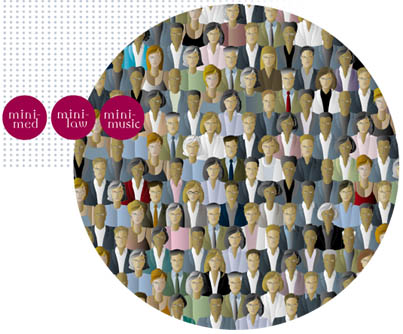 Good things really do come in small packages, judging by the crowds who have flocked to McGill's "Mini" educational programs
It's a rainy evening in may, and inside the comfort of McGill's newly built Tanna Schulich Recital Hall, an audience of 175 or so sit in rapt attention. Projected on a screen at the front of the hall is a film of the great classical pianist Alfred Brendel as he prepares for a recording cycle of Beethoven's piano concertos with conductor Sir Simon Rattle.
The recordings that resulted from these sessions in the late 1990s have been hailed as the definitive set of Beethoven concertos. And the woman who produced them - McGill sound recording professor Martha de Francisco - is here in the recital hall, describing in her own words that special moment in music history. It's the second lecture of the Mini- Music program, and participants are getting their money's worth.
De Francisco takes them into the world of the recording engineer and producer, offering a backstage view that few ever see. Stories of working with legends like Brendel or soprano Jessye Norman. The art of microphone placement, the sleight of hand involved in mixing enormous orchestral ensembles. The 90-minute lecture is packed with information. From the audience's enthusiastic response - they have far too many questions for de Francisco to answer - it's clear that McGill has another hit on its hands.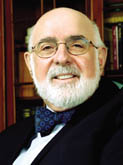 Owen Egan
Mini-Music is the latest program of "mini" lectures for McGill. Last year saw the launch of Mini-Law, and the series that started it all, Mini-Med School, is now five years old. The programs have met with a demand more typical of some theatre extravaganza, not a lecture series by a cast of bespectacled academics. Waiting lists for registration slots run into the hundreds. Lucky participants get to turn down social engagements and brag in the same breath: "Wednesday night is out of the question, dear - I'm in medical school at McGill."
"I knew it would be interesting and bring in a crowd," says Dean of Medicine Abraham Fuks, BSc'68, MDCM'70, of McGill's initial Mini-Med School program. "But it surpassed even my most optimistic predictions."
Small Beginnings
It should not be a complete surprise that people love to learn, but even for the program's founder, a McGill graduate, the scale of Mini-Med's success was a shock. In 1989, Dr. J. John Cohen, BSc'59, MSc'60, PhD'64, MDCM'68, was teaching at the University of Colorado Health Sciences Center in Denver when he was asked by the chancellor to think of something that would show the local population what went on at the cloistered medical campus. Cohen came up with a brilliant notion. What if they put together a series of lectures that mirrored what students do in the first two years of med school? He recruited the Center's best teachers and they created eight lectures on basic medical science: anatomy, physiology, microbiology, pathology and the like. Then they sent out a press release.
"My only experience with any kind of outreach had been a bird-watching course I took at the local college, so I figured we'd get 20 people," Cohen says with a chuckle. "The local newspaper ran a little article and by quitting time, 1,200 people had called trying to get in. We were staggered!"
Cohen's Mini-Med success began to be duplicated across the United States. Documentation on how to put together a Mini-Med school included a map pinpointing the rapidly growing number of universities that had started their own. "Mini-Med School: An Emerging Epidemic" read the map's heading.
Still, the contagion hadn't spread to Canada, until Kappy Flanders became infected. Flanders, a member of McGill's Board of Governors, heard about the program at a conference in Dublin, sent away for the manual, and even travelled to Denver to see Mini-Med in action. McGill, she decided, had to do this. She quickly won over associate deans Dr. Yvonne Steinert and Dr. Mel Schloss. They brought Cohen to Montreal for a demonstration and Dean Fuks became a convert.
Big Success
When McGill finally launched Canada's first Mini-Med series in 2001, the team had put in long hours developing the curriculum and recruiting some of the top faculty. Lecture titles included "Immunology: Safe Inside Your Skin" and "The Human Genome: The Enigma Variations." Mini-Med would be accessible but it would be real medical science - no talking down to the audience, who ranged from high school students to octogenarians. Internationally acclaimed experts guided them through dense scientific territory. Brian Ward, often seen in the national media commenting on the bird flu threat, delivered the microbiology lecture. Renowned neurosurgeon Rolando Del Maestro's lecture "The Search for the Soul" took students into the arcane world of neuroscience. There were no tests, and you even got a diploma at the end of the series. Success was swift - Mini-Med became one of the hottest tickets in town. Mel Schloss credits much of the triumph to the irrepressible Flanders: "We call her the Dean of Mini-Med School."
So successful was McGill's program that, like Cohen's original series in Denver, it was quickly copied by other universities across the country. University of Toronto launched their own Mini-Med, then McMaster University in Hamilton, University of Western Ontario, University of British Columbia, Queen's University in Kingston, University of Ottawa and Memorial University in St. John's. The Canadian epidemic was on, with McGill as the index case.
Since then, Schloss has helped launch a version at the Montreal Children's Hospital where he is director of pediatric otolaryngology, and Mini-Med has also been offered at the Jewish General Hospital and through a seniors' association in Montreal. Lectures have been broadcast over the Internet to Macdonald Campus and to small towns in Northern Quebec. McGill's program won the gold medal for community outreach from the Canadian Council for the Advancement of Education. In all, over 80 schools have started Mini- Med, including versions in Malta and Ireland, and Cohen is helping start Germany's first school this year.
And when you have this big a hit on your hands, somebody usually starts thinking "sequel." Having dealt with the basic sciences, McGill's organizers decided to develop a new series dealing with the clinical side of medicine. Mini-Med II began in 2005 and covered Internal Medicine, Surgery, Cardiology, Neurology and more.
In his Mini-Med II lecture, Dr. John Setrakian takes students into the mind of a doctor, illustrating how physicians think when they're making a diagnosis, how the roots of a patient's symptoms can range from the commonest causes to the most rare conditions, and how doctors sort that out.
Setrakian found teaching Mini-Med to be a novel experience. "In a way, it was like gathering a whole bunch of my patients in front of me and telling them all the things I would have liked to tell them about how I reason through and approach their cases."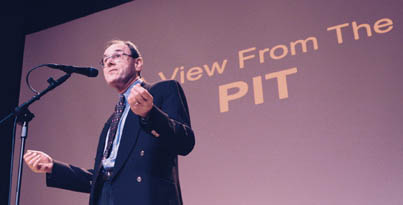 Music professor Abe Kestenberg offers his audience an insider's perspective on the life of a musician at McGill's Mini-Music School
Owen Egan