While Tony award-winner Christopher Plummer and acclaimed author Nancy Huston were among the recipients of honorary degrees, the true stars of McGill's spring convocation were the 6,000 or so newest additions to the University's alumni ranks.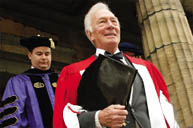 Renowned Shakespearean actor Christopher Plummer was granted an honorary degree at this year's spring convocation. The always eloquent thespian suggested to grads that they ''take this silly old world by the scruff of the neck and, as the poet says, 'grapple it to your heart with hoops of steel.'''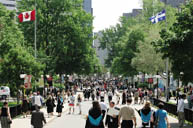 Families and friends of graduates gather on lower campus to celebrate a momentous day. Convocation ceremonies are once again held on the fields of lower campus, a tradition that was reintroduced three years ago.
| | | |
| --- | --- | --- |
| McGill's Chair of the Board of Governors, Robert Rabinovitch, BCom'64, Chancellor Richard Pound, BCom'62, BCL'67, and Principal and Vice-Chancellor Heather Munroe-Blum make their way towards the ceremonies. | One graduate thanks the man who made it all possible. James McGill doesn't seem to mind, and is no doubt pleased with what has become of the land and money he bequeathed in 1813. | In Redpath Hall, University Marshal and chemistry professor David Harpp gives graduates some last minute instructions and points them in the right direction. |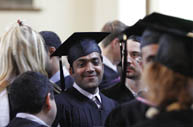 MBA graduate Raveen Sastry smiles at the camera shortly before taking the stage along with his Management classmates.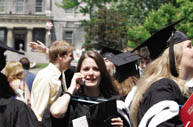 'Guess what - I'm finally done!!!'
| | | |
| --- | --- | --- |
| A moment of quiet contemplation... | ...gives way to a blissful smile. | A trio of new grads indulges in a tradition that's probably as old as convocation itself. |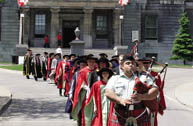 Marching past the Arts Building, a bagpiper leads the parade down the road and towards the ceremonies.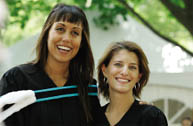 Long after exams and lectures are forgotten, the friendships remain. Proud Education graduates Tessa Barrans and Vanessa Nolet plan to stay in touch.