Combating cancer in Caledon

The McGill Caledon Bike and Walk-a-Thon, organized by Karin Heidolph-Bremner, BCom'81, and Thomas Bremner, BA'80, is gearing up for its sixth year this coming fall. About 100 people took part in the event last year in Caledon, Ontario. A portion of registration fees is donated to the Canadian Breast Cancer Foundation and lunch is provided. Contact the Toronto office at (416) 703-9795 or email for more information.
Dress for success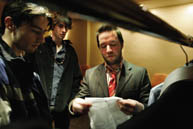 In March, over 350 students took part in the Alumni Association's "Backpack to Briefcase" workshops on the sorts of skills soon-to-be grads will need in the real world. Topics ranged from dining etiquette to money management and job-hunting techniques. Francis Brunelle (right) from clothier Harry Rosen gives handkerchief tips to science student Horia Vulpe and engineering student Kealon Gell.
The icemen cameth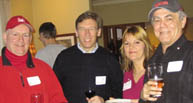 When the hockey Redmen earned their first-ever berth in the Canadian Interuniversity Sports National Championships, hosted this year by the University of Alberta, the Alumni Association sent out a call to local graduates to ensure there would be a robust cheering section. The Redmen lost out in the semi-finals, but took comfort in the fact that their season was among the best in the club's 130-year history. Coach Martin Raymond, BEd'90, MA'96, was named CIS coach of the year, while goalie Mathieu Poitras, an engineering student, earned All-Canadian honours.
Big Top in the Big Apple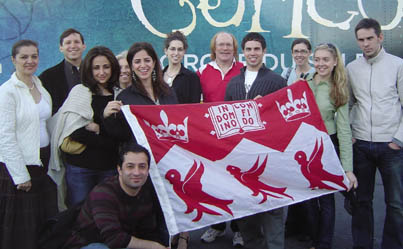 The McGill Alumni of New York organized a recent trip to see the Cirque du Soleil production "Corteo." Among those who attended were Ron Le Vine, BSc'69 (second from left), Micki Le Vine (fourth from left), Andrea Pappas (sixth from left), Lloyd Olsson, BSc'83, Brett Hickey, BCom'02, Suzanne Scanlon Richardson, BA'88, Daphne Ronsil-Haddock, BCom'02, and Vincent Ronsil. In the foreground is Hessam Kalantar, BA'91, LLB'96.
Casting stones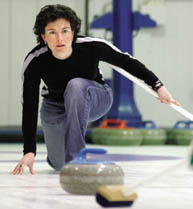 McGill Young Alumni president Catherine Cunningham, BA'99, CertHRMgmt'00, keeps careful watch as her stone glides down the ice. The MYA organized an afternoon of sweeping and sliding at the Royal Montreal Curling Club that attracted an enthusiastic crowd of Brad Gushue wannabees.
Sugar, Daddy
Danielle Konig and dad Paul Konig, BEng'87, are set to sample something sweet at the Sugarbush Maple Syrup Festival at the Kortright Conservation Centre in Woodbridge, Ontario. The Toronto Alumni Branch assembled a group of local graduates and friends of McGill, to trek to the festival for some gooey goodness.