The King in the Window, Miramax Books, 2005, $26.95, by Adam Gopnik, BA'80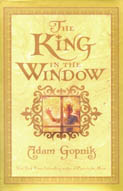 Children's books never used to garner much attention or critical respect, but things changed considerably with the remarkable success of J.K. Rowling's Harry Potter series. In recent years, children's literature has attracted some top talents, including Isabel Allende, Neil Gaiman and Michael Chabon. Now it's award-winning New Yorker scribe Adam Gopnik's turn, with his imaginative offering, The King in the Window.
One of the book's chief strengths is its setting - Paris. It's a city that Gopnik knows intimately as the author of Paris to the Moon, a best-selling and affectionate memoir of the five years that Gopnik and his family spent there. Gopnik again offers insights into the city's unique charms and its less pleasurable aspects. For protagonist Oliver, a 12-year-old transplanted New Yorker, Paris is a city of stern schoolteachers and winter gloom until he stumbles upon a secret war between a power-hungry despot who operates inside mirrors and a noble (if somewhat ineffectual) troupe of 17th-century artists and artisans who live inside windows. To his consternation and bewilderment, Oliver is drafted to lead the good guys.
Oliver's allies are a colourful bunch indeed. Apart from the window wraiths who treat him as their monarch (and who count Molière and the Duc de Richelieu - he invented mayonnaise - among their members), they include a delightfully imperious historian and a mysterious band of unkempt street people.
Gopnik's approach is ambitious - he incorporates everything from quantum physics and Parisian history to Alice Through the Looking Glass as plot elements. In fact, he might be a little too ambitious - portions of the story are under-explained (who, exactly, are those inline skaters who take part in the final assault?), while others are annoyingly unlikely (for instance, when Oliver deduces the identity of a key ally from a throwaway comment made by his father).
That said, Oliver is a likeable hero - bright, uncertain of himself and capable of some woeful missteps on his way to saving the day. The book is by turns suspenseful and droll. Potter addicts of all ages, desperate for a fantasy fix while Rowling writes her next book, should find ample relief in the pages of The King in the Window.
How Happy to Be, McClelland & Stewart, 2006, $24.99, by Katrina Onstad, BA'94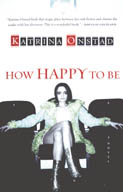 The central character of CBC Arts Online journalist Katrina Onstad's debut novel, How Happy to Be, is cynical, self-destructive and overly fond of booze. The loss in childhood of her mother and her hippie father's inability to be much of a parent have left her wounded. She detests her job and doesn't like the guy she is sleeping with.
Sound like a pretty bleak book? Surprisingly, it isn't. Both wry and heartfelt, How Happy to Be packs an unexpected emotional wallop and offers up more than a few laughs. Its heroine, Max, is a film critic, interviewing celebrities like Ethan Hawke for a newspaper clearly modelled after the National Post (where Onstad used to work as a film critic interviewing celebrities like Ethan Hawke). Max misbehaves at work, yearning to get sacked, only to inadvertently impress the higher-ups who prize her "edginess."
Much of the book's pleasure stems from Onstad's biting observations about the inner workings of entertainment reportage - for instance, her description of grumpy publicists from the U.S. forced to ply their trade at a Toronto film festival. "American publicists in Canada carry with them the anger of a very recent breakup, of a really terrible morning, a missed-the-alarm, stepped-in-dog-shit, got-mugged, bled-all-over-myself morning that ended five minutes ago."
Onstad also displays a knack for capturing the awkward ache in relationships that have skidded off the rails. An encounter between Max and an ex-boyfriend is nicely etched with shadings of regret, bitterness and lingering affection.
Max might be a mess, but she is a sly, engaging mess, and you can't help but root for her as she stumbles her way towards a potentially more fulfilling life.
If Max continues to follow in her creator's footsteps, she'll no doubt pen a stellar novel in Onstad's next book. And here's hoping there is a next book, whether Max turns up or not.
Saving Rome, Second Story Press, 2006, $18.95, by Megan K. Williams, BA'88
Rome is infuriating - the traffic snarls, the nepotism, the casual sexism. Rome is also intoxicating - filled with gorgeous people with a natural talent for appreciating life's sensuous delights and a cuisine so spectacular that even its frozen food can knock your socks off.
Rome-based journalist Megan K. Williams, a freelancer who contributes regularly to the CBC and National Public Radio, knows the city well and appreciates its magical charms and unique frustrations as only an outsider can. Her first foray into fiction, Saving Rome, offers some insightful glimpses into the day-to-day details of life in one of the world's most fabled cities. Not all the tales in this collection of short stories take place in Italy, but each features some link to the land of Dante and Donatello.
Williams effectively conveys the voices of very different protagonists - a divorcee diving back into the dating scene with mixed feelings; an older woman saddened and embittered by the fracturing of her family; a lesbian diplomat who accepts an Italian posting to jumpstart a life that has gotten stale and predictable; an aspiring author being driven mad by an unwelcome house guest.
As her characters wrestle with a variety of conundrums, Williams treats them sympathetically but never simplistically. And she offers a few belly laughs too - most notably in "Let the Games Begin," an oddly sexy, touching and wonderfully antic love story.
My Life at the Bar and Beyond, McGill-Queen's University Press, 2005, $34.95, by Alex Paterson, BCL'56, LLD'94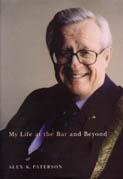 There are plenty of Quebecers better known than Alex Paterson, but precious few who've made more valuable contributions to their home province. Paterson has taken on many roles over the years - influential lawyer, government advisor, Bishop's University chancellor, an advocate for the disabled, and a leader of the "No" forces during the 1980 Quebec referendum, among them.
He has also been an important part of recent McGill history. As the chair of McGill's Board of Governors in the early '90s, Paterson was determined to make the body more diverse and reflective of the community it served - aboriginal leader Mary Simon, LLD'92, and architect Arthur Lau, BArch'62, were among the people he recruited. Paterson also played a key role in the early days of the McGill University Health Centre and the McGill Institute for the Study of Canada.
Paterson's book, My Life at the Bar and Beyond, revisits some of the highpoints of a remarkable career. If it's occasionally a little dry, it might be that Paterson is too much of a gentleman to really dish the dirt.
For instance, in his section on Bishop's, he praises former principal Janyne Hodder, BA'70, MA'83, (who then served as McGill's vice-principal of inter-institutional relations for two years) for the fine work she did in improving the thorny relations between the school's faculty and administration when she took office. As a longtime Bishop's insider, Paterson is doubtlessly aware of where those tensions originated, but that topic isn't covered here.
Which isn't to say My Life at the Bar and Beyond is a bad read. There are plenty of memorable moments - ranging from the sullen young Russian diver who, during the '76 Montreal Olympics, can't decide whether or not he is defecting, to a glimpse into Mikhail Gorbachev's charisma as the suave Russian leader calms down a panicky translator during an appearance at McGill. The book's best chapter recounts Paterson's frustrating experience representing the Quebec government in its negotiations with Mohawk leaders during the Oka Crisis in 1990. Paterson is critical of the way both sides conducted themselves during those discussions, painting a vivid portrait of a dangerous and chaotic moment in Canadian history.
The Freedom to Smoke: Tobacco Consumption and Identity, McGill-Queen's University Press, 2005, $27.95, by Jarret Rudy, PhD'01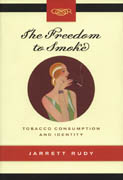 Within the last 100 years, cigarette smoking has undergone a transformation; from a pastime for the privileged to a prized male coming-of-age ritual and finally a despised and anti-social bad habit. In recent years, smokers have been herded into ever-smaller enclosures and then out of public buildings altogether.
Author Jarret Rudy, an historian and the director of McGill's Quebec Studies Program, traces the rise of tobacco as one of Canada's largest industries and the resulting impact as seen through the lens of French Canadian culture, specifically in Montreal between 1888 and 1950. Rudy focuses on a number of defining moments in his fascinating history, beginning with the arrival of mass-produced cigarettes in Canada. As tobacco production changed from skilled hand labour to machine manufacture, the cost of cigarettes dropped to less than a penny apiece. The fact that cigarettes were quicker to smoke than pipes and cigars vastly increased their appeal in the early 1900s when life began to move at a much quicker pace.
As smoking was taken up at all levels of Montreal society, Rudy notes how standards of etiquette also formed. For example, cigar store owners created smoking spaces for male customers to try new products, Montreal trams had a smoking section for male passengers who wished to smoke on their way to and from work, and many upper-class homes had a smoking room where the men retired to light up after dinner.
Social norms prevented "respectable" women from smoking, a taboo that persisted until World War II, when middle-class women began challenging many gender-based restrictions. Rudy dedicates the last chapter of his book to these social changes, describing how the war "pulled growing numbers of women into factory work and into the public." With more independence and more money to buy cigarettes, women claimed their right to smoke.
A series of advertisements, quotes, news clippings, and political arguments enhance Rudy's text. This is a very readable book of interest to men and women, historians and general readers, smokers - and non-smokers - alike.