Ready for their Close-ups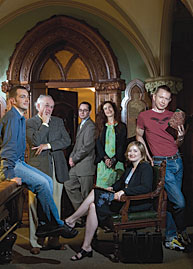 Christine Muschi/National Post
English professors are noted for knowing a lot more about Atwood than they know about Armani. Vonnegut, yes. Versace, not so much.
Members of McGill's Department of English recently struck a blow for the notion that people in their line of work have much more than just rumpled Harris Tweed blazers hanging in their closets.
Six professors - Ken Borris, Allan Hepburn, Maggie Kilgour, Monique Morgan, Derek Nystrom and David Williams - appeared in a photo that dominated a full page of the National Post as part of a series the newspaper published regarding what people in different occupations wore to work.
The paper described the McGill professors' wardrobe selections as "eclectic and free-thinking." While Morgan thinks the professors in her department "might be a bit better dressed than average," she believes Hollywood tends to be unkind to literary scholars. "We are much more diverse [in what we wear] than we are portrayed in movies."
Hepburn is quick to agree. "We can be snazzy too."
Borris, who sports a funky t-shirt and jeans in the photo, says that there is a strategy behind his style. He avoids blazers in a bid to be a bit more approachable to his students. "Students often project too much authority onto their professors - much more than we need to do our jobs. It's always better to have conversations on a more relaxed basis."
Design for Disaster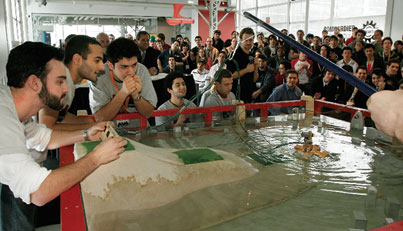 Owen Egan
McGill Engineering Students Andrew Gartshore, Samer Abu-Ghannam and Amrit Richardson (at left), focus intently on their rescue vehicle which has descended from a mock Mount Royal to collect victims trapped in skyscrapers in a flooded Montreal. The scenario was part of the Quebec Engineering Competition hosted by McGill from January 19 to 22. The team's fourth member, John Venturi, is out of the shot as he performs the critical function of keeping cables untangled by means of a broom handle, a coat hanger and Red Green's invaluable aid - duct tape.
Carrying on Humphrey's work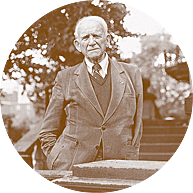 Jack Goldsmith
In 1948, John Humphrey, BCom'25, BA'27, BCL'29, PhD'45, LLD'76, a young law professor on leave from McGill, authored the first draft of the Universal Declaration of Human Rights. Almost six decades later, Humphrey's alma mater is again poised to make important contributions to the development of human rights law on a global scale.
The Faculty of Law's new Centre for Human Rights and Legal Pluralism will be building on McGill's long-standing strengths in both human rights and comparative law, says centre director René Provost.
Thanks to the presence of professors like Humphrey (pictured above), F.R. Scott and Irwin Cotler over the years, McGill's bona fides in human rights law have been clearly established. Provost says his new centre will marry that expertise to McGill's unique ability to combine and contrast different legal systems - the faculty's national program, which teaches both common and civil law, is one-of-a-kind, for instance.
"As the world becomes more integrated culturally, politically and economically, it's clear that human rights law will follow that integration," says Provost. Human rights law "can't be based on just American law," he adds. "We have to consider French law, German law, Brazilian law, Chinese law. We have to look at African customary rules. We have to see how all these different elements can be pieced together to make a workable system."
The centre will foster research collaborations involving more than a dozen law professors, as well as McGill scholars from such areas as anthropology, developing area studies, education and sociology. The centre will also administer the faculty's existing human rights internships, which see McGill law students travel to developing countries to contribute their skills to a variety of human rights projects.
The centre recently got two big boosts. Frédéric Mégret, an expert on how globalizing legal systems affects vulnerable minorities, joined the centre as McGill's new Canada Research Chair in the Law of Human Rights and Social Diversity.
Meanwhile, law alumnus David O'Brien, BCL'65, chair of EnCana Corporation, supplied $3 million to the faculty to create a series of fellowships that will support the work of top-calibre graduate students in the area of human rights.
"This should allow us to attract the best students from around the world," enthuses Provost.