Leacock leaves them laughing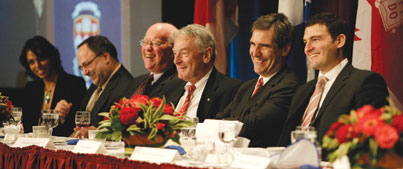 Among those at the head table who shared the mirth (left to right): McGill doctoral student and star athlete Sarah Ali-Khan, CBC president and McGill board of governors chair Robert Rabinovitch, BCom'64, Quebec Superior Court justice John Gomery, BA'53, BCL'56 (the star of Canada's version of Court TV, said Drummond), Chancellor Richard Pound, BCom'62, BCL'67, author and politician Michael Ignatieff and CBC News: Sunday co-host Evan Solomon.
Nicolas Morin
Homecoming's Leacock Luncheon again smashed attendance records last year, attracting more than 1,000. Emeritus architecture professor Derek Drummond, BArch'62, the event's perennial and irreplaceable master of ceremonies, had the audience in stitches, as usual. Recalling his time as McGill's chief fundraiser, Drummond observed, "When it comes to giving, some people will stop at nothing." Evan Solomon, BA'90, MA'92, who served as this year's Leacock Lecturer, observed, "Following Drummond is like being the body at an Irish wake."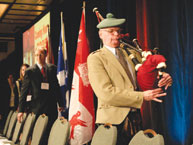 The piper leads the Luncheon's head table guests to their seats.
Nicolas Morin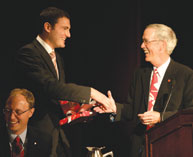 Drummond with Solomon. In the foreground is Stephen Lloyd, BCL'93, LLB'93, chair of Homecoming '05.
Nicolas Morin
It doesn't seem that long ago

Nicolas Morin
Among the attendees for Homecoming's James McGill Dinner, which paid tribute to alumni who graduated from McGill at least 55 years ago, were (left to right) Henry (Pat) Patterson, BA'40, John Tebbutt, BCom'40, Principal Heather Munroe-Blum, George Grande, BA'40, Chancellor Richard Pound, BCom'62, BCL'67, Doug Gilmour, BA'40, and Jim Fitzpatrick, BCom'40, CA'41.
Bookish, not boring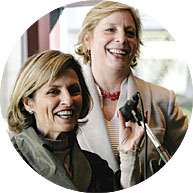 Nicolas Morin
More than 75 Homecoming attendees turned out for the annual Lunch et Livres event featuring authorial alumni. Members of the audience, including the three in this photo, clearly enjoyed hearing first-hand about the writing process from the co-authors of Dreams Have No Expiry Date, Deanna Rosenswig, BCom'67, MBA'69, and McGill nursing professor Laurie Gottlieb, BN'69, MSc'74, PhD'85 (below left).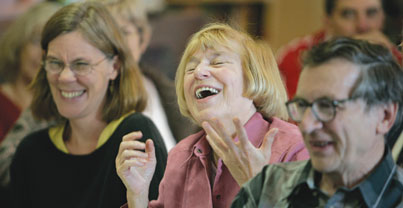 Nicolas Morin
Engineers assemble!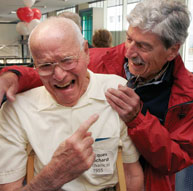 Jacques Bouchard, BEng'55, DipM&BA'63, spent much of Homecoming trying not to let enthusiastic embraces from old classmates knock him off his crutches. The engineering class of '55 travelled from near and far for their Homecoming reunion - more proof that engineers are always game for a good party.
Mac jackets never out of style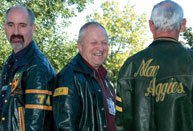 Helen Cohen Rimmer
Graduates of McGill's Macdonald Campus gathered at Ste. Anne de Bellevue during Homecoming to meet the new dean of their old faculty, Professor Chandra Madramootoo, BSc(AgrEng)'77, MSc'81, PhD'85. Proudly displaying their Macdonald jackets from three different decades were (from left) McGill Alumni Association Macdonald Campus Branch vice president Mike Schofield, BSc(Agr)'74, Tom Clapp, BSc(Agr)'65, and a self-effacing Don Cole, BSc(Agr)'55.
Jocks for the ages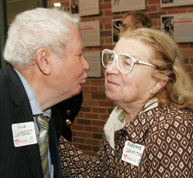 Owen Egan
Homecoming witnessed the induction of some new members into the McGill Sports Hall of Fame, including Georges Pouliot, BCL'49, a three-time intercollegiate fencing champion who competed for Canada at the 1948 London Olympics; swimmer John Hawes, BSc'72, a bronze medalist at the 1973 World University Games and an Olympian at the 1972 Munich Games; distance runner Linda Thyer, MDCM'94, Canada's top female athlete in university sports in 1995; the late Harry Griffiths, BCom'33, a two-time diving champ during his student days and McGill's director of athletics for 20 years; and the 1946 Redmen tennis team, winners of the Canadian intercollegiate championship that year.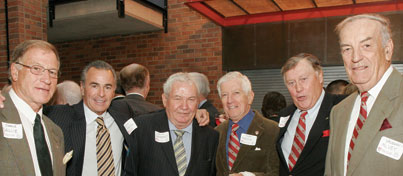 Former McGill Redmen football coach Charlie Baillie, Keith Eamon, Willie Lambert, BEd'60, DDS'64, Hugh Brodie, BSc'49, MDCM'51, Don Stirling, BA'54, BD'58, and Vaughan McVey, BSc'57.
Owen Egan