When you're good at what you do - when you're very, very good - people tend to notice. McGill's professors are among the best in the world at what they do and the global media certainly took notice, making 2005 a high-profile year for McGill.
Research Infosource again judged the University's professoriate to be the most productive in the country and named McGill as its "Research University of the Year." The Times Higher Education Supplement cited McGill as one of the world's best universities. In its annual ranking of Canadian universities, Maclean's magazine gave us top marks (along with the University of Toronto) in the medical/doctoral category and named McGill winner of the reputational survey for highest quality.
Outside the academic realm, Playboy magazine designated McGill as one of North America's top party schools. Shortly thereafter, a small troupe of Hugh Hefner's finest took up temporary quarters in a Montreal hotel suite, where female undergraduates were invited to drop by and have a wardrobe malfunction.
But McGill women earned press attention last year for doing a whole lot more than getting in touch with their inner Janet Jacksons. Syed Paduka Sharifah Mazlina Syed Abdul Kadir, MEd'97, for instance, became the first woman in the world to ski-sail across the Antarctic. Shauna Burke, BA'01, became the second woman in Canadian history to scale Mount Everest. Kim Quinn, BA'98, BEd'02, is the first northern Quebec Cree to attend Harvard.
Just about anything noteworthy that happened last year, no matter how unscholarly, seemed to have some sort of McGill connection.
The Academy Awards? McGill was there, in the form of Oscar nominee Hubert Davis, BA'00, whose film Hardwood was a finalist for best short subject documentary. The Miss Universe pageant? McGill was there too, thanks to Brooke Johnston, BA'01, who donned a sash and bikini to fight the good fight as Miss United Kingdom. The British Royal Family? Alumna Autumn Kelly, BA'02, entered the public eye when newspapers reported that she had a well-connected boyfriend - Peter Philips, Queen Elizabeth's oldest grandchild.
Macdonald campus had its moment of TV glory last year, as millions of Amazing Race fans tuned in to see the show's contestants visit McGill's West Island campus, where they were invited by host Phil Keoghan to compete in one of "two sports that are popular in Canada" - log rolling and curling. Log rolling?
Using a variety of media databases offering access to news stories from thousands of different publications (and dozens of TV and radio shows), we've put together a Top Ten list of the McGill professors who attracted attention from the greatest number of different media in 2005. We scoured everything from the Aberdeen American News to Zurichsee Zeitung, checking for references to McGill people.
Our professors turned up everywhere from Sports Illustrated (educational psychologist Jeffrey Derevensky, MA'73, PhD'76, explained why so many young people are becoming poker addicts) to Time (neurologist Karen Johnston, BA'72, an expert in treating National Hockey League stars with concussions, was spotlighted) to Rolling Stone (science education specialist Brian Alters discussed his testimony as an expert witness during the recent intelligent design trial in Dover, Pennsylvania - Alters believes intelligent design is a decidedly unscientific concept and has no place in a science classroom. The court agreed).
To qualify for the Top Ten list, news stories that mentioned McGill professors had to also note their connection to the University. Alters, for instance, appeared quite often in the press, but many stories only noted his appointment at Harvard, not his position as the director of McGill's Evolution Education Research Centre.
Our list offers a sense of how many different media deemed our professors newsworthy, not how often the professors appeared in the press in total. For instance, Margaret Somerville, DCL'78, one of our perennial newsmakers, turned up in the pages of the National Post several times last year - we only count the Post once for our purposes.
Here are McGill's top newsmakers for 2005.
1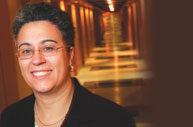 Owen Egan
Respiratory epidemiologist Sandra Dial, BSc'84, MDCM'88, MSC'02, was McGill's number-one newsmaker in 2005, attracting the attention of 108 different media, thanks to a study she led that examined the link between drugs used to treat heartburn and reflux woes and Clostridium difficile. Hospitals around the world are battling C. difficile, a microbe that causes bowel infections which seem to be increasing in both frequency and virulence among hospitalized patients. Dial's team examined 1,672 cases of C. difficile that occurred in Britain within a ten-year period. They noticed that the use of the drugs was linked to a marked increase in the onset of infection. The drugs decrease the production of stomach acid, but, as Dial points out, "Stomach acid is one of your protections against infections from ingested organisms."
2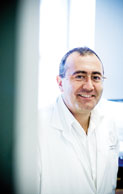 Claudio Calligaris
In second place is McGill hematologist Jean-Pierre Routy, thanks, in large part, to an editorial he wrote in the British medical journal The Lancet in support of a research paper that outlined a promising new approach to combatting AIDS. The study, by scientists at the University of North Carolina at Chapel Hill, demonstrated how valporic acid, best known for treating epilepsy, had properties that could coax the elusive HIV virus out of its cellular hiding places, opening it up to attack from anti-HIV medications. Routy is leading a follow-up study. He attracted the attention of 92 different media.
3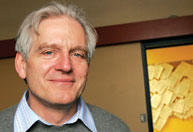 Owen Egan
Third spot goes to cardiologist James Brophy, BEng'73, DipEpid&Bio'93, PhD'99, who, like Routy, penned an editorial in a prestigious journal touting the importance of a research study published in the same issue. The study in question indicated that an experimental diabetes pill, Pargluva, doubles the risk of heart attack, stroke and death. Brophy's editorial in the Journal of the American Medical Association, raised questions about whether the drug's developers had supplied thorough information about Pargluva to the U.S. Food and Drug Administration. "Company-provided data might have fostered an 'illusion of safety,'" wrote Brophy, who also made the news for a study he co-authored about the pain medication Vioxx. His study confirmed the drug's connection to an increased risk of heart attacks among elderly patients who had never suffered heart attacks before. Brophy was mentioned in 91 different media.
4
Owen Egan
Political scientist Antonia Maioni, director of the McGill Institute for the Study of Canada, is an expert on comparative politics and health care policy and a popular go-to gal for journalists in search of pithy perspective. The articulate and bilingual Maioni, equally at home on CBC's The National or Radio-Canada's Le Point, offered reporters her views on everything from the impact of private clinics on medicare to the Tories' prospects in the federal election. She turned up in 72 different media.
5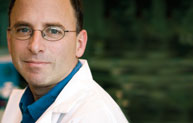 Claudio Calligaris
For Tom Hudson, director of the McGill University / Genome Quebec Innovation Centre, 2005 was a year to remember. He was profiled in Newsweek, appeared on the cover of the Globe and Mail, and had Maclean's readers credit him with the "Achievement of the Year in Healthcare" in a national poll. Hudson was one of the driving forces behind the International Haplotype (HapMap) Project, the first comprehensive catalogue of human genetic variation. The results, released last year, are expected to offer crucial insights into the genetics behind such common diseases as asthma, cancer and diabetes. Hudson led Canada's HapMap efforts. He was featured in 67 different media.
6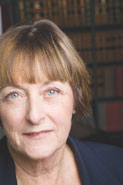 Claudio Calligaris
Margaret Somerville, from the McGill Centre for Medicine, Ethics and Law, is in sixth spot. There is no shortage of journalists who are grateful to have someone like Somerville willing to return their phone calls - an internationally respected bioethicist with wide-ranging interests, quick wits and a talent for offering up good quotes. Last year, Somerville weighed in on everything from freezing human eggs to the Terri Schiavo case. She appeared in 57 different media.
7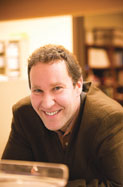 Claudio Calligaris
Blondes might have more fun, but redheads helped put psychologist Jeffrey Mogil on Good Morning America. An expert on the genetic roots behind how people process pain, Mogil's research indicated that many redheaded women are wired in a unique way - they process pain (and certain medications tailored to alleviate pain) differently than other women. Differently than redheaded men, too. The work supplies some hard evidence to bolster one of Mogil's theories - that men and women aren't the same when it comes to pain and that, one day, treatments for pain will likely reflect this. Mogil appeared in 56 different media.
8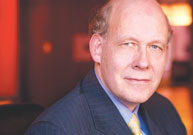 Claudio Calligaris
In eighth place is management professor Karl Moore, an expert on business strategy and the way in which major corporations are managed (or mismanaged). Moore's insights turned up in 51 different media, most often in stories about Air Canada's phoenix-like rise from the ashes of bankruptcy protection.
9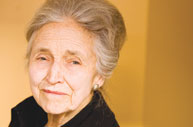 Claudio Calligaris
Respiratory epidemiologist Margaret Becklake takes ninth place with appearances in 50 different media. Becklake led a study that offered some disquieting new information about the dangers of second-hand smoke. According to her research, kids who grow up in a household with a smoker appear to be far more susceptible to becoming addicted to cigarettes themselves when they reach adolescence.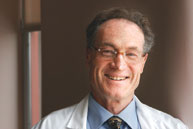 Owen Egan
Tied for ninth place with mentions in 50 different media is oncologist Joseph Ragaz. Much of the press attention was the result of a study Ragaz led on breast cancer. Ragaz and his team analyzed 20 years of follow-up data involving breast cancer patients and concluded that women who are at a high risk of recurrence should receive both radiation and chemotherapy following surgery. They noted that women who received both treatments had more positive outcomes.
10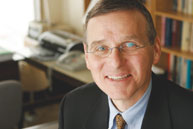 Owen Egan
Finally, in tenth place, is historian John Zucchi, an expert on Roman Catholicism. Zucchi was well equipped to offer journalists some perspective on two of the biggest stories of 2005 - the death of Pope John Paul II and the selection of Benedict XVI as his successor. Zucchi was quoted in 44 different media.
---
The most prominent McGill graduate who made a name for accomplishments outside the University was undoubtedly John Gomery, BA'53, BCL'56, the Quebec Superior Court justice who headed the Gomery Inquiry probing the advertising scandal involving shenanigans among ad executives and Liberal Party organizers. Gomery was named Quebecer of the Year by l'Actualité magazine and Canada's Newsmaker of the Year by Time. Gomery's ties to McGill were mentioned often in the press.
Other graduates who appeared frequently in the news in 2005, in stories that noted their McGill connections, include Egyptian prime minister Ahmed Nazif, PhD'83, Win Butler, BA'04, the lead singer and founder of the Grammy-nominated Arcade Fire, Seattle Seahawks longsnapper J.P. DARCHE, BSC'97, children's book editor SUSAN RICH, BA'91 (she played a pivotal role in nurturing the best-selling Lemony Snicket series), and architect Moshe Safdie, BArch'61, whose work on Israel's new Holocaust History Museum earned international acclaim.