Samuel Plimsoll, who campaigned against overloaded, unseaworthy ships, was a dour, serious man. In 1868, he was elected to the British Parliament and presented a Bill against "coffin ships" as he called them. Prime Minister Disraeli shunted the Bill aside, so Plimsoll wrote a book entitled Our Seamen, which eventually shamed the government into adopting his safety recommendations. Even today, ships may not be loaded over the "Plimsoll line" and the whole seafaring world is the better for it.
McGill had its own Plimsoll - Reginald Plimsoll, QC - a grandnephew of Samuel, who was quite unlike his introverted relative. Slim and six feet four inches tall, Reginald was recognizable from a mile away. He carried an elegant silver-topped walking stick, wore a wing collar and hand-tied bow tie, a bowler hat, spats in winter and chequered woollen suits in bright, almost gaudy colours. He had seven different suits, one of which he wore each day so that they never wore out and he solemnly counselled young lawyers to follow his example.
Born in Montreal in 1886, Reginald graduated from McGill in law in 1912, and clerked with the eminent international lawyer and McGill law professor Eugène Lafleur (who arbitrated the boundary between the United States and Mexico). Plimsoll practised as a junior with Robert Taschereau and Thibodeau Rinfret, who became Chief Justices of the Supreme Court of Canada. He served in the artillery in the First World War and afterwards practised law alone.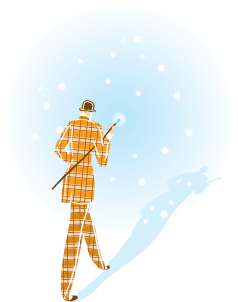 Tzigane
He lived in a single room in a small Montreal hotel and conducted his practice out of a tiny office in an ancient building. The door proudly bore his name in large gold letters, and underneath were the names of a number of unknown but high-sounding corporations, also in gold. If his maritime law practice existed, it was invisible, but this was no matter to Mr. Plimsoll, who spoke and carried himself with great dignity.
Reginald was known for his conversation, which was unsurpassed, and for his effortless ability to cadge drinks, lunch or dinner, which was also unsurpassed. Yet he was very good value as a guest, because of his erudition and cheerful, informed conversation.
I met Plimsoll in 1952 in my first year of practice when I was trying to teach myself maritime law, a subject new to our firm. I borrowed Admiralty law reports from the Bar Association Library each week, making notes and checking off each tome on the inside back cover as I read it. I soon realized that someone else was doing the same thing, and one day I received a telephone call. "Mr. Tetley, I see that we have the same reading habits. May I introduce myself? I am Reginald Plimsoll, QC." We met, and his knowledge of maritime law was considerable, although I never knew anyone who was his client and I never saw him in the Admiralty Court.
Plimsoll often telephoned with advice and the conversation was always formal. "Mr. Tetley, this is Reginald Plimsoll, QC, speaking," and then would follow some observation on a recent judgment or maritime matter, which was invariably useful.
Once in 1959, Plimsoll's call was especially valuable. I had been attempting to recover damages from ship owners for cargoes of canned goods, which had gone from a cold climate (Vancouver) through a warm climate (the Panama Canal) and back to a colder climate (Montreal). The cargo suffered rusting, or "sweat damage," from moisture in the warm climate that formed on the cold cans. The claims were in the order of $250,000, an astronomical sum in those days. The owners refused payment on the grounds that sweat was a "peril of the sea" and I was concerned as my cases were coming up for trial.
Plimsoll phoned and said, "Mr. Tetley, do you know the corner of Peel and St. Catherine Streets? On the southeast side, you will find a bookstore. Enter and on the top shelf on the left hand side you will find a tome on ship ventilation and the avoidance of sweat damage by Captain Garoche, an experienced ship surveyor in France."
I found the book, bought it and learned that sweat damage could be avoided by ventilating when the dew point outside the ship's hold was lower than the dew point in the hold. Wet and dry thermometer readings had to be taken periodically to determine whether or not to ventilate. This was generally unknown to ship owners and not at all by the courts.
I used the information to prove that sweat damage was something ship owners could avoid and were therefore responsible for. I was able to win and subsequently settle many large damage claims.
My wife and I often invited Mr. Plimsoll to cocktail parties at our home and he would regale anyone within earshot. Once in conversation with Russell Merifield, QC, BA'38, BCL'41, Plimsoll realized that his son, a law student at McGill, was the bartender. Bartending was a profession for which Plimsoll had great respect, because he believed it would always be in demand. Addressing Russ Sr. he solemnly intoned: "May I congratulate you, sir, on your son. You shall never want." Plimsoll had lower regard for his own profession, which he declared much less secure. Russ Jr. did not take Plimsoll's advice and today is a senior lawyer with the government in Ottawa.
William Tetley served at sea before enrolling at McGill. He is a maritime law specialist and has been teaching law at McGill since 1976. See www.mcgill.ca/maritimelaw/.