Special Screenwriter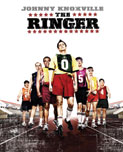 Fox Searchlight Pictures
Whenever Ricky Blitt, BA'83, pitched his idea for The Ringer, movie executives would chuckle. Then they would squirm at the prospect of actually making the film. "They'd all say, 'There is no way we can do this movie,'" the screenwriter recalls.
Blitt's concept? The film is about a man who fakes a mental disability in order to rig the Special Olympics, figuring he'll beat the athletes with real disabilities handily. Blitt, whose writing credits include several Family Guy episodes, eventually found powerful champions in producers Peter and Bobby Farrelly (Dumb and Dumber, There's Something About Mary). The Farrellys agreed to make the movie on one condition - the Special Olympics had to endorse the project.
To Blitt's surprise, the organization did. Special Olympics chair Tim Shriver even signed on as an executive producer. "It was kind of heroic of them," says Blitt. The movie's storyline does flirt with offensiveness, after all, and the intellectually challenged athletes depicted in the film aren't portrayed as saintly - which is why both the Special Olympics and many film critics are hailing the script.
Blitt's intellectually challenged characters aren't sweet-minded simpletons. They're just as crafty, cranky and crude as the rest of us. Roger Ebert says the movie "treats its disabled characters with affection and respect," while Entertainment Weekly declares it "does for the mentally challenged what Revenge of the Nerds did for the pocket-protector set, finding a hidden coolness in their ability to be themselves."
"Political correctness drives me crazy," says Blitt, noting that 30 years ago, All in the Family regularly tackled taboo topics that would make many in Hollywood nervous today. He thinks too many executives don't give audiences enough credit. "When Archie Bunker said something stupid about Jewish people, viewers understood that he was a moron."
Victorious Volleyballer

Rachèle Béliveau recently made McGill history. The coach of the women's volleyball team became the first skipper ever to steer a McGill squad to 300 career wins, cementing her status as the University's all-time winningest coach, with a victory over McMaster in January.
Béliveau, who competed in the 1984 Los Angeles Olympics as a member of Canada's volleyball team, is in her 15th season as the Martlets' coach and has been named the Quebec conference's coach of the year four times.

While Béliveau is a whiz at inspiring her charges to victory - the team is one of the top-ranked clubs in the country this season - she isn't quite as adept when it comes to charting her own career. She didn't realize she had earned win number 300 till after the fact. "I knew I was 280-something at the beginning of the season, but then I never counted," she told the McGill Tribune.
He's no Himbo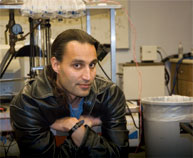 Bonnie Azab Powell
Albert Einstein never won a swimsuit competition and Jessica Simpson will never be a Mensa member, but who says beauty and brains can't go together? Take Michael Manga, for instance.
Last year, Manga, BSc'90, a geophysicist at the University of California, Berkeley, did something unusual. He earned both a coveted MacArthur Fellowship (nicknamed the "genius grant") and a place among the Hollywood hunks featured in People magazine's annual "Sexiest Man Alive" issue.
Manga says he almost turned the magazine down when they contacted him about appearing in the issue - a People staffer came across Manga's photo after he earned his MacArthur and presumably took note of his dark eyes and full lips - but decided, in the end, to join the ranks of Johnny Depp and George Clooney. "It's a way to remind people that science exists," he reasons.
Manga shared a page with Bono under the heading "Smart Guys." "That's as close to him as I'll ever get," says the scientist.
Manga describes his research as "looking into the insides of the Earth and the planets to see how they're evolving and changing."
He focuses on fluid dynamics and his interests range from volcanoes on Mars to the impact of tidal pressures on the ice sheet of Jupiter's moon, Europa.
MacArthur Fellows receive a no-strings stipend of $500,000 over five years and Manga is planning to use a portion of that money to investigate whether fluctuations in underground springs located along California's Hayward fault line might provide clues about seismic activity.
"It would be tough to get funding for this [research] otherwise, because we may not learn anything unless there is actually an earthquake."
Manga says his starring role in People hasn't impressed his wife, who chortled when she first heard the news. "I certainly don't get any more respect around the house."