istockphoto.com
Through campaigns she began as a McGill student, Laure Waridel, BA'96, has helped change consumer attitudes and corporate behaviour. With a combination of savvy and charm, she has led some major food fights.
Shopping for groceries isn't quite as simple as it used to be. These days, as you manoeuvre your cart through the aisles, you may be focused on more than just prices and carb content.
You might also be checking to see if the coffee you're buying comes from an organization that pays workers a fair wage. Perhaps you hesitate before picking up the bananas on sale - do they come from a country where labourers are still exposed to dangerous pesticides?
If food shopping is a more complicated process than it once was, Laure Waridel, BA'96, will gladly accept some of the blame. You may not know her name yet, but Maclean's magazine listed her in 2002 as one of 25 young Canadians poised to "change the world." Waridel is a Naomi Klein-like figure in her home province of Quebec, where she is a well-known and popular author and a high-profile social activist with clout.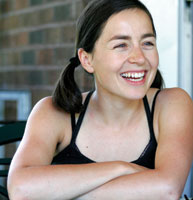 Owen Egan
The 33-year-old Waridel's latest book, Acheter, c'est voter: le cas du café (Vote with Your Wallet: The Case of Coffee), is a best-seller, and for four years she hosted a regular column with the same title for Indicatif Présent, Radio-Canada's highly popular morning radio show.
This summer, Thomas Mulcair, BCL'76, LLB'77, Quebec's Minister of Sustainable Development and Parks, added Waridel to the Cercle des Phénix, an honour bestowed on the province's most prominent environmentalists.
That Waridel feels a kinship with the people who grow and harvest food around the world isn't surprising, given her background. She was raised on a dairy farm in St-Alexandre, just south of Montreal. The youngest of five children of Swiss immigrants, Waridel gained an early appreciation for how vulnerable agricultural workers can be to fluctuations in the prices of their products or to weather extremes. She also saw the value of communal action.
"My parents shared with neighbours in need and I learned by watching."
As difficult as farming life can be in Quebec, Waridel soon realized that others had it far worse. "When the Club 2/3 [a Quebec organization that educates young people on development] came to my high school to talk about West Africa and when I saw the poverty and starvation, I said to myself: 'That could have been me.'"
A few years later, as a CEGEP student, Waridel did an internship in international development in Burkina Faso, where she witnessed up-close the lives of agricultural workers in a developing country. It was also her first glimpse at how fair trade policies can benefit those workers.
"There were women there who dried mangoes, then exported them directly to fair trade stores in Switzerland," she recalls. "The dignity of these women, who were controlling the conditions of sale of the fruit they grew, really inspired me."
After CEGEP, she moved on to McGill, where she began a degree in sociology and international development. Roger Krohn, a retired professor of sociology, remembers having Waridel in his class on the sociology of the environment.
"She was a student quite apart from the others. You could tell by the questions she asked and by her sensitivity to the questions of environmental degradation."
Waridel, still keenly interested in issues surrounding food production in the developing world, was curious about what she had seen in Burkina Faso and whether it held true elsewhere. Did fair trade really have a meaningful impact on the lives of farmers in poorer countries?
Fair trade, in a nutshell, means dealing as directly as possible with the farmers, artisans and labourers who create the products we import from developing countries. Middlemen - particularly in the form of powerful multinational corporations - have a checkered history in these parts of the world. They keep costs and prices down by paying meagre wages to workers who often labour in terrible conditions. Fair trade partners pledge to pay reasonable wages and provide a safe working environment.
While it all sounded good in theory, Waridel still wasn't 100% sold. "I wanted to be sure that fair trade practices were actually making a difference and weren't just another case of relieving the guilty consciences of people of the North," she says.
Waridel approached geography professor Thomas Meredith about doing an independent study course for credit. In the summer of 1996, Waridel, accompanied by a photographer friend, set off to investigate a coffee cooperative in the Mexican state of Oaxaca, the Union des Communidades Indigenas de la Region del Istmo (UCIRI).
What she found was a community of 2,700 families growing coffee to be sold to fair trade coffee importers, largely in Europe. While the farmers weren't rich by any means, they were earning twice as much as they had when middlemen were involved.
Waridel was impressed as she watched the UCIRI women in action - cultivating the coffee beans, cooking meals on a fire, washing clothes in the river and governing their cooperative. Waridel writes, "It made me really question what we call 'development.' In truth, I was the one to feel underdeveloped. My knowledge and survival skills were limited and I realized that my daily well-being depended on countless small comforts while the people around me fulfilled their needs with so little."
If Burkina Faso had piqued her interest in fair trade practices, Oaxaca made her a true believer. "The people at UCIRI, they're the source of my motivation," says Waridel, who has made subsequent visits to the community.
Her time in Mexico would prove to be life-altering. When she got back to Montreal, Waridel began work in earnest on promoting fair trade coffee. As she later told an interviewer, "Coffee is the first thing that people drink in the morning to open their eyes. Fair trade coffee is about opening your eyes to the economy and inequality."
She joined forces with other students volunteering at Public Interest Research Groups (PIRGs) at McGill, Concordia University and the Université du Québec à Montreal and launched the "Un juste café" (A fair cup of coffee) campaign. They distributed flyers, organized speaking events and wrote articles touting the benefits of fair trade. They distributed educational packages to schools featuring fact sheets, a video and a comic book. They lobbied Montreal-based Van Houtte, Canada's largest coffee roaster and distributor to retail stores. The company also operates North America's biggest coffee services network.
Meredith remembers being impressed. "I teach in the environment field and we try to encourage students to bridge the gap between the ivory tower and the ground. Laure was a perfect example of that."