Students Put Their Skills on Ice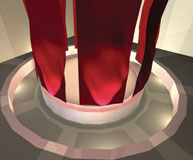 Courtesy David Bédard-Barrette and Nicholas Chan
While most winter-weary Canadians dream of warmer climes, hardier vacationers can find cold comfort with a McGill twist just outside of Quebec City.
As part of an inter-university competition, graduate students David Bédard-Barrette, BScArch'04, and Nicholas Chan, BScArch'04, were chosen by the McGill School of Architecture to design a room in this year's rendition of Quebec's Ice Hotel, a unique seasonal tourist destination carved out of 12,000 tons of snow and 400 tons of ice.
Both students had contributed designs to the Ice Hotel in 2005 - the first year universities were invited to compete. Bédard-Barrette was a member of the team behind the Elliptical Suite, a space shaped like a giant ellipse, while Chan worked on the Love Shack Suite, designed to add "sensuality and warmth" to the experience of sleeping on a block of ice. The Love Shack was the winner of last year's competition.
"For this year's proposal, we tried to bring the best elements of both rooms into a single design, which would stand out and contribute in a very unique way," Chan explained.
Their room is called The Sanctuary and features a circular bed dominating the centre of the space and sheltered from the rest of the room by dramatic red draping, (see artist's rendering at left) over which hangs a neon chandelier.
"We tried to come up with a concept that would be not only pleasing architecturally, but also accessible to the public," Chan said. "We spent a lot of time making sure the colours and textures of the curtains would recreate a very warm environment."
He conceded that the physical task of bringing the duo's design to life was not without its challenges. "The organizers of the event and all the building teams deserve our thanks for making our projects possible in such cold and difficult conditions."
With a constant inside temperature hovering between -2° and -5° Celsius (23° to 28° Fahrenheit), the Ice Hotel may not be every vacationer's cup of cocoa, but for Chan and Bédard-Barrette, it was a chance to stretch their skills and put their education to the test.
"The possibility of having a design exhibited in such a public space is certainly a welcome bonus," said Chan. "We look forward to seeing the visitors' reactions."
The Ice Hotel officially opened January 26, with McGill competing against Université Laval and Université du Québec à Montréal for best-design honours.
Baring the Bible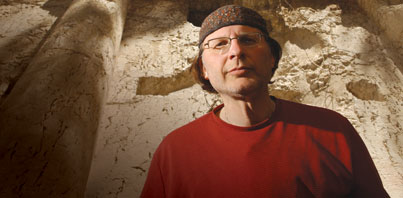 Courtesy Vision TV
While the title of his show might lead you to think otherwise, Simcha Jacobovici, BA'75, remains fully clothed during The Naked Archaeologist, a 26-part series airing on Vision TV in Canada and soon to be broadcast on the History Channel in Britain.
"By 'naked,' we mean the naked truth," says the two-time Emmy Award winner (above) whose previous documentaries have focused on everything from the sex trade in India to the Jewish movie moguls who played a pivotal part in building Hollywood. Just as The Naked Chef's Jamie Oliver eschews culinary fanciness, Jacobovici tries to do something similar with biblical archaeology. "Both the Bible and archaeology have become so mystified," he says. "In documentaries, when professors are interviewed, it is always so deferential. We don't want to do that."
Indeed, in one episode, a scholar discussing his work on Philistine phallus symbols dating back to the late Ceramic Age is steered by Jacobovici towards making some observations about the size of the Philistines', um, equipment. They might have been a little below average, the expert warrants. That might explain why a Philistine lass like Delilah was drawn to the Jewish Samson, Jacobovici suggests.
"We want the show to be accessible and fun," says Jacobovici. "We want this to be something that everyone from teenagers to emeritus professors can watch."
As irreverent as his show can be - there is a dream sequence involving very bad rap music at one point - Jacobovici is quick to add that The Naked Archaeologist covers plenty of serious terrain. "The content is cutting edge. We talk to some of the top people in the world. We show stuff that hasn't been published yet in the scholarly journals. We're at archaeological sites literally as things are being discovered."
The show explores the historical evidence surrounding such biblical figures as King David and John the Baptist, examines how crucifixions actually killed people and ponders the diets of those who lived in biblical times.
Jacobovici is busy working on a related documentary for the Discovery Channel about what archaeological finds say about the events depicted in the Book of Exodus.
"You only have to look at the success of The Da Vinci Code to know I'm not the only one out there obsessed with questions about to what extent [the Bible] is history and to what extent it is metaphor."
Never too Old to Tango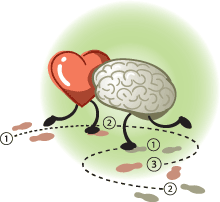 Tzigane
When McGill physical and occupational therapy professor Patricia McKinley took up tango, she began musing about the benefits the sultry Argentine dance might provide for the senior citizens she worked with as a researcher - individuals who were especially vulnerable to debilitating tumbles. A nasty spill can have devastating consequences for the elderly, notes McKinley. Forty percent of hospital admissions for seniors are the result of fall-related injuries.
As McKinley honed her skills on the dance floor, she quickly realized the tango offered excellent training for improving balance. A hypothesis formed in her mind and she recruited 30 research subjects, ranging in age from 62 to 90, to put it to the test. The participants, all of whom had experienced an unsettling fall during the previous year, were split up into two groups. Half took up the tango, the other half joined a walking group.
The regular exercise benefited both groups, but the results for the dancers were particularly noteworthy. Not only did the tango novices demonstrate marked improvement in balance, coordination and posture, they also did well in multitasking quizzes that pointed to some impressive cognitive gains.
Tango isn't just a physical workout, says McKinley, it exercises the brain as well.
"It's not like line dancing. There is a huge element of cognition involved in tango." The steps are complicated and dancers have to improvise on the fly - if only to avoid other dancers whirling nearby. Tango has another essential characteristic in McKinley's estimation. It's fun.
"Over the course of the study, you could see that [the tango dancers] were really getting into it and enjoying themselves," says McKinley, adding that the more appealing a physical activity is, the greater the chance that people will keep it up. One 78-year-old participant was so enthralled by tango's charms, she promptly booked a trip to Argentina to carry on her studies.