A Larger Sense of Purpose: Higher Education and Society, Princeton University Press, 2005, $30.95, by Harold Shapiro, BCom'56, LLD'88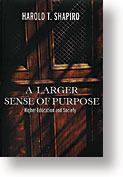 Few people are better qualified to comment on the state of universities than Harold Shapiro. He has been president of two of the best-known universities in the U.S. - Princeton and the University of Michigan - and his twin brother Bernard doubtless bent his ear during his own tenure as McGill's principal between 1994 and 2002.
In A Larger Sense of Purpose, the author raises some essential questions about the dilemmas now facing U.S. universities. The key challenge, in Shapiro's view, is in how universities can stay faithful to their somewhat contradictory obligations. Universities are only unique and valuable insofar as they succeed at being both "society's servant and society's critic," he argues. Universities must "provide programs that the society itself has identified as important, as well as raising those questions that society does not want to address."
It's a tricky balance, and he worries that lucrative research partnerships with biomedical corporations might be tipping the scales too far in one direction. Such relationships aren't automatically wrong in his view and Shapiro is quick to list their potential benefits - the "accelerated transfer of scientific discoveries into practice" being one - but they do need to be navigated carefully.
Profit-oriented corporations shouldn't be allowed to subvert universities' abilities to participate in the "commons of the mind," in which scientists at different institutions have easy access to one another's insights. He notes, too, that the public is becoming increasingly skeptical of research breakthroughs announced at universities. Is the research really groundbreaking or does the scientist in question have shares in the company sponsoring the work?
Shapiro, who chaired the National Bioethics Advisory Commission under President Clinton, also warns scientists not to take too lightly the public discomfort caused by recent discoveries in genetics. People are beginning to wonder if scientists are rushing too quickly into terrain that threatens to redefine what it means to be human. Shapiro isn't one of those people, but he does think a backlash could be in the offing if scientists don't acknowledge public concerns.
Shapiro's thoughts on other topics are similarly engaging - he rails against the poisonous effects of big-time college sports (its commercialism and win-at-any-cost ethics) and believes that universities are far too compartmentalized when both the liberal arts and professional programs could benefit from closer ties with one another.
For anyone who recalls his brother's time at McGill, Shapiro's voice will seem familiar - provocative but never fear-mongering, rational but never disengaged. It is an invaluable voice for anyone with an interest in how universities interact with the world around them.
DANIEL MCCABE, BA'89
---
Ostinatocious, FMJ Records, 2005, McGill Jazz Orchestra, directed by Gordon Foote.
There aren't many university courses where the end result is literally music to one's ears, but the McGill Jazz Orchestra is an exception to that rule. As the premier performing ensemble of McGill's Jazz Studies Program, the orchestra has dazzled audiences at home and around the world. Their CDs, coming steadily every few years, have proven just as seductive.
Ostinatocious is the eighth such release, and director Gordon Foote and the students on the 11 tracks of this CD can chalk up another success. Calling them a student ensemble in fact does the orchestra a disservice, since the band is professional-sounding through and through. This is obvious right from the opening track, "Malinke's Dance," with an exciting, bang-on arrangement by Chuck Dotas.
The record then settles temporarily into a mellow mood. The Lerner and Lane composition "On a Clear Day" includes a creative, bluesy trombone solo from Paul Tarussov, who also takes solo duties on the gentle ballad "For Maria." "Tiptoe" features nice alto sax playing by Colin Power over a great arrangement by the late big band genius Thad Jones. The CD's title track, a composition by Stephen Pelley, BMus'03, is a lyrical, multi-section piece with some sweet tenor playing from Jon Stewart, BMus'05.
"D'Hier à Aujourd'hui de St. Michel à Paris," written and arranged by Marianne Trudel, BMus'01, is one of the strongest of a number of excellent student, alumni and staff compositions and arrangements on the record and is decked out with inventive and appropriately moody guitar-playing from Jim Head, BMus'92, MMus'04. Likewise the uptempo "Flux in a Box" from Darcy Argue, BMus'97, featuring the melodic piano work of Jean-Marc Lafleur, MMus'05. That the student and graduate compositions and scores on the disc don't sound out of place against the work of legends like Thad Jones or Quincy Jones (whose arrangement of "I Left My Heart in San Francisco" is included) says a lot about the kind of talent in McGill's jazz program.
A good part of the McGill Jazz Orchestra's unwavering success has to be due to Foote, who consistently draws out the best in his players, and the instructors who have taught these young people to play, compose and chart their tunes at such a high level. This is a nicely balanced project as well, with a little modern flash, a dose of classic big band balladry, and overall some rather adventurous and subtle material.
ANDREW MULLINS