Little Big Man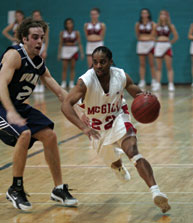 Andrew Dobrowolskyj
Redmen point guard Denburk Reid, BA'05, might only be five foot seven, but he is a towering figure in the history of basketball at McGill.
In the second-to-last game of his McGill career, Reid, a five-time Quebec University Basketball League all-star, became the Redmen's all-time leading scorer, breaking the record of 2,126 points set by forward Willie Hinz in 1987. Reid retires from the Redmen having scored 2,180 career points.
"It's a great way to finish my career," says Reid, 25, who led a hectic life this year. The multi-tasking basketball star balanced his economics studies and Redmen responsibilities with coaching duties at Dawson College and a job as the basketball coordinator for St. George's High School in Westmount. Oh, and he is pretty busy on the home front, too, raising his two-year-old son, Devonteh.
Reid says his status as one of his sport's smaller performers has actually been a boon. "My height might have been a blessing in disguise. If I was bigger, I'm not sure I would have had the same drive. Every game I played, I wanted to go out there and prove myself."
Bird Brains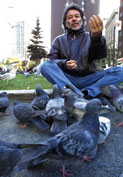 Owen Egan
Australians apparently love their emus. Biology professor Louis Lefebvre discovered this fact the hard way recently when he spoke before the annual conference of the American Association for the Advancement of Science.
Lefebvre and his research team had put together an index, the first of its kind, which examined innovative bird behaviour. Emus didn't fare so well. They ranked near the bottom of the listing, along with ostriches and quails. As a result, Lefebvre has been contending with "hate email" from outraged Aussies, defending the bird that appears on their country's coat of arms.
Lefebvre's index took over a decade to assemble, as he and his team pored over 75 years' worth of ornithological journals, taking note of about 2,000 observations made regarding 500 bird species. Lefebvre was hunting for evidence of clever techniques used by birds for feeding, proof of their ability to be innovative.
Crows ruled the roost, ranking at the top of the index, along with related species such as ravens, rooks and jays. Falcons and hawks also rated high.
Lefebvre uncovered some impressive examples of birds being bright. The great skua in the Antarctic nestled among newborn seal pups, helping itself to their mothers' milk. Vultures perched on barbed wire fences next to minefields during the civil war in Zimbabwe, waiting for an unsuspecting antelope to be transformed into a barbecued treat. Sparrows in New Zealand hovered in front of an electric eye that opened the automatic doors to a cafeteria, so they could dart in and dine on the crumbs on the floor.
When it comes to birds, Lefebvre says there tends to be a potent link between brain size and a capacity to innovate. In a new study just published in Proceedings of the National Academy of Science, he presents evidence that both are major indicators of how well different sorts of birds can adapt to new environments.
Together with Daniel Sol from the Autonomous University of Barcelona, Lefebvre analyzed historical records chronicling the deliberate introduction of birds into new lands, such as the 19th-century release of the European starling into North America. Big-brained birds did best.
"We hear a lot about invasive species like zebra mussels. But we don't know anything about, say, the 'antelope mussels' that might have died in the ocean on their way over here," says Lefebvre. The new study offers evidence that brain size and an ability to innovate seem to be crucial determinants in predicting "which invasive species will make it and which won't."
Mac Challenged to Help "World Gone Mad"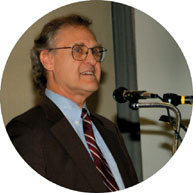 It was to a packed house at Macdonald Campus that Stephen Lewis, LLD'87, one of Canada's most influential commentators on international development and human rights, issued a direct challenge to McGill students to get involved in the HIV/AIDS crisis in Africa. Speaking as part of Mac's Founder's Day celebrations in February, Lewis gave a stirring and emotional lecture that described the devastation he has witnessed in his work as the special UN envoy for HIV/AIDS in Africa since he was appointed to the position in 2001.
Life expectancies in many African countries have plummeted dramatically. Using the example of Zambia, Lewis outlined how a large percentage of government employees are too sick to work or have died, leaving a dearth of political and organizational management that compounds the country's health and hunger crises. Agricultural workers have been decimated by the disease as well, so that despite good farming conditions after the rains of 2004, there is a food crisis.
"You hear the screams of women mourning their dead, and you feel that the world has gone mad," said Lewis. "You wonder how we in the international community could have let it come to this."
He noted that a tiny percentage of the money spent on weapons in the world could "save the lives of three million people worldwide. I do not understand how this could be allowed to happen."
Lewis's challenge to students and faculty was to identify potential partnership programs between McGill's Faculty of Agricultural and Environmental Sciences and an African country's Ministry of Agriculture and Food, with Zambia as a possible partner country.
"Zambia needs people to fill in for all the missing people," he said. "With your knowledge of the environment, agriculture and nutrition, you could collectively make an invaluable contribution."
After a follow-up meeting with students and faculty members, Dean of Agricultural and Environmental Sciences Deborah Buszard noted, "We agreed to work with the Stephen Lewis Foundation to make contacts in Zambia to see how we might be engaged as a faculty. In the past, the faculty has helped set up university programs in Zimbabwe in veterinary medicine and agricultural engineering.
"There is broad support for making an effort to assist the country in the area of food supply and nutrition, particularly related to HIV sufferers and possible treatment programs," said Buszard. "We're currently trying to arrange for a follow-up meeting with Mr. Lewis and others to discuss possible mechanisms for students and staff to participate in Zambia, perhaps in partnership with his Foundation."
Improvaganza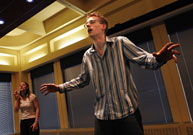 Owen Egan
Members of McGill Improv participated in a 24-hour madcap improv marathon and fundraiser called "Vaganza" in the Shatner Building in February. That's a lot of time to fill with improvisational theatre and comedy. Says organizer Ken Stretch, an undergraduate student in political science, "Hour 23 is an almost transcendental experience.
"The original motivation for the marathon show has been lost in the mists of improv history," says Stretch, "but we continue to raise money for charity. It's also a great way to blow off steam and build up group cohesion: nothing bonds people together like public performance combined with sleep deprivation."
Proceeds from the student marathon went to the Lamplighters Association, which is dedicated to supporting children with cancer. About 20 people participated in this year's show, dividing up into hour-long shifts. "Vaganza is a great time for all involved. It gives our new members a year's worth of performing experience in a single day and night."
To learn more about McGill improv, check out www.geocities.com/mcimprov/.