Stompin' at the Savoy
Owen Egan
The McGill Savoy Society has been entertaining Montrealers with their spirited versions of Gilbert and Sullivan operettas since 1963. On the quarterdeck in February and early March was the G&S favourite H.M.S. Pinafore (or The Lass that Loved a Sailor). Shown above are Ivan Corpus as able seaman Ralph Rackstraw, Sean Hutchins as villainous Dick Deadeye, and Megan Skidmore as the Captain's comely daughter, Josephine. Pinafore, which lampoons the British aristocracy and the "Queen's nayvee," was first performed in London in 1878. Queen Victoria is said to have summed up her reaction to the performance with the famous phrase "We are not amused." For information on the McGill Savoy Society, see www.savoy.ca.
Historical Detectives
There has never been an academic undertaking in this country quite like the History of the Book in Canada (HBiC) project. Dozens of historians, librarians and literary scholars from coast to coast have been busily compiling a definitive chronicle of the nation's print culture. It's one of the largest and most ambitious projects ever undertaken in the social sciences and humanities in Canada.
"There have been other projects with similar scope - the Dictionary of Canadian Biography, for instance - but I don't think any have ever developed the kind of narrative pattern that we are establishing," says French language and literature professor Yvan Lamonde.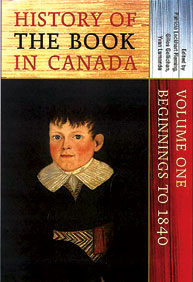 The books trace the development of print culture in Canada in a very broad way, covering everything from centuries-old aboriginal rock painting to the impact of the Internet on contemporary publishing. Lamonde is one of two general editors overseeing the project. The first volume, a thick and handsome tome, was recently published in both English and French. The second volume of History of the Book in Canada will appear next year, while volume three will hit bookstores in 2007.
Lamonde says the books offer an interesting overview regarding "the ways in which Canadians have expressed their preoccupation with identity. For instance, up to the 1880s, the links to Great Britain were very strong in terms of publishing, whereas, after the 1880s, there were many signs of what we might call 'the Canadianization of culture,' not to mention many new challenges coming from the United States."
Thumbing through volume one reveals an array of interesting facts. For example, almanacs were Canada's very first home-grown best-sellers, widely popular with the public at large.
Much of the research for the project is brand new. Lamonde says his team didn't just regurgitate facts existing in already published histories. HBiC researchers charted the spread of literacy in Quebec, for instance, by poring through decades' worth of registries of births, baptisms and weddings, to see how many people were actually capable of signing the documents in particular eras. Paintings from different periods were carefully examined for hints about what people were reading. Diaries and memoirs were scrutinized for glimpses into which books were popular when.
In some respects, historical researchers are a lot like private eyes, offers Lamonde. "If you don't find good clues, you're done."
From Backpack to Briefcase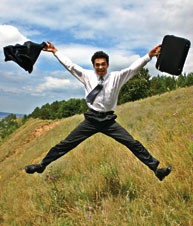 istockphoto.com
It's a moment many students meet with some trepidation: life after McGill. How to get a job? How to network? How to move from low-rise jeans and chin studs to more modest office attire?
The McGill Alumni Association (MAA) tried to assuage some of those fears in a weekend "Backpack to Briefcase" event, the first annual Life After McGill conference for students. Offering their mentoring services and expertise on everything from job hunting to table manners to personal finance were many successful McGill alumni. Heidi Hollinger, BA'90, an award-winning photojournalist, gave a workshop on marketing yourself, and Donna Nebenzahl, BA'75, a feature writer and columnist for the Montreal Gazette, spoke to students about her experience as an author and journalist. Mayme Vineberg, BA'72, MLS'74, showed students more used to veggie wraps and Kraft Dinner how to navigate a place setting in a dining etiquette workshop, and Daniel Lalonde, BCom'76, of National Bank Financial, delivered a seminar in managing your money. Other offerings included how to get involved in your local community, a CV review from McGill's Career and Placement Services, and dressing for business success for the fashion-challenged, both male and female.
The real-world life lessons were a hit, with over 300 students attending. "It was a great opportunity for students to learn from extraordinary people in the McGill community," said Kate Rhodes, BA'04, student programs coordinator for the MAA.
The Return of the Ring
If you lose a ring in the streets of a city, you can count on never seeing it again. Right? Maybe not, if it's Montreal and a McGill class ring. Diane Howard, BA'78, lost her ring in 1979. It was made for her pinky finger, but was too large and kept slipping off, eventually doing so one time too many. It was given up for lost.
In 1980, a friend of Peter Paré, BSc'41, MDCM'43A, DipTropMed'50, found a gold McGill ring at the corner of Dorchester and Crescent streets and gave it to him to see if the ring could somehow be reunited with its owner. Dr. Paré was filled with good intentions, but somehow close to 25 years passed before he contacted the medical faculty for help in the search. The crest on the ring was undoubtedly McGill's, but there was no faculty or year marked on it. The only clue to its ownership were the initials DMZ engraved on the interior of the ring. "The fact that the initials indicated that the last name began with a Z suggested that there might be a good chance of tracking down the rightful owner," says Paré.
Arts student Emily Guy, a project assistant at the Development and Alumni Office in the Faculty of Medicine, is the one Dr. Paré says "deserves all the credit" for cracking the case. Guy says that most of her alumni requests are "individuals trying to reach old friends - the ring request was definitely unique." Relishing the challenge, she managed to narrow down potential candidates to four after scanning McGill alumni records and decided to try Diane M. Howard - née Zabinsky - and bingo!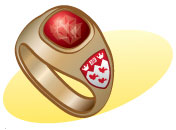 Howard, a communications expert who now teaches at the University of Calgary, was astonished that someone had found it. "I was crestfallen when I lost the ring, as it's a style that's not made anymore. I was very upset for years, because the ring meant a lot to me, and being a student I couldn't afford to get a new one. I was overwhelmed to get the email after all this time asking if I'd lost a ring. I've moved, I've changed my name, yet they were still able to find me. It's just marvellous!" Her first task? "I'll have to get it resized - it still doesn't fit!"