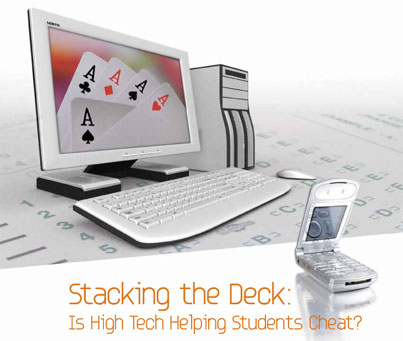 istockphoto.com
Oh what a tangled web is the Internet - and how alluring for those who may be tempted to deceive. A recent survey of American students revealed approximately two-thirds confessing to having cheated at least once in university. And Canadian attention was drawn to the problem of the purchased paper in January 2002, when 47 Simon Fraser University students submitted the same assignment to a statistics class.
The Internet has become a virtual shopping mall for term-paper factory outlets: countless websites sell papers on all topics, and while occasionally they offer the proviso that their wares are for research only, their market comprises students who need papers - with good grades - right away. In addition, the ease with which one can cut and paste from websites and the fact that students often graduate from high school or CEGEP with the belief that all material in cyberspace is in the public domain make electronic sources of information particularly attractive to those on a too-tight deadline. Few people intend to cheat, but when an assignment is due the next morning, the siren song of the already-composed text can prove difficult to resist.
Temptation lurks in other technologies, too. Plenty of apparently benign accessories of modern living assume new and devious applications come exam time. Last fall, 195 South Korean students were caught cheating by sending or receiving text messages on cell phones during college scholastic aptitude tests. But they were not the first. In 2002, a dozen University of Maryland students were nabbed committing the same infraction - as were 26 students at Hitotsubashi University in Japan. And educators today worry that the capacity of newer cell phones to take photographs will allow students to send images of exam questions to accomplices outside the exam room, who could then research and provide answers.
The problem, clearly, is global. Last fall, Bruce Shore, McGill's Dean of Students, Linda Jacob Starkey, Chair of the Academic Integrity Subcommittee of the Committee on Student Affairs, and Andrew Bryan, Vice-President (University Affairs) of the Students' Society of McGill University (SSMU), participated in a conference in Manhattan, Kansas, hosted by the Centre for Academic Integrity. The theme: exploring how different institutions try to promote academic honesty and discourage cheating. All universities have codes of conduct prohibiting plagiarism, but in the wake of recent concerns many are looking for more comprehensive responses.
For instance, after the high-profile bust of the Simon Fraser 47, an SFU task force proposed that the university hire someone full-time to promote academic integrity. Rutgers University's academic integrity policy, directed at both students and faculty members, is one of the most comprehensive - explaining the concept, outlining strategies to promote it, and defining penalties for those who fail to get the message. In its scope and language, it is very much a philosophical document articulating a vision of the university. However, few universities have such expansive documents; many - such as Harvard - have only a relatively skimpy one-line statement saying little more than "Don't plagiarize - it's wrong."
| | |
| --- | --- |
| Photos: Owen Egan | |