In 1996, the McGill Sports Hall of Fame was established to honour the best of McGill's student-athletes. With a proud tradition of sporting accomplishments since its founding, the University is recognizing some historic heroes.
For honoree Anne Turnbull, BEd'55, the moment came just as the awards lunch in the sports complex was winding down. The speeches were done, the plaques handed out. But she had enjoyed herself, so she had been wandering among the tables, reminiscing and accepting congratulations.
The young woman must have been 21. Perhaps even younger. But as soon as she saw Anne, she walked straight up to her and introduced herself.
She was an athlete herself, she said: a member of the Martlets basketball team. She was also one of the few undergraduates among the 210 guests who had gathered that day. But before she left, she wanted to tell Anne, who's roughly 50 years her senior, how much she had enjoyed what she had to say - and how it fit with her own feelings about university sports.
"I had spoken about the camaraderie of it all," said Anne later. "About all the friends you make along the way. And how that - beyond the excellence of the sport - was really what made it all worthwhile. I was touched that she would come up to me like that, so I wish I could remember her name. But it was nice that she said she agreed, that it really is the bonds that you form.
"Of course," Anne said, "it was also nice when she said, 'Wow, you scored 44 points in a single game. That's more than we score sometimes with the whole team!'"
This past October, at one of Homecoming's lesser-known rituals, Anne Turnbull, along with five other individuals and one team, was inducted into McGill's Sports Hall of Fame. Held in Donald Love Competition Hall, in the heart of the new McGill athletics complex, the occasion formally honoured the achievements of athletes who accomplished amazing things during their varsity careers, such as scoring 44 points in a basketball game.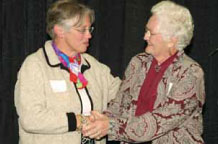 Started in 1996, the Hall now has 66 members, and if you spend a little time getting to know the men and women who are recognized there, you might find yourself being as impressed as that undergraduate.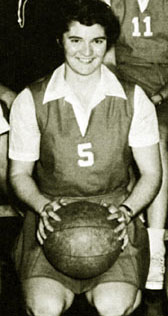 McGill has more than 130 years of sports history. It's hard not to escape the feeling that the Hall was a long time coming. But according to Athletics Director Bob Dubeau, one of its originators, it had to overcome a certain amount of resistance. "Some people were worried about who would be left out. Others were worried about who would get in. But eventually, we were able to put together a plan and take it to the administration."
So, nearly ten years later, who has made it into McGill's Hall of Fame? One thing's for sure: even a cursory look shows that there are some remarkable teams and individuals. National championship teams from football, soccer and swimming have been elected to the Hall, as well as members from six of McGill's Queen's Cup-winning hockey teams, and eight Yates Cup-winning football teams. But perhaps even more impressive are the accomplishments of individual inductees.
Eight members of the Hall have gone on to professional careers. Goaltender Jack Gélineau, BCom'49, was a National Hockey League rookie of the year in 1949-50, playing for the Boston Bruins, and later for the Chicago Blackhawks. Dr. Jack Wright, MDCM'28, was the top tennis player in Canada for five years, and played on the country's Davis Cup team for 11 consecutive years in the '20s and '30s. More recently, Michael Soles, BA'89, was a three-time Canadian Football League all-star whose 11-year pro career was spent with the Montreal Alouettes and Edmonton Eskimos (with whom he won a Grey Cup in 1993). And no less than 14 Hall of Famers are past Olympians. Anchored by Dr. Phil Edwards, MDCM'36, who won five medals in track, and George Hodgson, BEng'16, who won two golds while setting world records in swimming, McGill's Hall of Fame athletes have taken home a combined 11 Olympic medals.
Indeed, McGill's Olympic connection highlights another aspect of the Hall: how many of its members have gone on to make a profound contribution to sport at all levels. In addition to former Olympic swimmer and current McGill chancellor Richard Pound, BCom'62, BCL'67 - who's not yet in the Hall, but no doubt will be - two Hall of Famers, James Worrall, BSc'35, and Howard Stupp, BEng'78, BCL'83, LLB'83, were long-serving members of the International Olympic Committee. Hall of Famer Frank "Shag" Shaughnessy introduced the forward pass and revolutionized the game of football (the annual Shaughnessy Cup game between Concordia University and McGill is named for him). James Naismith, BA1887, invented the game of basketball. Among the '04 inductees is Frank Patrick, BA1908, who wrote a good chunk of the NHL rule book, and is responsible for the introduction of the blue line to hockey rinks.
And say what you will about the intellectual capacities of the archetypal jock, as Dubeau points out, "McGill has always gotten the crème de la crème when it comes to athletes with an academic background."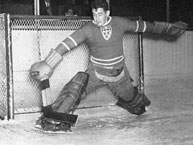 Jack Gélineau became the National Hockey League Rookie of the Year after leaving McGill.
At present, the Hall boasts 12 doctors, five dentists, four PhDs and one Rhodes scholar. Naismith, a former director of physical training at McGill, had 11 academic degrees. Dr. Charles Drew, MDCM'33 - an African-American track star who led McGill to five intercollegiate titles - invented the process of storing blood plasma for the modern blood bank, an innovation which has saved millions of lives, and which he first put into practice as the medical supervisor for the Blood for Britain program during World War II.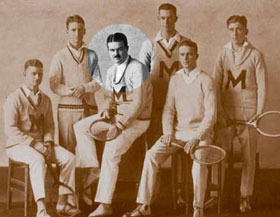 Tennis star Dr. Jack Wright played on Canada's Davis Cup team for 11 years.