How the tsunami changed two world travellers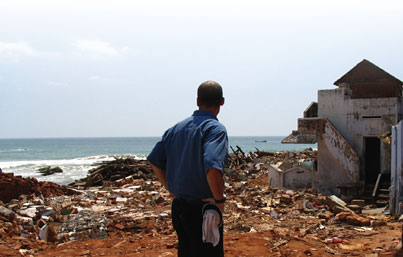 James Caddell surveys damage in the coastal village of Melamattomthurai, in Tamil Nadu, India.
James Caddell, BA'97, and Tara Newell, BA'98, have kept in touch with the News since setting off on a global trek in June 2004. Read about how the catastrophe in Asia changed their travel plans - and their lives.
When we departed on this two-year trip around the world, we expected the experience would change us. Traversing five different continents on a tight budget would have an impact on even the most experienced of travellers. Mingling with new cultures, learning new languages, meeting diverse people with different customs; all these experiences were bound to give us a new view of the world. After eight months of travelling across Australia, South East Asia and the Indian subcontinent, we had learned many life lessons, but nothing prepared us for what was to happen on December 26, 2004, when the tsunami waves rocked the Indian Ocean.
The disaster marked a new phase in our world trip. Suddenly we were no longer two lone globetrotters on a big adventure, but were now part of a vast international community of mourners; a community bound by grief for the people affected by the event. And while this shared feeling drew us closer to the disaster, we did not anticipate that we would go from CNN watchers to front-line aid workers in only a few short weeks. Although it meant our trip would take a sharp detour, it was the best decision we have made, and we are now changed people in many ways.
Life in perspective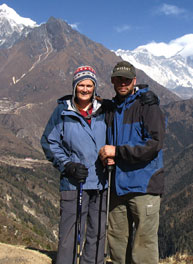 When the waves hit, we were at 15,000 feet above sea level at the base camp of Mount Everest in Nepal. It was our plan to trek in the Himalayas over the holiday season and return to civilization in Kathmandu for New Year's Eve. As we descended the mountain, news of the tsunami came to us in bits and pieces from the Sherpa people who heard about it on local radio. However, it was not until we were back in Kathmandu that the full extent of the destruction became clear.
Our initial reaction was shock. We had just left these regions of Asia a few weeks prior to the event. We had spent three months in Indonesia, Thailand and Malaysia, walking on the beaches, swimming in the ocean and getting to know the people who lived there. Our second reaction was guilt. We had been lamenting how much we missed our home and families back in Canada and had found it very difficult over the holiday season to be so far from loved ones. Now these complaints seemed trivial as stories of families who had been devastated by the tragedy were broadcast on television. At least we had a home and family to return to.
New bonds with new friends
When we arrived back in Kathmandu on December 30, our email inbox was flooded with messages from friends and family concerned about our safety. The same thoughts of safety were on our minds - and our attention was redirected toward all the local people we had befriended in the affected areas and the travellers we had met who were holidaying in the region. We sent out numerous emails in hopes of getting any reply. It was a frenzy of electronic messaging for two straight days.
In the end, we learned that all our friends were safe, but not everyone was so lucky. One friend, Jody Sinden, a Canadian working with street children in Yogyakarta, Indonesia, was unharmed, but many of her Indonesian friends had gone home to Aceh for the holidays. Needless to say, she lost more friends than she could count. Suzie Mattson, a friend working in East Timor, had been on vacation in Thailand. She was safe, but her colleagues were still missing. David Lavoie and Miriam Sutorious, Canadians teaching in Kuala Lumpur and taking their vacation on the beaches, were also safe but reported that students from their international school had yet to come back to class. We had met many local people from these regions where email is not available and so we still do not know about their condition.
During the period of email frenzy, we also felt the turmoil and anxiety of the friends we were trekking with in Nepal. We all sat with brave faces on New Year's Eve while two Brits, whom we had come to know well, awaited news of their brother who had been diving in the Andaman Sea. We comforted one Swede, a fun-loving young man who had been teaching us the finer points of drinking beer at high altitudes a few days earlier, and who was now counting how many of his compatriots were lost. We were all on the edge of our seats as the catastrophe unfolded. It is amazing how tragedy can bring people together.
Deciding to pitch in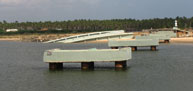 At this point in our trip, we had a decision to make. Prior to the tsunami, our plan had been to journey to southern India and Sri Lanka. Now we wondered if we should cross northern India into the Middle East or continue as planned. Our previous experience in development work qualified us to help with the relief effort, but this would put our own health and safety at risk, as well as jeopardize our world trip (for which we had saved our money and planned for two years). In the end it really only took seconds to make the decision - we bought train tickets and headed south toward the affected area of Tamil Nadu, India, and never looked back.
Once we were in motion, we contacted the Canadian government to see how our own nation was getting involved and if we could join the effort. Being diligent public servants ourselves, we wanted to let the Canadian authorities know we were in the area and ready to volunteer.
After connecting with a number of people in Foreign Affairs and other departments, all responses were the same: "Leave the region immediately and leave the aid work to the professionals." We shrugged this off - we were in no mood for red tape. Within one day, we made contact with a Canadian NGO operating in the region, the Canadian Relief Foundation (www.canadianrelief.ca), and we had our assignment.
We were sent to the region in southern India hardest hit by the tsunami, the Kannyakumari district. Because it was such a remote area, very little aid had reached the people. Our task was to assess the needs of families and children affected by the tsunami as well as the needs of local orphanages, then to lead the implementation of relief projects to address the gaps in the region. Once we saw the damage with our own eyes, we were glad we had made the decision to come - there was an overabundance of need and too few people to deliver aid. It was clear to us that our help was welcome.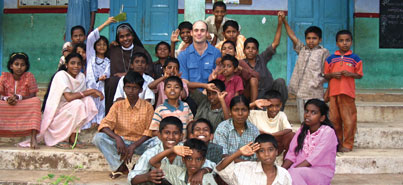 James and children from the Sirumalar Home.