Reassuring Issue

Just a word of appreciation and congratulation for the latest issue. As a member of the class of '49, I am beyond expecting to keep up with classmates except at funerals, but the pages of the latest News were filled with interesting stuff about the alma mater and some of her graduates. This is great entertainment and a reassurance that McGill continues to be the vibrant place I remember.
Arthur Mathewson, BA'49
Ottawa, Ont.
Capital Confusion
Was reading another great issue today and noticed an error with my degree in the Letters to the Editor (page 5). Correct degree is Med'51, not MEd'51. Small difference, big difference!
Hugh R. Brodie, MDCM'51
via email
Ed. note: A keystroke bumped Dr. Brodie into another (equally distinguished, of course) faculty. McGill's official MDCM designation to indicate a medical degree is based on the Latin medicinae doctor (doctor of medicine), chirurgiae magister (master of surgery), although alumni also use Dr. Brodie's less formal appellation.
Oh Joy, Oh Rapture!
I can't tell you how pleased I was to receive the latest edition of the McGill News, complete with the pictures of last year's reunion events. As one of the founding members of the Savoy Society, I was especially thrilled to see that it still exists. What fun it would be to hold a Savoy Society reunion! Thank you for a quick trip down memory lane.
Elisabeth (Lisa) Little Leyre, BA'68
Montélimar, France
Ed. note: McGill Savoy Society members would be equally delighted to hear from one of the founders. As they say on their web page, "Due to constantly changing membership, much of our history is clouded in the mists of time, so our search for the wayward flocks of McGill Savoy members never ceases." See www.savoy.ca.
Nyet for the McLennan
Professor Derek Drummond's caustic criticism of the Redpath Library extension envisioned in "The Campus That Never Was" is both astute and timely, given McGill's expansion plans for the future. Perhaps we might benefit from his further comments if Mark Reynolds would write "The McGill That Is."
A number of years ago an architectural conference of international scope was held at McGill. Surprisingly, Soviet Union architects were for the first time allowed to travel to the West as delegates. The program featured conducted tours of the campus and its amenities. On one of the tours, the Soviets, with their mentor Blanche Lemco Van Ginkel, BArch'45, arrived before the newly constructed McLennan Library - the final extension.
The Soviets long stood gazing at the banal McTavish Street façade with its 19th-century factory windows - high enough to admit daylight but too high to divert the gaze of its occupants from their tasks, its uninspired back door serving as the main entrance. Finally one Soviet turned to a companion and remarked, "Even in Russia it would look bad!"
Kenneth C. Mackay, BCL'50, MCL'51
New London, P.E.I.
Picture Postcards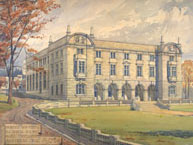 Just a brief note to congratulate you on a great issue of the McGill News. I particularly enjoyed seeing the pictures of McGill's "buildings that might have been."
It is a pity that McGill has not produced sets of postcards or letter cards with some of these pictures and that there is a very limited line of such "memorabilia" of current buildings. Possibly something that the Alumni Association would like to sponsor and sell through the Bookstore?
David S. Crawford
Emeritus Librarian, McGill University
Toronto, Ont.
Loved It…
As a 1969 and 1973 graduate I have received many issues of McGill News. I always skim the articles, check the Alumnotes and In Memoriam sections, and then usually reflect briefly on my own McGill experiences. Thanks.
The most recent arrival, however, was more demanding. Cover to cover it was interesting, informative and entertaining. As good as you have been, this was, in my opinion, one of your best. Keep it up.
Chris W. Hall, BSc'69, MDCM'73
Oshawa, Ont.
…Not So Much
I was scanning the Winter 2004-2005 edition in the faint hope there might be something of interest, classmate dying perhaps, when, shock and awe, a picture of a homeless looking person apparently under arrest jumped off the pages. Yes I'm referring to the erstwhile Great President Beloved by All Canadians of Iraq, Saddam Himself.
My eyes glanced about for the money quote and there it was at the bottom of the penultimate column: "He (your interlocutor, John Burns, who I see graduated the same year as I) doesn't see any happy endings in Iraq and blah blah blah." You don't have to tell me, he hasn't changed his mind, recent vote, delighted Iraqi faces notwithstanding, and neither, I'm sure, have you. You/he proceed on the basis of a fiction of your own making.
S. Trachimovsky, BEng'66, LLB'73
Toronto, Ont.
Ed. note: John Burns said that poor planning by the U.S. "proved disastrous" once Saddam was routed. The "blah blah blah" was Burns's prediction that various factions would "continue to oppose U.S. forces and their allies, often with deadly effectiveness." We're not sure about fiction, but the tragic fact is he was right.
Help wanted
I am writing a history of Canada's system of national accounts, by which we have measured our national economic performance since the Keynesian revolution in and around World War II. The concept of gross national product (GNP) is perhaps the most identifiable tool of national accounting.
McGill economists have been prominent in the conceptualization and construction of this crucial mechanism of understanding our national economic health. One young McGill graduate - Victoria-born George Luxton, who earned an MA in 1935 in economics - played a remarkable role in wartime Ottawa in working out the basic precepts of Canada's now much-praised system of national accounts. While at McGill, Luxton and his wife (Mildred Anna Ball, BA'32) were active in the Student Christian Movement. Luxton worked at Sun Life and went on to Harvard before joining the wartime bureaucracy in Ottawa.
Sadly, he died young in 1945 and left only a sketchy documentary trail. I would be grateful to learn of any recollections, photos or documents that McGill graduates may have of this fascinating, creative but largely forgotten Canadian. Thank you for any assistance.
Dr. Duncan McDowall, Senior
Research Fellow, Statistics Canada
Ottawa, Ont.
Ed. note: If any readers can oblige, you can email Dr. McDowall. Anyone without email can call the News at (514) 398-3549.
We Know Who You Are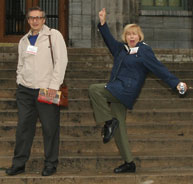 Thank you for publishing our photo taken during Homecoming 2004. We are the "unidentified grads" on page 37 and thanks to you, we have received many phone calls from friends who wanted to tell us that they had recognized us. We had a great time in the fall as you can see from the picture! Thanks again for putting our picture in the McGill News.
Josiane Waksberg, BA'65
Armand Waksberg, BSc'56, MSc'60
Dollard-des-Ormeaux, Que.
Take the plunge!
I was most impressed by the article "Swimming in Memory" in the Winter 2004-05 alumni quarterly. The picture of the water was sublime. The article inspired me as I am considering writing a first book myself. Thanks! It's encouraging.
Audrey Letellier
via email
Dismayed Reader
I could not let a certain article from your last issue go without comment. I was a little nonplussed, if not dismayed, at Anne Coleman's reflections re her perceived (reciprocal?) crush on author Hugh MacLennan ("Swimming in Memory"). Somehow it came across to me as a back-handed slap at a gentleman who was a family friend and associate of my father in their days together teaching at Lower Canada College.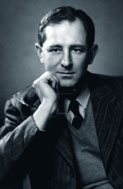 Hugh was my Latin and Greek teacher in the '30s; genteel and always a gentleman. He will remain such in the thoughts and hearts of many of his students at LCC and McGill.
To imply that he might have been in the least attracted by a 14-year-old in or about 1950, when the first love of his life Dorothy Duncan was still living, or that he was a "boozer" in later years, seem to me to be implications or innuendos unworthy of the serious author Anne Coleman purports to be.
I prefer to remember him as a teacher and as the person later described so charitably in the McGill News of Summer 1995, or so kindly by his friend, the Honourable Heward Grafftey, in his book Portraits from a Life.
René Péron, BA'42
Kanata, Ont.
Ed. note: Whether Anne Coleman's feelings for Hugh MacLennan were reciprocated is never entirely clear in her memoir. ("And there I go again doing what I've done before, assuming the feelings work both ways. I have no proof that they do.") She senses his interest, but his behaviour was never less than gentlemanly, his "sense of correctness" intact even after he was widowed and Coleman had graduated from McGill. When she is headed for a disastrous marriage, neither takes action to prevent it. ("If only I could dare to assume equality with him, insist that we properly open up to each other. But I can't.")
Remembering Macdonald
I thoroughly enjoyed the Winter 2004-2005 issue. The Letters section was particularly interesting because there was a letter from Ian W. M. Angus, BEng'62. He described Macdonald College to perfection. I also grew up in Senneville near Ian, and we were in Grades 5 and 6 together at Macdonald High School.
Jaanus Roht, BSc(Agr)'62
Abington, Mass.
Thoughtful Tips
You asked for readers' thoughts re your forthcoming redesign of McGill News. Here are two:
Before you started mailing McGill News to all graduates, one could estimate the average age of readers in the 60s or 70s, with deteriorating eyesight in line with age. Have you thought of asking the opinion of an ophthalmologist as to the best size of type to use to assist most old timers to read the News?
When I see obituaries of McGill graduates known to me in public print, I send them to you for publication in In Memoriam. They don't always appear in the News. I presume they reach you - but perhaps they don't. Your sideways photo of the Arts Building front on the cover of the Winter 2004 issue was unusual, and impressive.
Stephen Walbridge, BCom'37
Pointe-Claire, Que.
Ed. note: We admit to a little squinting ourselves, so rest assured that font readability will be considered. As for the In Memoriam section, we recommend sending information to McGill's Records Department directly. Records staff will verify the information, including degree years, etc. and forward it to us once it has been recorded in the database. This also ensures that families don't continue to receive unwanted mail. The same advice applies to making address changes. Write to Records Department, Development and Alumni Relations, McGill University, 1430 Peel Street, Montreal, Que. H3A 3T3, call (514) 398-3548, or email.
The handsome cover on our Winter issue was shot by Nicolas Morin. You can see more of his McGill images at www.nicolasmorin.ca/mcgill.