Dean of Education hits Hogtown
Education and Graduate School of Library and Information Studies alumni were introduced to Dr. Roger Slee, new Dean of the Faculty of Education, at a reception at Toronto's First Canadian Place Gallery. Dean Slee is seen here with Edith Louie, BEd'96.
Young Alumni climb the walls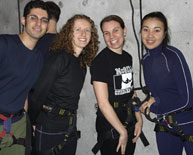 The winter blahs drove 30 Toronto alumni up the walls on a Saturday morning in January during an indoor rock- climbing course.
European adventure

Alumni Association President Morna Flood Consedine, MEd'77, DEd'85, accompanied graduates and friends of McGill to the Italian Lake District, one of the trips offered through the Alumni and Friends Travel Program. The group stayed in historic Baveno, located on Lake Maggiore.
Jersey in Geneva
The McGill Redmen hockey team toured Europe in January, thanks in part to support from Friends of McGill Hockey. At a stop in Geneva, Coach Martin Raymond (left) presented a team-autographed Redmen jersey to the Honourable Don Stephenson, Canada's Ambassador and Permanent Representative to the Office of the UN and the World Trade Organization.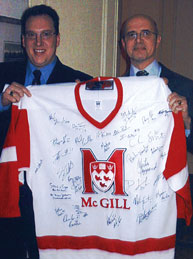 All tied up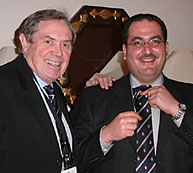 Donald Johnston, BCL'58, BA'60, LLD'03, Secretary-General of the Organization for Economic Co-operation and Development, presented the Minister of Justice of Jordan, and former McGill student, Salah Eddine Bashir, with a McGill tie at a Dead Sea resort. The two were meeting as part of an initiative on good governance in the Middle East and North Africa. Johnston enlisted Bashir's help to deliver a second tie to Egypt's new Prime Minister, McGill grad Ahmed Nazif, PhD'83.
Calgary welcomes Preston
Preston Manning was the quick-witted lecturer for the 2004 Calgary edition of the Leacock Luncheon.

D-Day anniversary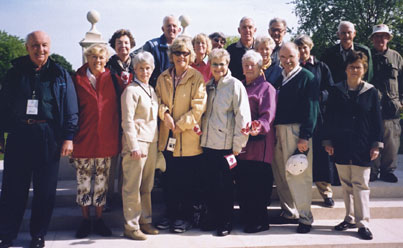 Gael Eakin, BA'61 (fourth from left), and McGill history professor Desmond Morton (fifth from right) hosted a tour to Normandy last May to commemorate the 60th anniversary of the Allied troops' D-Day landing. The group is shown here at the Beny-sur-mer Canadian War Cemetery.
Sydney gathering
Alumni gathered in Sydney, Australia, to hear Dr. Alan Tenenhouse of the Faculty of Medicine speak about medical research at McGill. The get-together took place in the law offices of Blake Dawson Waldron overlooking Sydney Harbour in January.
Armstrong impresses Oakville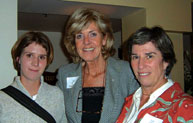 Documentary filmmaker, teacher, author, human rights activist and McGill grad Sally Armstrong, BEd'66, DLitt'02, spoke to grads in Oakville in the fall. Here Amstrong is flanked by mother-daughter duo Hilary Kennan, BA'04, and Vicky Kennan, BCom'70.
Hanging out at Homecoming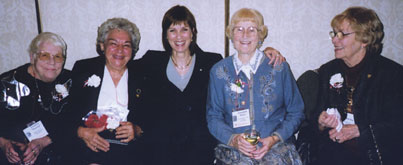 Some members of the BSc(PhysEd) Class of '49 relaxed with Principal Heather Munroe-Blum during Homecoming 2004.
McGill meets Berlin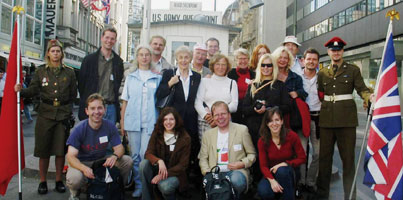 McGill graduates and friends from all over Germany came together for a mini-reunion in Berlin in September 2004, with Margaret (Thomson) Cathcart, BA'39, MEd'73, even flying in from Toronto for the occasion.
MSE in Toronto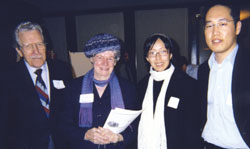 Director of the McGill School of Environment Nigel Roulet spoke to a group of McGill alumni at the offices of RBC Investments, organized by John Kellett, BCom'68.
Canadians in New York
The Annual Canadian Universities Alumni Reception was held in New York last fall, organized by the Canadian Club of New York.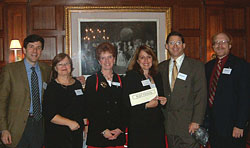 Natural disasters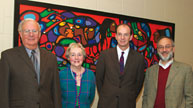 McGill grads experienced the spectacle of tornadoes, floods, erupting volcanoes and hurricanes in the nation's capital thanks to a screening of Forces of Nature at the IMAX theatre in the Canadian Museum of Civilization in October, hosted by Victor Rabinovitch, BA'68, President and CEO of the museum.
Brunch and gallery tour
Over 60 alumni came out for a Sunday brunch and walking tour in the trendy Yorkville district of Toronto. Stops included Sotheby's Canada; Hollinger York Gallery, where alumni were introduced to some of Canada's best contemporary artists; and Karakashian Rug Gallery, where alumni learned about antique Persian rugs.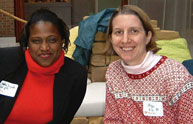 Antarctica Ahoy
These graduates participating in the Alumni Travel program prepared for a return to their ship in a Zodiac after some penguin-watching in Antarctica this past January.