Covering the Musical Map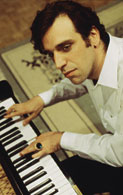 Jason Beck, BMus'94, might be Canada's answer to David Bowie - a talented musical chameleon whose frequent and surprising transformations keep both fans and critics guessing.
Beck's music first drew notice when, as a 17-year-old McGill student, he and older brother Christophe (now a soundtrack composer whose credits include a long stint on Buffy the Vampire Slayer) collaborated on The Nose of Polten Worth, an unconventional musical about a man who loses his nose only to have the free-roaming proboscis steal his girlfriend and ruin his career.
Debuting at McGill Player's Theatre, the show's compositions were hailed by the Montreal Gazette as "provocative, amusing and incredibly catchy."
After graduating, Beck soon emerged in Toronto, leading a band called Son. He took Hogtown by storm, signed a record deal, and his funky brand of pop drew favourable comparisons to both Prince and Elvis Costello.
Despite glowing reviews, Son's albums didn't sell too well. Beck decamped for Berlin and rechristened himself Chilly Gonzales. He took to wearing pink suits, showing off his prodigious chest hair and winning acclaim for his irreverent brand of hip hop.
These days, Beck is known simply as Gonzales, is based in Paris and has reemerged as a smooth pop sophisticate whose influences range from Dusty Springfield to Debussy. He is enjoying a hot streak of late. He handled the musical arrangements and played all the instruments on Franco-Brit icon Jane Birkin's recent comeback album, Rendez-Vous, remixed a Bjork track available on a new version of her latest album, Medúlla, and co-produced his buddy Feist's breakthrough CD, Let It Die, which is nominated for three Juno Awards.
To top it off, Beck recently released his own album, Solo Piano. The CD features the man on his own, tickling the ivories. No vocals. No other instruments. Delicate and wistful, the album has been praised as "surprisingly melancholic and warm" by the Sunday Times, "nicely chilled" by the Sunday Telegraph and "muted, rich and haunting" by Montreal's Hour Magazine.
What's Beck's next musical move? Well…he hasn't tried his hand at polka yet.
Kudos to Cotler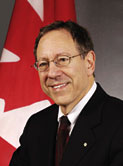 Canada's Minister of Justice, Irwin Cotler, BA'61, BCL'64, was well known before entering Canadian federal politics as a prominent human rights lawyer, and his dedication to humanitarian causes recently earned him the inaugural F.R. Scott Medal of Distinguished Service. The award was created by the Faculty of Law to recognize McGill law graduates who have provided exceptional service and leadership to society.
Throughout his career, Cotler has been involved in high- profile cases involving political prisoners and has acted as counsel for Andrei Sakharov in the Soviet Union, Nelson Mandela in South Africa, Nigerian playwright and Nobel laureate Wole Soyinka, and most recently Saad Edin Ibrahim, an Egyptian sociologist and democracy advocate whose criticism of Egypt's Mubarak government resulted in his incarceration. Maclean's magazine has referred to Cotler as "Counsel for the Oppressed." He has been a leader in the development of international humanitarian law and has to his credit landmark cases in free speech, freedom of religion, women's rights, minority rights and peace law.
The F.R. Scott award was presented to Cotler in Toronto at an event hosted by the Faculty of Law in January at the Royal York Hotel, with 200 alumni and guests in attendance, including Dean of Law Nicholas Kasirer, Ontario Attorney General Michael Bryant, and former policy advisor to Prime Minister Jean Chrétien, Eddie Goldenberg, BA'69, MA'71, BCL'74, LLD'04.
Cotler is currently on leave from his teaching position at McGill, where he is director of the Human Rights Programme and chair of InterAmicus, a McGill-based human rights advocacy centre. His award bears the name of one of McGill's historic giants, the late Francis Reginald Scott, BCL'27, LLD'67, who taught at the University for four decades and who was a celebrated political activist, a leading authority on constitutional law, and one of the most important poets in modern Canadian literature.
Promising Documentary Debut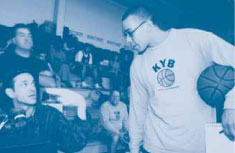 Nicole Gurney
One film, one Oscar nomination. So far, Hubert Davis, BA'00, has an enviable track record. Davis's directorial debut, Hardwood, was in the running for this year's Academy Award for best documentary short subject. The film focuses on the filmmaker's father, Mel Davis, a longtime member of the fabled Harlem Globetrotters. While Mel was a magician with a basketball, always in control on the court, his private life was considerably more complicated.
Mel met Hubert's white mother, Megan, at a Globetrotters game and the two quickly became an item. But the relationship didn't last. Race was a factor. The times were not kind to interracial couples. Mel married another woman, Maryetta, and they had a son, Mawuli.
But Mel drifted back into Megan's life, the two rekindled their affair, and Hubert was born. Growing up, Hubert picked up bits of information about his dad, a man he rarely saw. Then, as a 12-year-old, Hubert had to adjust to the sudden arrival of Mel in his life on a full-time basis. His father had left Maryetta and Mawuli in his native Chicago to rejoin Megan in Vancouver. Hardwood chronicles the impact Mel's choices had on his sons, their mothers and himself.
Hubert grew up to be a pretty good basketball player in his own right, earning all-star status in his years as a McGill Redman. His degree in cultural studies provided the opportunity to immerse himself in a burgeoning passion that was soon to become his profession - cinema.
After McGill, he became a film editor, working on dozens of commercials and videos and toiling on two of Canadian filmmaker Deepa Mehta's movies, Bollywood/Hollywood and The Republic of Love. This training served him well. Hardwood boasts a graceful rhythm, powered by the film's jazzy score and Davis's choice of images.
Most of all, the movie works because Hubert's father, a reserved man, agreed to revisit some of the most emotionally difficult moments of his life.
"He is a very private person. He doesn't talk about the past very often. He believes you have to keep moving forward. He knew how much I wanted to do this [film] and he did it for me as my father."
Davis took his dad along to the official Oscar ceremony. Before the presentations, he discussed how he would keep his cool. "I plan to follow the same advice I received when I was getting married. I was told that the day was going to be a blur, but that I should remember to enjoy myself and try to take it all in."
Davis is already at work on his next project, a documentary about racial profiling.
She Manages Moguls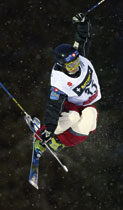 Sometimes a break can make all the difference in the world. Take Jennifer Heil, for instance. The Edmonton-born moguls skier was on the edge of stardom in 2003 - she had missed winning a bronze medal at the Winter Olympics a year before by 1/100th of a point. But wracked with chronic shin and back pain, Heil decided to give her body a rest, moved to Montreal and began studying management at McGill.
No one was quite sure how Heil would fare when she returned to competitive racing last year after 12 months off. She did exceedingly well, capturing the women's World Cup title in moguls. Last month, Heil etched her name into the record books once again, earning her second World Cup in a row. Then to cap it all off, Heil stormed to victory in Finland, earning a gold medal in duals moguls at the world championships, besting Olympic and world champion Kari Traa from Norway.
On Heil's website, she explains her passion for her sport. "To feel the speed of my skis racing over the moguls is addictive. When I soar through the air during my jumps it is magical. Feeling my heart thumping in my chest makes me feel so alive."
In an interview with the Edmonton Journal, Heil, who races all over the world, says, "My home base is a suitcase." Her network of friends helps her stay grounded, she explains. "And now I have some friends at McGill who didn't know me as a skier. I was just there like them - as a student. It's good to have them in my life."
She'll soon have something to show off to her McGill buddies. The crystal globe trophy she earned for her first World Cup title is on display at her parents' home in Spruce Grove, Alberta. The new trophy will take up residence with Heil in Montreal.