Powerful Voices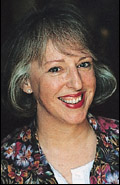 To those of us who write and edit, the words are everything. At a play, I'll close my eyes to really hear the words and the sounds of the actors' voices, a result no doubt of listening to hours of radio during childhood illnesses. The voice is a remarkably powerful instrument and I still thrill to the stirring cadence of Martin Luther King's as he told the world that he had a dream.
As you'll read in Newsbites, one of this country's masterful orators was the guest speaker at the Macdonald Founder's Day celebrations, although his message was closer to nightmare than dream. Stephen Lewis, LLD'87, UN Special Envoy for HIV/AIDS in Africa, held an audience of 700 spellbound as he told of what he had seen in Africa as a consequence of this terrible disease and the failure of the rest of the world to help stem the plague.
Lewis has witnessed the things he talks about up close. He has been in truckers' bars in Zambia where young prostitutes - most of whom have HIV or AIDS - are paid a premium for having sex without a condom. He has visited hospitals and orphanages and, as he told a Globe and Mail reporter, has seen far too much death. "What is driving me crazy, and making me emotionally unhinged, is that we're losing too many people."
UN Secretary General Kofi Annan appointed him special envoy in 2001 and he has been reporting the grim statistics ever since: life expectancy in many African countries has dropped into the 30s, three-quarters of the world's HIV/AIDS cases are in sub-Saharan Africa and 90% of those infected don't know they have the disease. Lewis is sometimes moved to tears of despair by what he sees, but his message is still largely ignored by developed countries. "I wake up regularly in an incensing rage at not being able to break through."
His frustration led him to establish a foundation to support grassroots organizations in Africa which care for the dying and the orphans left behind. Finally, people are beginning to respond where governments have not. (See www.stephenlewisfoundation.org.) We ran a story in our last issue on someone else who knows the power of words. John Burns, BA'66, Pulitzer Prize-winning chief foreign correspondent for the New York Times, discussed his career in journalism covering conflicts in the world's hot spots and his present posting in Beirut. His picture appeared at the start of the article in which he looks a little shaggy-headed, but otherwise quite respectable.
We've since come across a story that explains his slightly woolly appearance. It turns out that he doesn't go to the barber very often. That's because his barber is in England - which Burns seldom is - and he won't have his locks trimmed by anyone else. He explained why in a New York Observer interview last year.
"My father was an air force general - Royal Air Force. Twenty years ago, I went to have my hair cut in England, and in talking to the woman cutting my hair, she said that her father, a pilot, was killed with the RAF in Germany." The two soon discovered that their parents had known each other. The following morning, the woman went to Burns's hotel to show him a photograph of her mother and herself as a young child at her father's funeral. Standing on either side of her were Burns's parents. "And she said, 'My mother said your parents were so kind that I wasn't to charge you for the haircut.'" Burns responded, "I've got a better idea... Charge me for the haircut but I will never have my hair cut anywhere else again other than by you." He's lived up to his promise.
We also referred in the Winter issue to Principal Heather Munroe-Blum's plan to improve the student experience at McGill, something she feels is a critical factor in the making of a great university. She has followed through with the naming of a 25-member Task Force on Student Life and Learning, half of whom are students. The group is charged with making recommendations focusing on the administrative structures needed to deliver services to students as they enter McGill, while they are here and as they graduate. The task force will be asking for submissions from all parties, including alumni, so watch for an announcement in an upcoming issue and make your voice heard.