Beijing Confidential
by Jan Wong, BA'74, published by Doubleday Canada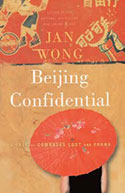 Few North American journalists have a better sense of contemporary China than Jan Wong.
She studied at Beijing University during the Cultural Revolution in the 1970s (one of only two Westerners allowed to do so at the time), then returned as the Globe and Mail's China correspondent during the late 1980s and early 1990s, covering, among other things, the Tiananmen Square Massacre.
Beijing Confidential chronicles Wong's most recent visit to the Chinese capital. She makes the trek with her family, ostensibly to give them a last glimpse of the city before it is utterly transformed. In the rush to prepare Beijing for the 2008 Olympics, the city is being modernized at breakneck speed and the country's leaders have little sympathy for the notion of protecting heritage landmarks.
Wong has another motive. As a "stupid, wannabe Maoist from Montreal, trying to prove I was as stalwart and tough as the next guy," she ratted on a Chinese schoolmate who had confided in Wong about wanting to move to the U.S. In the midst of the Cultural Revolution, such desires were scandalous and the consequences for harboring them, if discovered, could be dire. Wong bitterly regrets what she did and desperately wants to know what has happened to that woman since.
As Wong goes about her search, she meets with old friends and acquaintances, marveling at how most are now far more interested in expensive home decor trends than they are in official Communist party orthodoxy. China itself is changing dramatically, becoming an economic powerhouse. Wong isn't surprised. "A half-century of communist rule, after all, is a mere blip on the consciousness of a civilization that first expressed its mercantile instinct in the Silk Road" — the ancient trade route that connected China with the outside world centuries ago.
Anyone familiar with Wong's writing knows she has a fine instinct for detail, as well as a biting wit. Both are skillfully employed here. It's always a rewarding experience to see China through her eyes.
---
Second Chance: Three Presidents and the Crisis of American Superpower
by Zbigniew Brzezinski, BA'49, MA'50, published by Basic Books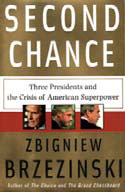 Imagine you're a country, embroiled in a decades-long stand-off against the one adversary powerful enough to keep your ambitions in check. Unexpectedly, your opponent falls apart and you're the last superpower left standing. The world should pretty much evolve the way you want, right?
As Zbigniew Brzezinski notes in his latest book, that hasn't been the case for the United States since the collapse of the Soviet Union. Brzezinski, a professor of American foreign policy at Johns Hopkins University, has more than a simply academic perspective to offer — he served as national security advisor under U.S. president Jimmy Carter.
In Second Chance, he examines the presidencies of the three men who have led the U.S. since the end of the Cold War — George H.W. Bush, Bill Clinton and George W. Bush, finding fault with all three, but to varying degrees.
The first President Bush gets the highest marks as a "superb crisis manager," skillfully building an international coalition to force Saddam Hussein out of Kuwait and deftly dealing with the many potential calamities associated with the USSR's unexpectedly swift disintegration.
But Brzezinski doesn't believe Bush was bold enough. In the wake of his Gulf War triumph, for instance, Brzezinski thinks Bush should have pushed hard for a Middle East peace accord. In fact, Brzezinski is critical of all three presidents on that front, arguing that a resolution to the Israeli-Palestinian conflict would rob Muslim extremists of one of their chief rallying points for new recruits.
Clinton showed early promise, in Brzezinski's estimation, but was largely undone by inconsistency (showing resolve against ethnic cleansing in the former Yugoslavia, but not in Africa) and his own indiscretions (Monica-gate).
As for the fellow currently occupying the Oval Office, well, that chapter is called "Catastrophic Leadership." Brzezinski describes the war in Iraq as a "geopolitical disaster" with wide-ranging consequences — everything from giving the Taliban a second wind in Afghanistan, to fueling anti-Americanism in Latin America and elsewhere.
Brzezinski is forthright about the way world opinion is shifting against the U.S. His country risks being "universally viewed as arrogantly imperial in a postimperial age." George W. Bush's successor would be wise to pay heed.
---
Intent for a Nation: What is Canada for?
by Michael Byers, BCL'92, published by Douglas & McIntyre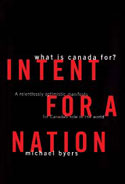 Michael Byers' fascination with international affairs dates back to the childhood summers he spent in Saskatchewan, when he watched American B-52s soar overhead on their way to the High Arctic, where they waited for the order to proceed into Soviet airspace and drop their nuclear payloads.
Today, Byers argues that Canadians can't sit idly by and watch events in the world unfold without exerting their influence on the international scene. And Byers insists that Canada does have influence. In the preface for this book, he writes, "We are — take a deep breath and don't laugh — a powerful country."
Byers is the University of British Columbia's Canada Research Chair in Global Politics and International Law.
He believes Canada can make a difference in the world when it comes to issues like climate change, economic development, and even U.S. foreign policy.
We have done it in the past, he stresses, throwing out several examples, one being the key role that McGill's own John Humphrey played in drafting the Universal Declaration of Human Rights.
Responding to George Grant's influential Lament for a Nation (1965), which painted a far gloomier portrait of Canada's ability to affect the world around it, Byers presents a passionate plan for Canada to assume the mantle of global player. The book's strength lies in his ability to demonstrate how the international stage magnifies words and actions exponentially. The slightest transgression can do irreparable damage to a country's credibility, while simple gestures often come to be remembered as moments of bold leadership.
For Byers, the 1997 Ottawa Landmines Convention embodies both. Canada successfully headed an effort that resulted in 151 countries banning underground explosive devices. However, in Afghanistan, Canadian soldiers are part of a coalition force that utilizes landmines (planted by the U.S., which didn't sign the treaty). Byers doesn't hesitate to point out the hypocrisy.
One questions whether his aggressive tone will sway an audience historically wary of dogmatic proclamations about what their country should or should not be. Nevertheless, this poignant call to arms is sure to convince readers that, at the very least, no one should ever see the contrails of fighter jets and pretend that they're merely clouds.
---
Delible
by Anne Stone, MA'97, published by Insomniac Press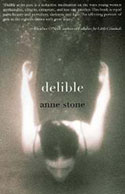 One day, 14-year-old Lora Sprague's sister, Mel, who is one year her senior, vanishes. In most books, the rest of the tale will focus on finding Mel and solving the mystery of her disappearance. Anne Stone's haunting Delible takes a different tack entirely.
We never find out for sure what happened to Mel (though what we do know hints at anything but a happy ending). The book, instead, deals with a family forced to confront monstrous uncertainty, a family that probably won't ever have the solace of firm answers.
Stone challenges her readers to venture beyond pat assessments. Mel is the kind of kid that cynical cops and reporters dismissively sum up as "troubled." School wasn't going well.
She was moody. Family relations could be turbulent. Mel mused about running away. Tsk, tsk. These things happen.
But a situation like Mel's can't be summed up quite so neatly, Delible insists. A diary entry written during a temporary rage doesn't eclipse complex lifelong ties. There is love in Mel's family. It's messy and it's muddled, but it's there.
Stone does adroit work in balancing her various narrators' distinct voices. Most of the story is told from Lora's point of view, but the girls' mom and grandmother each get to steer the narrative at times. Some of the book's most wrenching observations are delivered by Karin, the mother. "They find comfort in thinking the worst of you," Karin says of other parents. What "keeps their own kids safe is this one fact: They're not you."
The Vancouver-based Stone was obviously affected by the disappearances of so many women from her city's notorious eastside and the slow and seemingly indifferent response this elicited from authorities there. Dark and delicately written, Delible isn't an easy read, but it's a profoundly affecting one.
---
Ghettoblaster
by Socalled (Josh Dolgin, BA'00), released by JDub Records

On "(Rock the) Belz," one of the songs on the new album Ghettoblaster, Theodore Bikel's rich voice begins to rumble with its familiar authority when something a little unusual happens. As the 83-year-old Bikel — an Oscar nominee and Broadway veteran — celebrates his Jewish heritage, a much younger rap singer starts issuing supportive hollers and yelps.
It's just one in a series of many satisfyingly eclectic moments, courtesy of musician Josh Dolgin, aka Socalled, a hip hop enthusiast with an abiding soft spot for all sorts of Jewish musical traditions — Cantor music, Klezmer tunes, you name it. Socalled takes impish delight in breaking down barriers between different types of music and recombining them in lively and innovative ways. And he has managed to assemble an impressive group of musicians to play along, including 92-year-old pianist Irving Fields (who penned hits for Doris Day and Guy Lombardo), trombonist Fred Wesley (a member of James Brown's band) and violinist Sophie Trudeau (Godspeed You! Black Emperor).
Highlights include "You Are Never Alone," a funky Gene Autry update, which playfully posits, "Frankly, there's nothing so unusual about being a Jewish cowboy," before smoothly matching Montreal alt-country performer Katie Moore's gritty warmth with gospel singer Doris Glaspie's soulful vocals and New York rapper C-Rayz Walz's rhythmic wordplay.
Looking for a CD by somebody who's too busy inventing his own formula to pay heed to the "same old, same old" that lines too many of the shelves at HMV?
Give Ghettoblaster a try.