Teeny Traffic Cops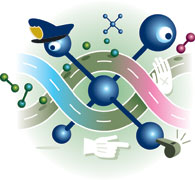 Tzigane
McGill scientists recently found a way to examine the exploits of tiny nucleic acids called microRNAs outside the confines of a living cell for the first time. In so doing, they may have given researchers the world over an important new method for determining how normal cells turn malignant.
Through their innovative new in-vitro technique, the McGill team can now closely monitor — and influence — the behaviour of the microRNAs, which each steers the conduct of 10 or more genes in humans.
"These microRNAs are powerful regulators of proteins in all cells. They control 30 per cent of all genes in a body," says James McGill Professor of Biochemistry Nahum Sonenberg. Sonenberg and his collaborators, post-doctoral fellows Geraldine Mathonnet and Marc Fabian, and Thomas Duchaine, an assistant professor of biochemistry at the McGill Cancer Centre, published their findings in the journal Science.
"Until now, all the research on microRNAs was done in the cell," explains Sonenberg. Scientists were limited in how they could affect microRNAs in living cells. "Working in a test tube, you can add and remove whatever you want and you are in control of the process.
"When DNA was sequenced, that was a major advance and a Nobel Prize was awarded," observes Sonenberg. "We now have a major technical advance. It's like a tool for us to have better systems."
MicroRNA is important because it controls the expression of messengerRNA (mRNA), which, in turn, takes the genetic blueprints encoded in our DNA and puts them into action by triggering activity in the parts of our cells where proteins are generated. The microRNA acts as a guidance system for messengerRNA, profoundly affecting the flow of that crucial cellular information.
This opportunity to better explore microRNA represents an important breakthrough, declares Sonenberg. "They are important to cancer proteins and can change cancer at its heart." Since microRNA is pervasive in the body, he adds, "if we know how to control microRNA, we can control disease."
Happiness is... a large subcortical brain volume?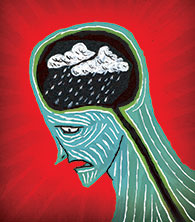 Matthew Forsythe
The source of human happiness has long been the subject of science, song and speculation. Now, researchers at the McGill-affiliated Douglas Mental Health Institute have come up with at least part of the answer: it's all in your head.
A new study, led by assistant professor of psychiatry Martin Lepage and doctoral student Philippe-Olivier Harvey, has linked anhedonia — the inability to enjoy pleasurable experiences — to the size of a subcortical brain region associated with emotion and rewards. Their findings, published in Molecular Psychiatry, may provide new tools in the fight against mental illness.
"It has been well established that anhedonia is a key symptom of major depression and schizophrenia," says Lepage, the director of the Institute's brain imaging group. "We chose to study this core symptom in hopes of finding a vulnerability marker to better diagnose these mental illnesses."
His team found that people with smaller anterior caudate regions have an increased risk of developing anhedonia, and that their pleasure processing seems to be diverted to the logic-driven prefrontal brain regions instead.
"As a result," explains lead author Philippe-Olivier Harvey, "they process these stimuli more cognitively — instead of genuinely feeling the pleasure, they have to think a little bit more about it."
With federal and provincial funding, the researchers followed 29 people with no previously diagnosed psychiatric illnesses, evaluating their ability to feel pleasure and examining their brain activity and structure through functional magnetic resonance imaging (fMRI).
The study was the first ever to link anhedonia to the size of a particular brain component, and could lead to new treatments and earlier diagnoses for a host of mental illnesses.